Most major financial firms expect technology to eat away their business
Investment in the fintech sector has been predicted to hit $150 billion within only a few years.
THE VAST MAJORITY of financial services firms in Ireland expect to lose business to the burgeoning fintech sector.
PwC's first Irish fintech survey, released today, showed more than four-fifths of companies in traditional financial services polled thought at least part of their business could be lost to new technology-driven firms within the next five years.
The global consultancy firm estimates cumulative investment in the sector worldwide could "well exceed" $150 billion with the period.
PwC Ireland fintech leader John Murphy said technology was "transforming the financial services industry across all sectors" with the lines increasingly blurred between traditional finance providers, tech firms and telecoms companies.
The survey showed established companies were most worried about fintech putting pressure on their profit margins, followed by concerns about new firms eating into their market share.
Nearly half the respondents said up to 20% of their business would be at risk within five years, while one-quarter said an even larger proportion of their operations was in danger.
The response
However more than two-thirds of the firms said they were putting fintech 'at the heart of their strategy' for the future in response to the potential impact of technology.
Locally, new companies have been particularly successful in the payments industry through businesses such as Realex Payments, which was sold for €115 million last year, spinoff Fire Financial Services and Ding.
Other notable fintech players include foreign-exchange outfits Currencyfair and TransferMate, while peer-to-peer lenders Linked Finance and Grid Finance have also carved a niche in the Irish market.
PwC senior manager Malcolm Craig said local fintech firms already appeared to be "starting to find a niche in the global market", while established players in Ireland also seemed to be more aware than their international counterparts of the risks they faced.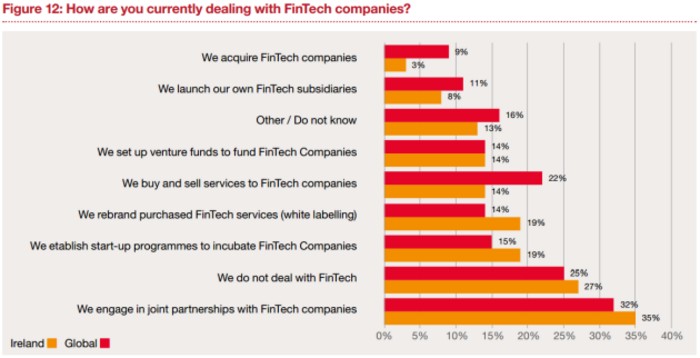 Click here for a larger version
Globally, industries from banking to insurance are increasingly finding new players nipping at their heels. Funding for fintech startups worldwide hit a new high in the first quarter of this year, although only a fraction of that money has been flowing to European firms.
Meanwhile, Enterprise Ireland last week unveiled its first fintech startup fund, offering €500,000 for companies in the state agency's first dedicated foray into the sector.
read more on