How Fiid's founder is using baby-food tech to revive the vegan startup
Shane Ryan hit a low point when he lost all of his stockists. Here's how he rebounded.
SHANE RYAN THOUGHT his vegan meal-pot startup, Feed, was onto a winner when it landed a country-wide listing with a big supermarket chain in November 2017.
Within three months, the deal was off, leaving the young entrepreneur without a business – and not for the first time.
Despite a series of setbacks over the years, Ryan is now back in business and hopeful the company's third incarnation is the charm – but it hasn't been an easy journey.
A graduate of the renowned Shannon College of Hotel Management, Limerick-born Ryan managed hotels in the Middle East before setting up Dublin-based Feed, which later rebranded as 'Fiid'.
The company originally started as a healthy restaurant concept before pivoting towards online salad deliveries, a move that ultimately failed and prompted Ryan to temporarily pack it all in, as previously profiled by Fora.
After a hiatus, he went back to the drawing board and reimagined Feed as a range of microwavable vegan meal pots sold through bricks-and-mortar retailers. With chilled foods seen as the hottest ticket in the grocery world, Ryan felt he was moving in the right direction and managed to get stocked in SuperValu stores and independent grocers.
Then an opportunity to roll out nationwide was put on the table by a large grocery retailer.
"Everything was going relatively well in 2017," Ryan says. "I got a big national listing with one of the big multiples, which was phenomenal for a guy working on his own."
To fulfil the contract, Ryan, who outsourced the making of Feed's meal pots, decided to move production from a small manufacturer to a bigger one.
That's when things started to unravel.
"We didn't have any contract … we didn't have any sort of (formal) agreement except for what I thought was a gentleman's agreement," Ryan says.
Aiming to launch Feed nationwide by mid-January 2018, Ryan was hoping to catch the tail-end of the new-year health kick and 'Veganuary', when meat-eaters swap their usual chicken and steak for tofu and quinoa.
But a few days before production was due to start, Ryan got a devastating phone call from the new manufacturer.
"They said they'd had a change of mind and that they weren't going to be going forward with the relationship," he says.
"The multiple that we were due to supply was very angry, as you can imagine. This was really unprofessional. They were already taking a risk on a small producer and this just looked awful."
Unable to find a replacement manufacturer, the supermarket – as well as every other stockist – delisted Feed's products, a huge blow for Ryan "on a number of levels".
"I completely understand – I would have done exactly the same thing myself if I was in their position.
"I couldn't supply them and I couldn't find a replacement manufacturer. It was a weird situation in that our volumes were too big for the smaller manufacturers and I was too small for the big manufacturers," Ryan says.
"I really struggled and I ended up not finding anyone – I had no business."
To add to the drama, Feed had by then made its first full-time hire: sales director Elliot Cantwell, who previously worked in the US for O'Hara's craft beer maker Carlow Brewing Company.
"It was quite stressful," Ryan says. "I was a bit embarrassed because it was my second failure. I was thinking, 'God, maybe I'm the wrong person for this. I shouldn't be doing anything like this.'"
After Feed's delisting, Cantwell agreed to take equity in lieu of a full salary while Ryan tried to figure out how to resuscitate the business for a second time.
He had a eureka moment in an unlikely place: the baby food aisle.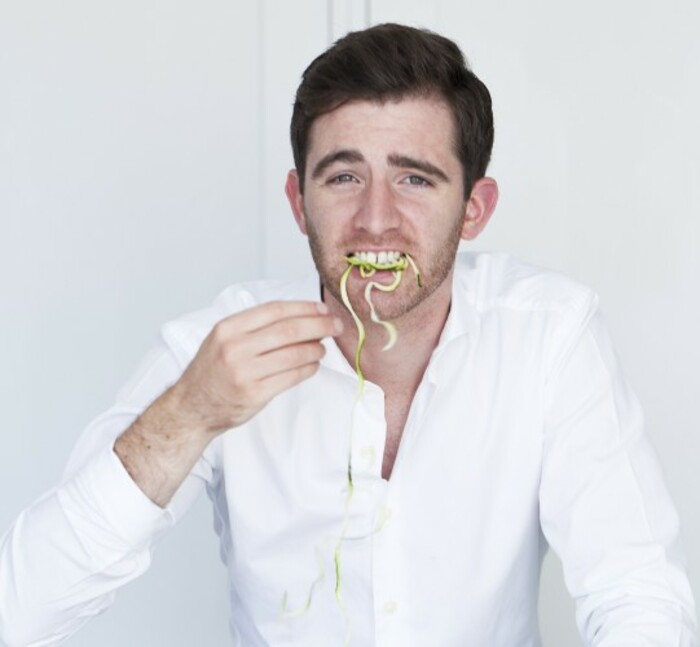 Source: Fiid
Inspiration
Convenience food is a difficult space for startups to break into, although a number of Irish operations have managed to build high-growth companies in the category, such as protein bar firm Fulfil Nutrition and frozen vegetable outfit Strong Roots, which is now targeting the US after successfully rolling out in the UK.
Ryan looked at such success stories for inspiration and thought there was one key element missing from Feed's proposition: an extended shelf life.
"We operated in the chilled space, which is an absolute nightmare because you've got a chilled supply chain, you've got lots and lots of production runs and then an insane amount of food waste," he says.
During a grocery shop, Ryan ventured down the baby food aisle, which was when the light bulb went off.
Baby food is often marketed as high in quality but is an ambient product like Pot Noodle, meaning it has a long shelf life.
"I started looking at the baby foods and wondering how the makers were pulling this off. I didn't know what the technology was behind it. I ended up buying about €80 worth of baby food that day," Ryan says.
An alumni of the Food Works scheme run by Bord Bia, Enterprise Ireland and Teagasc, Ryan contacted a food technologist he'd met through the programme and learned that the process for extending baby food's use-by date, known as sous-vide, is a relatively straightforward technique that could be applied to Feed's vegan meals.
"I decided to do it.  I wouldn't have to be in a chilled supply chain. I would have an ambient product and then I would tick the boxes that those massive brands that I really look up to had as well."
When he presented his new vision for Feed to his mentors – as a cupboard staple for healthy eaters – Ryan was universally shot down.
"Every single person said, 'That's a huge mistake, don't do that, the growth is in chilled.'"
The reason being, Ryan says, that ambient products "not the most inspiring in the world".
"If we put ourselves in the shoes of our customers, they're not really shopping in (the ambient) aisle. They're shopping where all the sexy stuff is happening, in the fresh aisle, because there's lot of innovation there."
Despite the warnings, Ryan pressed ahead and found a Dutch manufacturer that could give Feed's meals a longer shelf life by cooking the raw ingredients under a high steam in pouches – the sous-vide method.
Having worked two part-time jobs and drawn down half of a €50,000 Enterprise Ireland investment, Ryan had enough money to fund the initial production run of the ambient product, which launched under the new name 'Fiid' in 15 SuperValu stores in December 2018.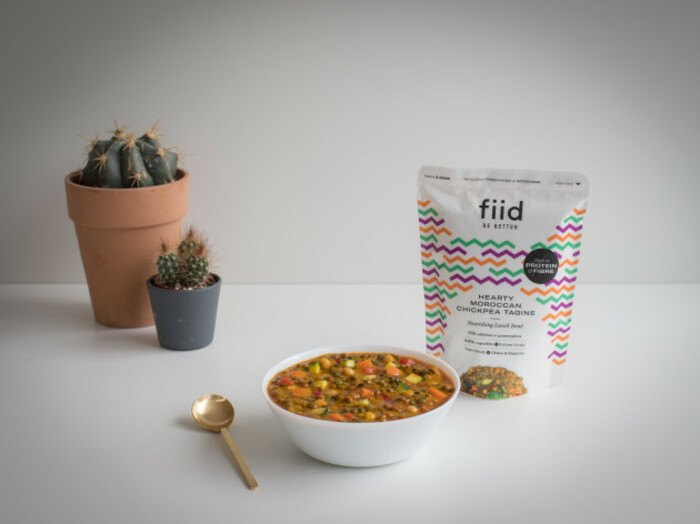 Source: Fiid
Future
Since relaunching, Fiid – which is still pronounced "feed" – has sold 39,000 meals and is now stocked in 60 locations in Ireland and listed on online-only supermarket Ocado in the UK.
Ryan attributes a big part of its survival – so far – to where Fiid is positioned in supermarkets.
Although its meal pots are ambient, the company has pushed retailers to continue stocking the products in the chilled section because that's where they sell best.
Ryan learned this after Fiid was offered a 150-store listing – on the condition that it would be stocked under the 'health and wellness'  banner rather than chilled.
"Buyers need volume. Their (performance metrics) are largely revenue-based. If you can prove to them that we deliver volume and we deliver sales, then that opens up the conversation," he says.
 "Very, very quickly we realised that in ambient, we don't sell. We put our product in one store in the health and wellness section and (our rate of sale) went down a lot.
"We pulled out of that deal, caused lots of drama for ourselves, and maybe burned a few bridges … But it could have potentially ruined the business. It could have destroyed the company very quickly because it wasn't right."
Ryan is hopeful Fiid will survive its third iteration. The company is due to announce a major supermarket deal over the coming months, although it can't disclose the details yet, and it hopes to launch an investor plan during the summer with assistance from Enterprise Ireland and Dublin BIC.
But the founder acknowledges that there is still the risk of failure, forecasting "a million" bumps in the road ahead.
He also admits he's still in line for making rookie mistakes, like when he and Cantwell had to individually apply stickers to 25,000 Fiid pouches due to a spelling error on the packaging.
But through failure, Ryan hopes he's becoming a smarter entrepreneur.
"Every time we do something that, we're like ,'We have to do this. It's payback for the mistake that we made.' We have to learn – like a dog."
His main ambition for the business over the next five years?
"To stay alive."
Correction: A previous version of this article stated that Fiid sold 20,000 meals since relaunching. It has sold 39,000 meals and donated 20,000 to charity.
Get our NEW Daily Briefing with the morning's most important headlines for innovative Irish businesses.