Fallon & Byrne is opening a fancy new food hall in Dundrum Town Centre
The outlet will anchor a new development at Ireland's biggest shopping centre.
FINE FOOD COMPANY Fallon & Byrne is opening a major new food hall and restaurant in Dundrum Town Centre.
The project will see five red-brick houses in Ashgrove Terrace redeveloped. The new 10,000 sq ft food hall will be split over two floors and will anchor the shopping centre's new 'Pembroke Square' development.
Fallon & Byrne, which specialises in artisan food, currently has a restaurant in Dún Laoghaire and a restaurant and food hall in Dublin city centre.
Fiona McHugh, the company's managing director, said that the business is "delighted" to open in Dundrum Town Centre.
"Our aim is to create something special in the soon-to-be-restored heritage buildings that lie at the heart of Pembroke Square, which we believe will be a dynamic new quarter within the centre," she said.
London-based property group Hammerson, which owns the Dundrum shopping complex, said that the new Fallon & Byrne outlet will "reinvigorate a currently underutilised part of the centre".
'Pembroke Square'
It said that the new 'Pembroke Square' will be a dining and leisure hub.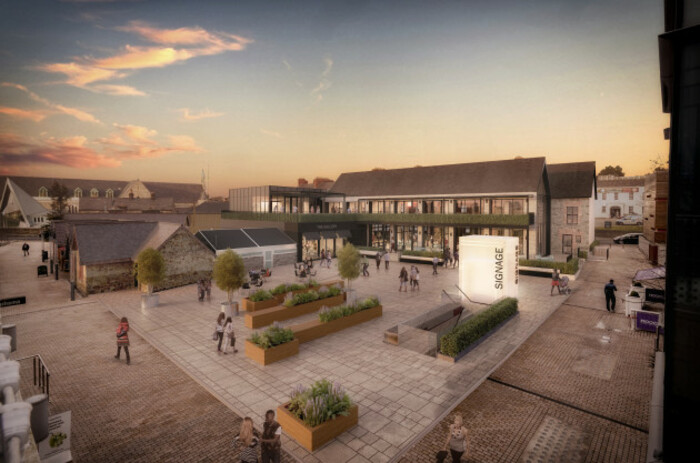 Source: Hammerson
The company said that the development will include the creation of a new public square that will host events throughout the year, an additional 3,500 sq ft of restaurant space and a new 8,000 sq ft "basement level leisure space".
Hammerson said that work on the new Fallon & Byrne outlet, while still subject to planning approval, is expected "to commence shortly".
Simon Betty, Hammerson's director of retail in Ireland, said that Fallon & Byrne's new outlet will bring "the finest Irish and international artisan foods and a high quality dining experience" to the centre.
Fallon & Byrne has sales of more than €13 million in 2016, the most recent year for which financial info is available, and saw its profits nearly double to €234,000 compared to €119,000 in 2015.
Sign up to our newsletter to receive a regular digest of Fora's top articles delivered to your inbox.