Here's what we know so far about Europe's 'cars for cheese' deal with Japan
The 'landmark' agreement promises to reduce several trade barriers between the regions.
THE EUROPEAN UNION has signed a new trade agreement with Japan in what it has described as a "landmark" deal that promises to reduce several trade barriers between the two regions.
Negotiations began five years ago and the terms of the agreement were finalised in December, but EU officials have arrived in Japan today for the final sign-off.
The EU said the Japan agreement – which has been dubbed the 'cars for cheese' deal – will help "cement Europe's leadership in setting global trade rules" and send "a powerful signal that cooperation, not protectionism, is the way to tackle global challenges".
It comes over a year after US president Donald Trump withdrew America from the Trans-Pacific free-trade agreement.
The EU-Japan agreement is expected to come into force before the UK leaves the trade bloc in March 2019.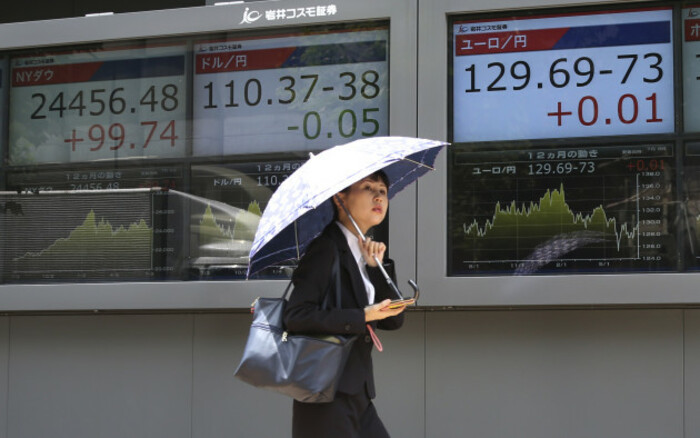 Source: Koji Sasahara/PA Images
Why is the deal important?
This is one of the largest trade deals ever negotiated by the EU and aims to help European companies tap further into the Japanese market.
As it stands, Europe is Japan's second-biggest trading partner worldwide, while Japan is the EU's second-biggest partner in Asia, after China.
The current value of EU exports to Japan is estimated to be more than €85 billion, with nearly 74,000 European companies exporting goods and services to Japan.
However, the trade bloc now is looking to create new opportunities with the Asian nation, which has a population of 127 million.
Once implemented, the agreement is expected to increase exports of goods and services to Japan by 13%, or an additional €13 billion annually.
Some sectors could potentially benefit more than others, with the European Commission saying that exports of processed foods, dairy and textiles could rise significantly.
What's included in the agreement?
The new deal aims to remove or reduce trade barriers between the EU and Japan.
At the moment, high customs taxes make it difficult for European firms to compete in the Asian nation, but the new agreement promises to remove the majority of duties paid by EU companies, which amount to €1 billion a year.
In particular, the deal will open up the Japanese market to EU agricultural exports by eliminating duties on wine and reducing tariffs on cheese and meat.
Over time, around 85% of EU agri-food products will be allowed to enter Japan duty-free.
In exchange, the agreement will make Japanese cars and transport equipment cheaper in Europe and open up Japan's services market to bids from EU firms in the finance and telecommunications sectors.
It will also recognise 'Geographical Indications' on a number of agricultural products, meaning that only goods with special status would be allowed to be sold in Japan under the corresponding name.
This will be applied to 205 European products, including feta cheese and speck ham from Tyrol.
What does this mean for Ireland?
According to the European Commission, Japan is Ireland's fourth-largest trade partner outside the EU and the new agreement will make trade "easier and cheaper" for Irish companies to trade there.
The value of Irish exports to Japan currently stands at around €2.5 billion, with more than 500 companies exporting goods such as horse feed, dental products, scaffolding, pharmaceuticals and dairy products.
With less than a year to go until the UK leaves the EU, the deal will potentially open up a new market for many Irish companies.
Source: Shutterstock/FashionStock
Under the introduction of new Geographical Indications, Irish whiskey will have a protected status in the Japanese market.
Although sales of Irish whiskey remain relatively low in Japan, it is currently the largest market in Asia for the beverage, with sales rising by 15.7% last year to just under half a million bottles.
William Lavelle, head of the Irish Whiskey Association, said that Japan will be "a key growth market" in future years and so welcomed the new agreement and the Geographical Indications.
"This means that only authentic Irish whiskey, produced on the island of Ireland in line with the approved technical file, can be sold bearing the name Irish whiskey," he added.
Sign up to our newsletter to receive a regular digest of Fora's top articles delivered to your inbox.