Your crash course in... the EU's grand plans for 'technological sovereignty'
The European Commission unveiled a slate of proposals this week on data rules and AI.
IT HAS BEEN a busy week in the halls of Brussels as the European Commission revealed its game plan for data regulation, artificial intelligence and "technological sovereignty".
On Wednesday, the EU executive's president Ursula von der Leyen and commissioners Margrethe Vestager and Thierry Breton presented both the strategy for data and a white paper on artificial intelligence.
The announcements, at this stage, are merely a set of proposals and ambitious ones that will take years of wrangling, bargaining and compromise to get over the legislative line.
They cover a broad set of themes but at their core are rules that will pave the way for data sharing in industry and greater oversight on artificial intelligence.
"The breadth of our strategy reflects the scale and nature of the transition ahead of us," von der Leyen said.
She said that Europe wants to carve out a landscape where tech competes under fairer rules for all and people can trust in those rules and technologies, adding that for many, tech has "not yet earned that trust".
It aims to stimulate Europe's digital economy in a world where the biggest and most popular tech products and services come from the US and China.
EU regulations, as seen recently with GDPR and antitrust fines, can have a global reach and are a concern for Big Tech. 
Data sharing
The commission wants tech companies to make their data available fairly to third parties.
It is taking aim at the staggering amount of the world's data is stored within the troves of a small number of companies. It wants this data to be more accessible to industry across Europe to foster the growth of data-driven businesses in the bloc.
Ian Talbot, chief executive of Chambers Ireland said the measures would be "especially useful for smaller companies that do not have the means to finance their own research labs".
Any data sharing initiative will have to fall within the parameters of the EU's already-stringent data protection regulations.
The shape of these data-sharing rules is up in the air but it may resemble the second payment services directive (PSD2) and open banking, which requires banks to share data with third parties.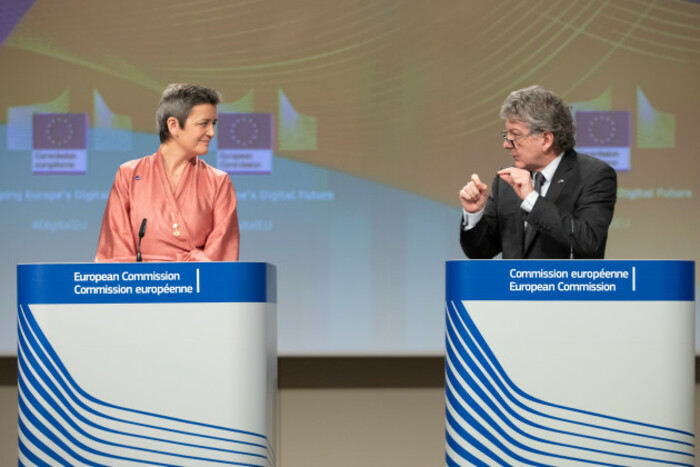 Source: Xavier Lejeune
Thierry Breton admitted that Europe is playing catch up with the data-driven economy and that regulations should have been introduced when the power of personal data and the platforms that control it started to become apparent.
"We recognise that we missed the battle for personal data to the US," Breton said. "The battle for industrial data starts now."
The commission will likely attempt to formalise these plans with a Data Act in 2021.
Artificial intelligence
Von der Leyen's commission has artificial intelligence in its sights too but is sending some mixed messages.
She said the EU will "invest in a network of local digital innovation hubs and in centres of excellence for advanced research and education" that will help European businesses.
Vestager stated that AI as a whole is a neutral technology but it can be contorted into problematic uses.
One case that causes consternation is facial recognition. In recent weeks, leaked documents revealed that the commission was considering a ban on the use of the controversial technology in public spaces. That proposal was since been pulled back.
Rather, the commission has called for independent testing of "high-risk" AI uses cases before they can be permitted for use in the EU. This may include sectors like healthcare and law enforcement.
Balance
At the heart of the proposals, the EU wants to create a more even playing field for businesses and researchers in Europe that would, at least in theory, bolster innovation and competition.
Europe finds itself stuck in between the US and Asia when it comes to the tech sector. While it has produced a few "champions" such as SAP, Spotify and Nokia, Europe's tech pedigree pales in comparison to Silicon Valley, China and South Korea.
This is also a political maze to navigate as the US and China butt heads over trade and Europe attempts to play both cards with Huawei and 5G.
It's one thing to publish a strategy and another thing to implement it so expect only a portion of these proposals to become reality and others to be watered down.
A consultation period with member states, industry and civil groups will play out over the next few months.
Furthermore, the proposals don't touch on how or if the European Union will try to introduce some bloc-wide rules on the removal of harmful content and who is liable for that content, which will be a tricky debate around free speech online.
Resistance
While the extent of how these proposals will materialise into actual law remains to be seen, the tech industry knows that change is coming in some form.
Source: Frederic Legrand - COMEO
Facebook's Mark Zuckerberg attempted to get in front of things on Monday by meeting with EU officials.
He conceded that regulation is inevitable and presented his vision of the direction that this regulation should take but the EU's top brass weren't enamoured with the CEO's overtures.
Executives from Google, Apple and others have made similar lobbying efforts in recent weeks as well to get their two cents in and shape the frameworks to come.
Actions on antitrust and the passing of GDPR have proven that the EU is willing and able to position itself as the world's tech watchdog.
It will want to repeat these actions but as it juggles contentious budget debates – that will affect how all of these tech efforts will be financed – and trade deals, there's a long road ahead.
Get our Daily Briefing with the morning's most important headlines for innovative Irish businesses.