'We've quite a bit of ambition left': IT giant Ergo is aiming to hit €100m in sales next year
Chief executive John Purdy says the business is eyeing up more acquisitions.
IRISH IT COMPANY Ergo recorded its most successful financial year to date and is in the market to acquire more firms as it tips closer to €100 million in annual sales.
Ergo, one of the country's biggest indigenous IT firms, provides a range of tech products and software licensing services to businesses in Ireland, the UK and a growing number of international markets.
The company, which was established by John Purdy and Tim Sheehy in 1993, started out selling toner cartridges for printers.
Now Ergo runs IT on behalf of large organisations such as transport group CIE and multibillion-dollar aircraft leasing business Aercap. The company has also partnered with Microsoft and provides services to a number of the tech giant's customers.
Accounts just published for Ergo's ultimate parent company, Burlawn Limited, show the firm registered sales of €68.4 million during the year to 31 March 2018 – up from €64.2 million the previous year.
The filings with the Companies Registration Office also showed that outfit recorded its best financial year to date, with after-tax profits up from €1.27 million to €1.68 million. This pushed its accumulated profits to just over €9 million.
The accounts noted that the business is expected to record revenue in excess of €74 million over the current 12-month financial period, which ends in March 2019.
However, speaking to Fora, Ergo boss Purdy said this figure has been revised because many of the company's divisions are outperforming expectations.
"We just started quarter four in our 2019 financial year and we're ahead of our plan by a good bit," he said.
"So we think we will end up with revenues of €85 million to March 2019. We've started our budget process for the year starting April 2019 and in that financial year we will exceed €100 million."
He forecast that pre-tax profits – which stood at €1.6 million in the latest set of accounts – would pass the €4 million mark as a result of the surge in revenue.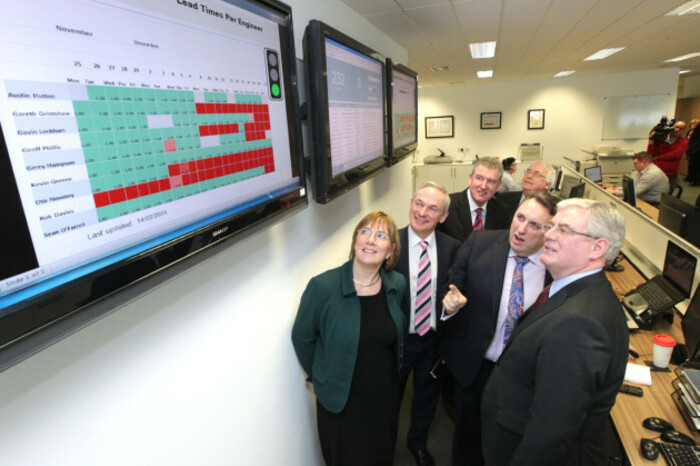 Source: Mark Stedman
A note in the directors' report accompany the accounts said the bump in revenue was partly down to a successful year for Ergo's latest acquisition, Micromail Limited.
The Cork-based software licensing business was acquired by Ergo for €6.9 million in 2016 and pulled in over €26 million in revenue last year, which was "well ahead of previous years".
The directors also noted that the company won two significant tenders during the year with an aviation finance company and a national transport provider. These deals will add "significantly" to the group's recurring revenue over the coming years, the accounts noted.
The bulk of Ergo's revenue came from the Irish market, where it registered sales of €57.6 million. However, turnover in the local market was down €3.7 million compared to the previous 12-month period.
The company more than doubled its sales in the UK market to €6 million in the same period, while sales in the rest of the world increased from €292,000 to €4.6 million.
Ergo employed an average of 257 workers across the year – the majority of which are sales staff – and paid an average wage of €57,000.
[embed id="embed_2"]
Looking ahead
In recent years, Ergo has expanded its services and developed a cybersecurity offering for customers. It has also built a 24/7 tech support centre for customers across the globe – many of which are Irish-headquartered companies expanding abroad.
Purdy said the company is looking to launch of another product idea in the near future, which could be spun out into a separate company. 
Two firms have already spun out of Ergo since it was founded – business management software startup FlowForma and fintech outfit Fenergo. The latter of the two raised $75 million in 2015 in return for a 65% stake in the company.
A number of Ergo's divisions – such as its print services business – are trading ahead of previous years, according to directors at the company.
They noted that the group is still focused on integrating new acquisitions – like Micromail Limited and customer relationship management firm iSite – into the Ergo group.
Purdy said Ergo will continue to consolidate these new wings of the business into the wider entity and hinted at plans to acquire further firms in the coming years.
"The last acquisition we did was in May 2016 and we did one in 2015. We've been bedding those down very successfully. We do intend in the year to come to maybe acquire again if we can find the right asset to buy," he said.
"We're starting to refocus our minds on what is beyond €100 million (in sales) and we're saying by 2023 and 2024, we can grow to €150 million. We still feel we've quite a bit ambition and growth left."
Get our NEW Daily Briefing with the morning's most important headlines for innovative Irish businesses.