'Our first big project was shelved - I thought we were screwed; we had no money coming in'
As part of our How My Business Works series, we profile i3PT.
FEW PEOPLE WOULD think of starting a construction-based business during the height of the recession, but the fact that the industry was "in the toilet" didn't stop Eoin Leonard.
The Cork man had an idea, which stemmed from the frustration he experienced in his years working as a project manager specialising in the construction of data centres. 
"Around 2008 I got to a point where I fell out of love with construction as I was watching the quality go down," he tells Fora. 
"I didn't really believe in what I was doing anymore, so I said I either need to change my career or make a change in the industry."
Leonard decided to start his own third-party certification firm, i3PT, in a bid to "raise standards on construction projects" by independently reviewing designs and work throughout a building process.
This would include inspecting building plans and sites throughout a project and raising queries or pointing out potential defects in the work.
However, he was unable to secure funding initially and had to "bootstrap a lot of stuff" for the first couple of years while he was developing the business.
"When I was talking to investors or banks about setting up a company around quality in construction projects they were all looking at me thinking, 'God love ya'," he adds.
In 2011, Leonard started a business master's course in University College Cork, which was where he ended up meeting a potential investor.
"Hugh O'Donnell came from Kentz Engineering, which is a really large firm, to speak to my MBA class about leadership and I hounded him into meeting me for a coffee. We talked about my plan and he said we could be onto a winner.
"A few months later he became our first investor and it snowballed from there."
'A really broad team'
I3PT now reviews construction projects across Ireland and the UK, including data centres, commercial buildings and high-density residential projects. The firm worked on Facebook's data centre in Clonee and Twitter's Dublin headquarters.
The company employs 52 people, with offices in Dublin, Cork, Galway and London. This includes a range of engineers – civil, structural, mechanical, electrical, environmental – as well as tradespeople such as plumbers, carpenters and electricians.
"We have a really broad team; that's a big thing for our company," Leonard says.
"On site inspections, electricians will pick up on things that engineers won't see and vice versa – they have different types of knowledge and that was something we were keen to bring into the business."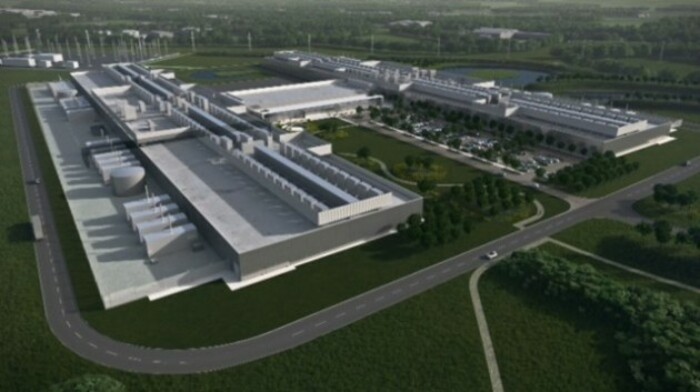 Source: Facebook
As the outfit expanded, Leonard decided that he wouldn't go into design or consultancy services because that might present a conflict of interest.
Instead, he started developing software to add to i3PT's auditing services.
"I thought it would be great if we knew something had been inspected because we had evidence of it – photographs and records that we could pull up whenever we wanted them. So we started looking at creating tools that would allow us to capture the information."
In 2014, Leonard launched CertCentral – i3PT's in-house software system to track the certification process. It includes an app that can be used and accessed by teams working on a project, like an interactive snag list.
"Everyone – from the architect to the builders and the guys fitting kitchens – can track issues from the moment the shovel hits the ground to the day the keys are handed over," he says.
"They can check designs, raise or close out defects. It's a project collaboration tool at this point that we offer to clients."
'I thought we were screwed'
Although the business is "on the right track" now, Leonard says that it was tough getting started as there was nobody else in Ireland doing third-party construction certification at the time.
"We had to convince people why they should have an independent firm to certify their buildings – that was really tricky because nobody else was doing it.
"So it was an incredibly stressful time for me financially and personally because I had a lot to lose."
He says that the toughest challenge was after he secured his first major project for a data centre – which then fell through.
"I was thinking, 'Excellent, we've made it, this is the turning point.' I hired two more guys to help with the extra work. Then one evening driving home I got a phone call and the guy said the project had been shelved.
"It was a billion-euro project. We would have been set for the next four years and then it was gone. It was like someone telling you Santa didn't exist; I thought we were screwed. We had no money coming in and I was in trouble if we didn't pull it off.
"I couldn't stand the thought of having to tell these guys that I'd lured away from really secure jobs that it actually might not work out. I felt responsible for the team and I didn't want to let them down. Nothing's been as hard at that."
Leonard says that the company bounced back after getting a few more contracts and since then, work has been coming in steadily.
He adds the company now works on around 150 projects a year and is currently appointed on builds with a combined construction value of more than €7 billion.
He says that the firm's turnover was €2.5 million last year, but he is expecting that to rise to around €3.5 million this year.
According to its most recent public accounts, i3PT recorded profits of more than €250,000 in 2016.
[embed id="embed_3"]
'Pulling on the reins'
I3PT started expanding into the UK market in 2012 and opened its London office in 2015. Leonard says that the company now has "a decent business" there, representing about 15% of its overall turnover.
"I'd say it'll grow quite a bit in the next two years. There's massive potential there so we're looking at expanding our team in the UK. It's our smallest team currently but that's going to step up a bit in 2019," he adds.
Overall, Leonard says that iP3T could double its workforce in the next couple of years but so far he has been "pulling on the reins a little" in terms of expansion.
"We haven't gone out there and accepted every single opportunity. We'd rather do half the turnover and do things correctly than double our turnover working with people who want to do projects fast and cheap."
Looking beyond Ireland and the UK, Leonard says that he is considering expanding to large cities such as New York or Berlin.
However, his focus for now is on developing the software side of the business further.
"It wasn't what we got into business to do, but in a funny way that's where we've found ourselves," he says.
"We're still very selective with clients we want to work with on the software. We provide a service with that software – it's a (software as a service) model and the service element is quite important to us.
"I'd probably struggle to stay interested if it was just selling software. My passion is in developing better buildings – that's why I get up in the mornings."
Get our NEW daily digest of the morning's most important headlines for innovative Irish businesses.