Diversifying talent and investing in research - inside Ireland's export game plan for 2020
Brexit has taken its toll on new jobs as exhausting trade negotiations beckon.
YOU WOULD BE forgiven for having a sense of déjà vu as Enterprise Ireland announced its end of 2019 statement yesterday.
All the hallmarks were present – Brexit, developing the regions and access to talent – but these familiar challenges and opportunities are evolving for the state agency responsible for indigenous business growth.
Minister for Business, Enterprise and Innovation Heather Humphreys described 2020 as kicking off on a "positive note" with 221,895 people now employed by Enterprise Ireland client companies, the most in the agency's history.
However, the numbers aren't entirely a cause for celebration. While the agency announced that 16,971 new jobs were created in Ireland in 2019 by these companies, there was a net increase of just 4,706 jobs. This is a notable decline from the 9,119 net new jobs created in 2018.
Growth was seen in several sectors such as clean tech (9%), life sciences (6%) and fintech (6%) but the vital food sector reported growth of only 1%, which the agency puts down to Brexit uncertainty.
"Despite the very strong performance of our exporters right across the country, in 2020 we cannot become complacent," Humphreys said.
"Over 4,700 net jobs were created … growth is slowing, reflecting Brexit uncertainty and recruitment challenges. This is proof that we should never take jobs for granted."
Humphreys added that two-thirds of new jobs created were outside of Dublin and that "this is important because we cannot reach our full potential as a country without successful regions".
Source: Maxwells Dublin
All regions except the midlands enjoyed growth of between 2% to 3%. The midlands declined by 1%, which has been largely attributed to the loss of Bord na Móna jobs in the region.
Work to do
One of the chief challenges for companies is access to talent around the country. Alongside its end-of-year review, Enterprise Ireland chief executive Julie Sinnamon also announced a 2020 action plan for women in business to bolster growth through more diversity.
"This is quite a shift and increased focus from Enterprise Ireland and it's moving our focus on just dealing with women in the startup side to women across the whole business area," Sinnamon said.
She added that the action plan will push for more women in middle and senior management in existing companies as many new startups emerge from such companies and this will help diversify the pool of entrepreneurs and founders.
This year also marks the final year of Enterprise Ireland's four-year strategy. According to the agency, it remains on or ahead of schedule on most of its targets but one outlier remains in research and development.
The agency is aiming for its clients to spend €1.25 billion per year on R&D. It currently sits around €970 million.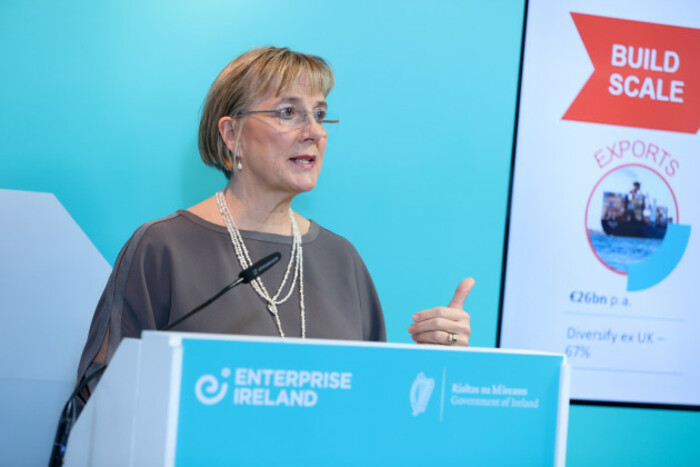 Source: Maxwells Dublin
"That is a target which is challenging. It is critical," Sinnamon said.
"There needs to be an increasing spend by Irish enterprise on the innovation agenda. So this is something which we will be putting a stronger focus on in 2020."
Brexit and diversification
Brexit remains a cause of concern for indigenous businesses with Enterprise Ireland approving €125 million in funding for Brexit-exposed businesses over the last two years.
During the agency's statement this time last year, the government and companies were staring down a clock of the UK's EU divorce happening in March 2019. Twelve months later, the agency is once again facing the prospect of Brexit happening, but the circumstances differ.
Boris Johnson and his comfortable majority look primed to make Brexit a reality by the end of the month.
Then commences the nitty-gritty of "complex" trade talks, Humphreys said, adding that "it will be a mistake to underestimate how challenging that this process will be".
"The hard work is only starting. Boris Johnson has said that he wants the deal done in 11 months.
"(That) seems unrealistic when you think that negotiations on recent trade agreements like the EU-Japan economic partnership took in the region of four or five years to complete," she said.
"There is still a lot of uncertainty and businesses need to continue assessing their Brexit exposure."
While the Brexit saga has been trudging along the last three-plus years, Enterprise Ireland has been laying more focus on pushing Irish companies into different markets rather than the UK with the Eurozone, North America and Asia-Pacific emerging as the most common.
"We have a market discovery fund and so far we've spent €9 million with companies in terms of helping them to alleviate the cost and the investment that they have to make in terms of researching and developing new markets," Sinnamon said.
The agency opened eight new market presences in 2019, including in Montreal, Seattle and Melbourne.
"Two of those are in Lyon and Munich, in the Eurozone, to help companies with that agenda (of diversifying)," Sinnamon added.
"And we're not walking (away) from the UK market," she added. "We opened a new presence in Manchester and that's to make sure that Irish companies are availing of the opportunities within the northern powerhouse and into Scotland."
Get our Daily Briefing with the morning's most important headlines for innovative Irish businesses.