Enterprise Ireland has urged firms to adopt a 'no regrets' policy to Brexit
The agency is expanding offices around the world to diversify Irish companies' market reach.
WITH 79 DAYS to go until Brexit, Irish firms need to adopt a diverse "no regrets" policy to endure the volatility, according to Enterprise Ireland.
Chief executive Julie Sinnamon said that the agency and its clients are working towards greater diversification of the markets they sell into.
"The bottom line is companies have to plan with a no regrets policy in terms of doing all they can within the uncertainties that are there and plan for the future," she said.
Regular currency volatility with the sterling, which affects Irish companies' income, and potential tariffs for trading into the UK remain significant bugbears.
"The issues that clients are talking about have remained the same, currency volatility being something that's absolutely key, and we see a lot of volatility in the year ahead," she added.
Sinnamon, who was speaking at the announcement of Enterprise Ireland's 2018 figures, said that its business into the UK continues to grow but at a slower pace.
"What we've done is we've grown the rest of the world at a faster rate and that is no accident. That has been a key focus of the organisation."
She added that the agency is urging clients to look at the eurozone as a "continuation of the domestic market". It has set a target to grow exports in the eurozone by 50% by 2020.
In the report released today, the agency said €74 million in funding was approved for 535 "Brexit-exposed" companies. The agency has also launched online training resources to help businesses understand and adapt to changes in customs and logistics.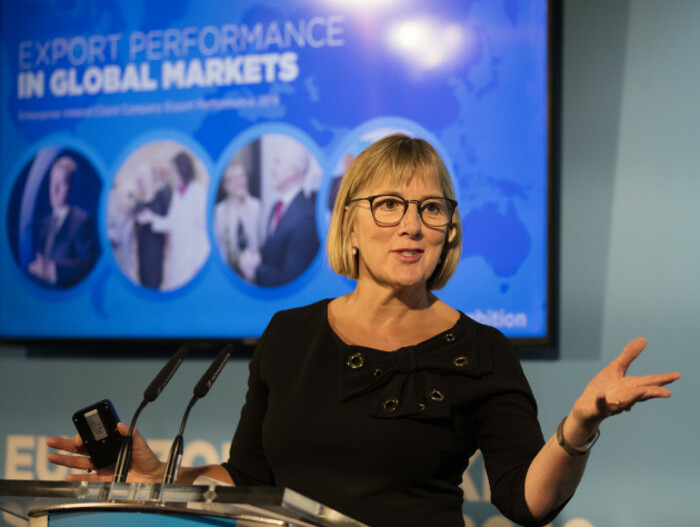 Source: Eamonn Farrell/RollingNews.ie
Global reach
Enterprise Ireland will also be expanding its presence globally with more offices and boots on the ground to aid in this diversification mission.
It has 34 existing presences globally and will be expanding that reach with new locations in 2019 as well as carrying out 270 trade missions and events throughout the year.
"We are expanding that in order to help with that diversification agenda with companies," Sinnamon said.
"We're adding new offices, we're expanding existing offices, we're putting new presences in, which is a first step towards putting a full office in place."
This includes new and further locations in the UK, Germany, France, Denmark, the US, Australia and Vietnam to bulk up resources in many international markets.
"If you want to sell from Ireland, people are looking for something that solves a problem that they can't solve closer to home," Sinnamon said on the need to reach international markets.
Enterprise Ireland's end of year statement for 2018 showed that there are now 215,207 people employed in companies linked to the agency. Last year saw 18,846 jobs created with 9,119 net jobs created.
Over 60% of these new jobs were outside of Dublin as part of a focus on regional development.
Get our NEW Daily Briefing with the morning's most important headlines for innovative Irish businesses.