Tour groups 'pulling a fast one' are overrunning Cork's English Market
Traders in the iconic marketplace have complained that snap-happy visitors are hurting business.
THE MANAGER OF Cork's English Market has said that tourists need to be better "educated" about the centuries-old marketplace following complaints of overcrowding from traders.
The famous 'raw food market', which recently celebrated its 230th anniversary, is home to 47 traders, many of whose businesses have sold goods like meat, vegetables and pastries for generations.
In a recent interview with the Evening Echo newspaper, butcher Michael Bresnan – whose great-grandfather started Bresnan's Family Butchers in 1898, making it the market's oldest remaining occupant – suggested that large tour groups are "suffocating" day-to-day trade in the market.
Bresnan said groups block the market's aisles by taking photographs and hinder customers who regularly shop there.
Aramark Property's Orla Lannin, who manages the English Market on behalf of Cork City Council, told Fora that she has been aware of the issue of overcrowding for at least two years.
Footfall figures for the market aren't recorded, but anecdotally, the number of visitors has increased year-on-year since 2011 when Queen Elizabeth visited as part of an official tour of Ireland.
At certain times in recent years, four to five buses carrying as many as 60 tourists each would show up at any one time, Lannin said, which created "a bit of a negative vibe" in the market because customers had trouble accessing counters.
"I've been speaking with tour guides and tour companies and trying to get them to educate the groups coming in," she said.
The property manager said new rules were introduced in March of last year requiring large groups to register in advance of a visit.
They are only permitted to travel through the narrow marketplace in smaller groups of eight people at any one time, and they are encouraged to visit during off-peak hours.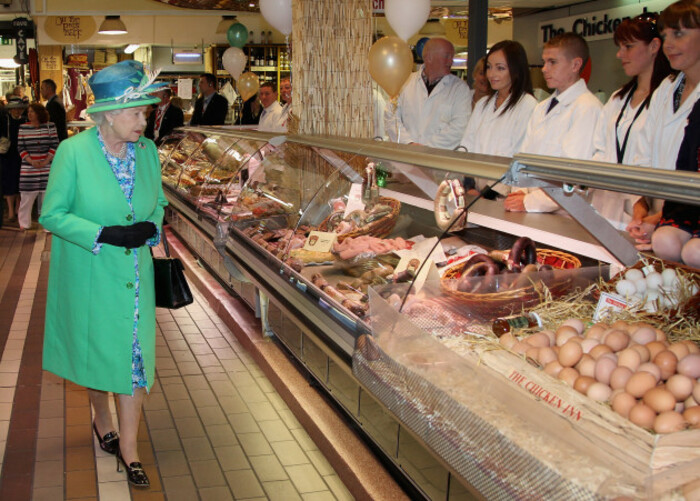 Source: Anwar Hussein/EMPICS Entertainment
Despite the recent complaints from traders, Lannin insists that the system is "working out well", albeit with some teething problems. She said some groups do try to "pull a fast one" and enter the market without notifying management in advance.
"Of course they're welcome, but there are protocols in place because if it continues down that line, we probably wouldn't have a market in three years' time," she said.
Lannin – who has a background in hotel management – suggested the issue will be resolved over time by drilling tour guides on the English Market's ethos that it is a place of trade and not necessarily a tourist attraction.
"It really is about educating (tourists). I think groups come in here and they're not told in advance that this is a working market," she said.
"People in here are trying to make a living. My traders are number one."
'Banter'
Lannin has managed the market for six years. She is responsible for looking after the general maintenance of the building and liaising with traders on behalf of the city council, which ultimately owns the property.
She also plays host to the numerous film and television crews that document the marketplace.
[embed id="embed_3"]
When asked whether there are plans to replicate the concept of the English Market elsewhere in Aramark's portfolio – which includes retailer Avoca – Lannin said she is unaware of such plans.
But she said that "people from every county" have been in contact over the years expressing an interest in setting up their own version of the market – although she was quick to dispel their illusions.
"You can't replicate the English Market because it's a generational family," she said, referring to the traders.
"It's not going to have the same uniqueness as we have. The building is so unique, the architecture … The difference here is the banter and the families that have been here over the years."
Sign up to our newsletter to receive a regular digest of Fora's top articles delivered to your inbox.