'We're under pressure after being valued at €200m. You hardly sleep at night'
Conal Henry is in charge at Limerick-based Enet, which was bought by a state-backed fund.
CONAL HENRY IS the head of the biggest Irish broadband company you've never heard of, but he wants that to change.
Last week a state-backed fund took a majority stake in Limerick-based wholesale broadband firm Enet in a deal that valued the company at up to €200 million.
Henry, the company's CEO, is proud that the company got the deal across the line, and views the investment as a validation of the business.
"I was with a big customer this morning, and he asked: 'How's it going?' And I had to tell him, it's going good. (Getting the deal) feels good for me personally, it's good for my team, good for the shareholders, and we look good," he told Fora.
"People have definitely gone 'crikey'. It's senior hurling. If you're not at the All-Ireland final, you're definitely coming out of your province."
Nevertheless, Henry said that the pressure is now on for the company to deliver. Founded in 2004, Enet is a wholesale broadband company which connects fibre networks in towns across Ireland.
The firm charges other broadband companies, such as Sky and Virgin, to use the fibre networks it has created.
The businesses that use Enet's lines are the ones that then on-sell broadband services to home customers. The Limerick firm is also one of the three shortlisted candidates competing to build the government's National Broadband Plan network.
Source: Don Moloney
Irish-American telecoms tycoon David McCourt, who is estimated to be worth $750 million (€640 million), became the chairman of Enet in 2013, when his private investment firm,  Granahan McCourt, bought the company with the support of US outfit Oak Hill Advisors.
Last week, Oak Hill and several small shareholders sold their stakes to the Irish Infrastructure Fund.
Pressure
Henry said that the deal marks a turning point for the company. He said that the backing will give Enet the financial firepower it needs to build a fibre broadband network across Ireland.
However, he added that with more money comes higher expectations.
"We're under severe pressure to deliver. I think we're good enough but you hardly sleep at night, you're like a baby, you wake up screaming every two hours, but it's the right sort of pressure to be under," he said.
"It's exhilarating, like a bungee jump. You know you can do it, but it's pretty scary. That's what it feels like, I know we can do this."
Henry, who served as Ryanair's chief financial officer before joining Enet in 2006, said that with the right people, the job "is easy", however with"the wrong people "it's impossible".
"You need to get people who share the same vision and who can be trusted. I worked for an airline chief executive who was a micro-manager, and I don't know how he did it.
"I'm not a genius, O'Leary is a genius, all I can do is delegate and trust my guys."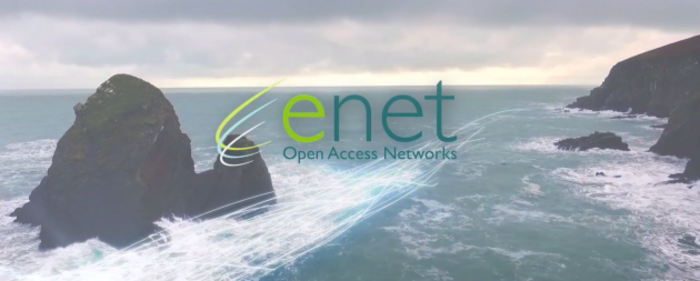 Source: Youtube
Expansion
Henry acknowledged that many people don't know the name Enet as it mostly deals with other broadband companies rather than individual customers, however this is something he is hoping to change.
The firm is now looking to move its operations up a notch and is planning to build a fibre network that will span across the country. Henry said that building such a network will likely costs "hundreds of millions of euro" and take three to five years.
As its next step, the company will look to build similar networks in other European countries, such as the UK, and then rent out their use to telecoms firms. The cost of building networks in more larger, more populous countries would likely cost billions.
"The Irish project, the network development, hundreds and hundreds of a millions needs to be invested," he said.
"It's a factor of population. The opportunity to build in the UK requires billions, definitely.
"The market for telecommunications networks 20 years from now will be dominated by two powers: old incumbents and new, open-access networks that will be wholesale.
"(The open-access networks) will be a significant part of the market, and there'll be one or two large pan-European players. We intend to be one of them."
Sign up to our newsletter to receive a regular digest of Fora's top articles delivered to your inbox.
read more on