Limerick's Enet is worth up to €200m after a US millionaire and state-backed fund team up
The Irish Infrastructure Fund is buying a majority stake in the wholesale broadband business.
A STATE-BACKED fund will buy a majority stake in broadband company Enet in a move that values the firm at as much as €200 million.
The move will see the Irish Infrastructure Fund strike up a partnership with existing shareholder Granahan McCourt Capital, a company that is run by its founder and chairman, David McCourt.
Based in Limerick, Enet is a wholesale broadband company which connects fibre networks in towns across Ireland. The firm charges other broadband companies, such as Sky and Virgin, to use the fibre networks it has created.
The businesses that use Enet's lines are the ones that then on-sell broadband services to home customers. The firm is also one of the three shortlisted candidates competing to build the government's National Broadband Plan network.
Irish-American investor McCourt has made a fortune in the broadband industry, setting up, buying and selling multiple companies. In 2012 his net worth was estimated to be $750 million (€640 million).
He became the chairman of Enet in 2013, when Granahan McCourt bought the company with the support of US private equity firm Oak Hill Advisors.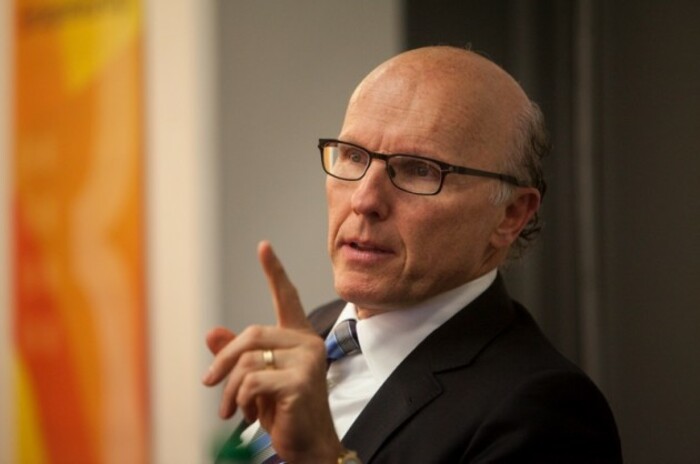 Source: Wikimedia
Sold
Granahan McCourt and Oak Hill, along with several other investors, paid more than €40 million to buy Enet in 2013.
However it was announced today that Oak Hill and other small investors are all selling their stakes to the Irish Infrastructure Fund, which will own 78% of the broadband firm.
The Irish Infrastructure Fund is managed by Irish Life Investment Managers and AMP Capital and is backed by the state's sovereign wealth fund, the Ireland Strategic Investment Fund.
The transaction is expected to reach financial close in the next few months following regulatory approvals. Fora understands that the deal values Enet at between €150 million and €200 million.
Growth
McCourt said that Enet and the Irish Infrastructure Fund "are committed to making long-term investment in Ireland's future and to gearing its economy for growth".
"The provision of world-class connectivity infrastructure needs to be viewed as a vital utility, yet many residents and businesses across Europe remain left behind," he said.
Enet CEO Conal Henry previously told Fora that about €100 million was invested in the company following its takeover in 2013.
He also said that the firm hopes to move into the UK market in the next year or so.
Sign up to our newsletter to receive a regular digest of Fora's top articles delivered to your inbox.
read more on