Why Emirates' flagship 'superjumbo' jets won't be coming to Ireland any time soon
The A380′s biggest operator wants to bring the plane to Dublin, but there's a problem – or four.
A DECADE AFTER it first entered service, it's been a dream of Irish plane spotters that the enormous Airbus A380 aircraft might one day be used on these shores – but it's unlikely to happen any time soon.
Emirates, easily the largest operator of the so-called superjumbo jet, originally planned to land a double-decker A380 at Dublin Airport last March but postponed the highly anticipated stopover for 'operational reasons'.
It would have been a historical event. Although A380s have visited Shannon Airport before, the giant jets have never touched down in the capital.
Earlier this week, the Gulf carrier's country manager for Ireland confirmed that local aviation fans will have to wait a while before they can point their binoculars at the world's largest passenger plane.
Speaking at a gathering hosted by the Royal Aeronautical Society, Enda Corneille said bringing the jet to Dublin is a possibility, but he isn't sure when that day will come.
"Basically, it needs a double-decker gate. That would take six months to build," Corneille explained.
"While it was being built, it would take four gates out of commission … they're very valuable for A330s," he said, referring to the aircraft Aer Lingus uses to operate transatlantic flights.
"We're kind of in a bind. I think the airport want to do it. We want to do it, but it's the issue of the gates."
In addition to putting important facilities out of action, Corneille said there is only one space on Dublin Airport's airfield where an A380 – which is 262 feet wide and has a private lounge on board – could park and reverse without bumping into other planes.
It's also unlikely that airport operator DAA would prioritise Emirate's wishes for the sake of a single aircraft.
"If you spoke to Mike Rutter from Aer Lingus, he'd say, 'I want more taxiways.' If you speak to me, I want a gate for a 380. Michael (O'Leary) wants other stuff … DAA has other mouths to feed."
Source: DPA/PA Images
Competition
Corneille is also cautious about setting a date for the big event for commercial reasons.
Emirates currently flies twice a day from Dublin to Dubai using a 362-seater Boeing B777. It claims to fly more than 20,000 passengers out of Ireland every month.
The airline – which operates a 'hub and spoke' model, connecting passengers to long-haul destinations via its central airport in Dubai – competes with other Gulf carriers flying east out of the Irish capital such as Etihad and Qatar Airways.
Another player will enter the arena in early June when Cathay Pacific launches its four times weekly service to Hong Kong.
"If I look at the competitive set at the moment. We're doing a seat (load) factor or around 80%. We're profitable. Do I want to overload the boat? Vanity can get in the way. I want to see how the summer goes with the capacity we've got," Corneille said.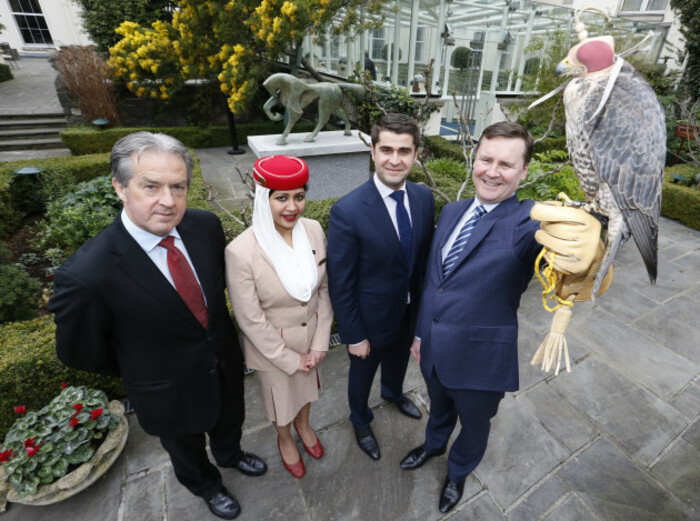 Source: Sasko Lazarov/Photocall Ireland
That said, Emirates last month ordered 36 new A380s in a deal worth $16 billion – effectively saving the superjumbo from the guillotine – which will join the existing 101 of the Airbus giants in its fleet.
"I think with that number of aircraft coming down the track, these things have to go somewhere. I'd hope to bring it into Dublin, but I just can't tell you when," Corneille said.
However it's more likely that Emirates will break away from its usual European strategy and roll out a third regular-capacity flight from the Irish capital.
Traditionally, the airline has started routes with daily flights using a B777, moved to double daily frequency and then switched the aircraft for an A380.
"Strategically we want to build out a third operation (from Dublin). Given Cathay, given others, you don't want to be daft about it either," Corneille said. "I think it's something we might grow into, but maybe not just this year."
A third flight out of Dublin using a B777 – which have larger bellies than A380s – would also allow the airline to carry more cargo out of Ireland. According to Corneille, Emirates flies up to 25 tonnes of goods out of Ireland every day.
"You'd be amazed what would be underneath the floor when you're on the aircraft," he said, noting that the Dublin flights carry everything from Keogh's crisps to baby milk formula and live falcons – not to mention Botox from Mayo.
Hong Kong
When quizzed about his thoughts on Cathay Pacific's expansion into Dublin, Corneille said that he is unsure whether there is much demand for direct flights to Hong Kong.
"Ireland Inc is very excited about Cathay. Tourism chiefs and government ministers are all clambering to claim credit for the first 'direct' Chinese route. But I don't believe it's about China at all," he said.
"I see all the numbers and I don't see enough numbers Ireland-China to justify anything. They'll fly into Hong Kong, but they'll use Hong Kong in the same way we use Dubai as a hub … Cathay will be fighting out with us on Australia and the Phillipines in particular."
Nevertheless, Corneille said another airline advertising eastern flights "is good for us all".
"They're a good brand and they have a good reputation and they'll be a formidable competitor. But competition comes and goes … the customer will decide."
Sign up to our newsletter to receive a regular digest of Fora's top articles delivered to your inbox.