There's a plan to force Irish energy companies to buy electricity from homeowners
A new bill wants to make it attractive for householders to produce renewable power.
ENERGY PROVIDERS WOULD be obliged to buy electricity produced by residential homes and small businesses under a new proposed initiative.
Sinn Féin's Microgeneration Support Scheme bill would provide an obligation on suppliers to provide a 'feed in tariff' to micro generators who supply the electricity grid.
A feed-in-tariff is a mechanism where there is a minimum price established for electricity produced and sold to a supplier. It is usually to incentivise renewable energy production.
Under the new rules energy providers like the ESB would have to establish a scheme that would allow people to sell the company their excess electricity.
The bill would also introduce an obligation that suppliers would have to provide at least 5% of their electricity from microgeneration, like households and small businesses.
Sinn Féin environment spokesman Brian Stanley said the scheme would reduce Ireland's reliance on fossil fuels, something which the country quickly needs to do to meet EU-imposed targets and avoid hefty fines.
"Now the state is relying on big suppliers, big power generation plants. The future will be that instead of a small number of big plants there will be hundreds and thousands of small generation sources," Stanley told Fora.
He gave the example of households that have solar farms on their roofs, or a farmer that has a wind generator on his land.
Stanley said that while some of the microgeneration power could come from small businesses, "a lot of the electricity" would likely come from households.
Stanley said that the target for energy suppliers of providing 5% of their electricity through microgeneration could be made a condition of their operating licence.
"There could be a requirement that part of your contract for supplying electricity, to have access, would be that (to hit the 5% target)," he said. "There could be other restrictions, but that's the next step."
A similar scheme was already implemented and ended. In 2009 a pilot scheme was launched that allowed homeowners to sell excess electricity produced by small turbines or solar panels to be sold back to the grid.
However this was scrapped five years later. While existing domestic Electric Ireland customers who took advantage of the scheme can still use it, it has been closed to new entrants since the end of 2014.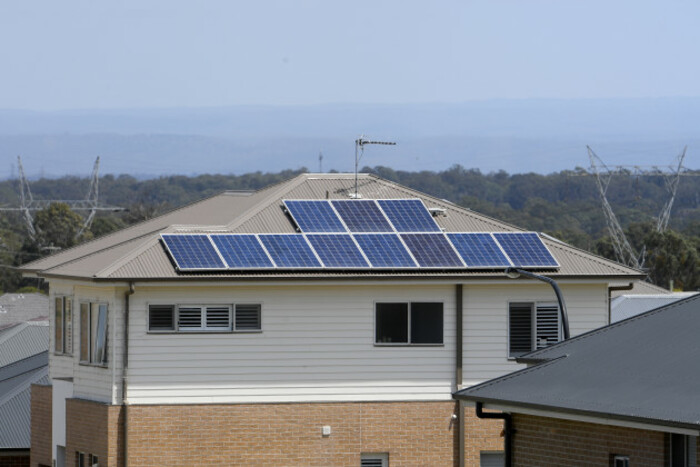 Source: AAP/PA Images
The case for a microgeneration scheme was examined as part of a recent evaluation of Ireland's renewable electricity support scheme.
Cost
Money raised through Ireland's Public Service Levy (PSO) is used to fund renewable energy initiatives. The levy, which is paid by all electricity users, was recently increased.
The study from Cambridge Economic Policy Associates, which was published at the start of September, looked at how the cash generated by the PSO could be best spent.
It found that the cost of supporting micro-generation technologies "is significantly higher than supporting their larger-scale equivalents".
"As labour costs related to the installation of microgeneration drive much of the difference in costs, and because the potential for installation cost reductions is lower compared to the physical components, we expect this difference to persist over time," it said.
"(Renewable) diversity could be achieved more cost effectively using only large-scale technologies."
Asked if it would be expensive to introduce a microgeneration scheme, Stanley said: "I don't think so. There are installation costs (but) the input costs are free. Solar is free, wind is free. You have to buy gas, coal and oil.
"There are examples in other countries that (a feed-in-tariff support) can be done. There is a huge opportunity there. We also need to look at this as a jobs opportunity. This must happen."
The bill was brought before the Dáil last week, and any vote on it is likely to take place in the new year.
Sign up to our newsletter to receive a regular digest of Fora's top articles delivered to your inbox.