'The best advice? You can't keep both feet on the ground and kick ass at the same time'
Electricity Exchange's Paddy Finn also talks about the struggles of hitting peak productivity at 3am.
LIMERICK-BASED 'SMART' ENERGY firm Electricity Exchange has predicted that it will double its revenues to €10 million in 2018, four years after it was founded.
The company, which was co-founded by Paddy Finn and Duncan O'Toole, provides a virtual power-plant service that pays large electricity consumers to make excess energy available to the grid when it's needed.
Headquartered in Plassey, Electricity Exchange – which is 50% owned by Bord na Móna – is planning to grow its workforce from 24 to 60 by the end of the year.
Managing director Paddy Finn was shortlisted for this year's EY Entrepreneur of the Year award. As part of our weekly question-and-answer series, we spoke to Finn about being a night owl, proposing to his wife while scuba diving and learning not to micromanage.
Here's what he had to say: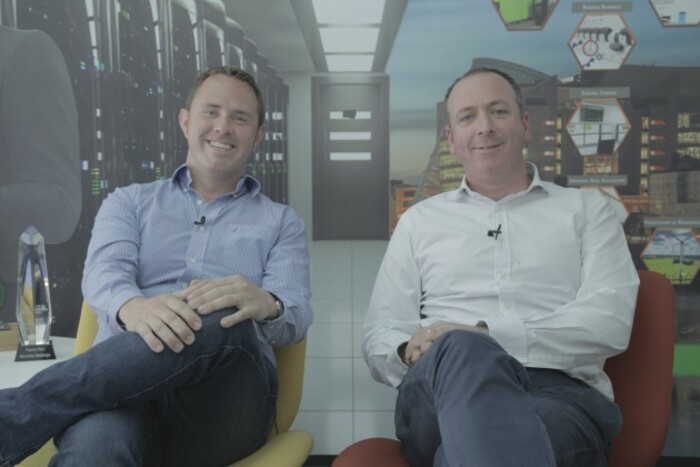 Source: Electricity Exchange
What was your earliest or childhood ambition?
Since I was a child, right to up when I was doing my Leaving Cert, my ultimate goal was to become a pilot.
But I was always creative and making things at home, and I realised that I loved working through detail-oriented challenges. I ultimately pursued a career in engineering and never looked back.
I couldn't do anything repetitive or mundane – I always wanted to have new challenges all the time. I really liked problem-solving and thinking through challenges, and I've always loved the gratification of seeing something working.
As a hobby growing up, I remember building a race buggy and turning a big problem into lots and lots of small problems and solving each one and seeing the ultimate outcome. I knew if I could make that my career, I was going to love my work forever.
On average, what time do you start work in the morning and what time do you clock off?
I'd typically start at nine in the morning, but I'd regularly finish in the early hours. I'm a real night owl. My most productive hours by far are at night. It's a real disadvantage, but my peak productivity is typically around 3am.
It's not martyrdom – I just know that I get far more done when I work late. A lot of my friends and colleagues are morning larks. My wife is a morning person, but I just can't identify with that.
I know that my sleep really suffers as a result of this. It's one of the big things that I need to change about myself because a lack of sleep can reduce quality of life in later years.
How would you describe your work/management style?
I believe good management is leading by example. I have to make sure that I work harder than everybody else, and I won't ask somebody to do something that I wouldn't be willing to do myself.
This is so that people know that I'm not just offloading work so I can be on easy street. I expect other managers in the company to do the same.
I also like my team to work on multiple sides of the business so that their activities are varied. This keeps it interesting for everybody. It also helps them to understand how the business works.
What's the worst job/task you've ever had to do?
I've had a lot of jobs. I've driven machinery, spread slurry and I've laboured on building sites. But I've always enjoyed anything that has required me to learn new skills.
I really don't look back on anything as being particularly bad. I'd actually love to go back some time and spend a few weeks during the summer driving machinery – I think it would actually be really enjoyable. If only I had the time to do it.
What's the one work skill you wish you had?
I wish I was better able to work on one task at a time. I really thrive on multi-tasking and I like context switching within my day, but I think my stress levels would improve if I focused on one thing at a time.
What's the biggest risk you've ever taken?
Proposing to my now wife, Deborah, while scuba diving in a cave 30m underwater in Lanzarote.
At the time, she was a novice diver and probably hadn't quite built up to that dive, but the setting was just too perfect – there was no way I was going to pass up on it.
What's your favourite job interview question to ask and why?
When we're hiring software developers in particular, I always ask them about their personal projects – where they've used their work skills to do something at home.
It's to show that it's not just a job to them, that they really do enjoy what they do and it's part of their lifestyle. So the key question for me is, how do you integrate your work skills with your life?
What has been your biggest mistake to date and what did you learn from it?
During my first few months of running the company, I would have put a lot of thought into what I wanted done and would have told staff to do things in a very specific way.
I quickly learned that people don't become in any way emotionally invested in doing something unless they're part of the journey to finding the solution.
Now – even if I've put a lot of thought into something and have a very clear idea in my own mind of how I want something to be solved – I always discuss the problem and flesh out the details with the team so they ultimately feel ownership of the solution that they're implementing.
What's the best piece of advice you ever received, and who did it come from?
My business partner, Duncan, said to me very early on was that making money is easy but making it honestly is the hard part.
That's always directed me towards steadfast integrity in doing business. This has really paid dividends – I mean that literally. It's been really good for our business. We maintain integrity at every corner.
Another piece of advice came from a piece of graffiti I saw on the Berlin Wall. It said, "You can't keep both feet on the ground and kick ass at the same time."
I'm always reminded of it every time the company is going well and I think it would be nice to keep things on an even keel.
Ultimately, staying still is going backwards. If you want to kick ass you need to keep pushing yourself out of your comfort zone so that you keep innovating all the time.
What bad work (or business) habit have you had to kick?
I'm always continually thinking about work. I really need to make sure that time away from the office is time away both mentally and physically.
Even when I'm away physically, I'm constantly thinking about work and it doesn't serve any good. You need to rest, you need to relax so that when you come back in, you're recharged.
I need to give myself the time to relax and enjoy some hobbies. That's something I'm working on.
Who is your business hero?
It's hard to look past Elon Musk. He's still so dedicated to working in the business and not just on the business. We started this company because I really enjoyed doing what I do. I really enjoy working in the business.
It's very positive to see somebody who has reached the absolute upper echelons in terms of business success but continues to work in the company all day and every day. That's something I'd like to continue doing going forward in my career.
Sign up to our newsletter to receive a regular digest of Fora's top articles delivered to your inbox.