This UK firm is hiring 100 new staff from across Ireland – and they can all work from home
Microsoft reseller eBECS is looking for engineers and customer support staff.
A UK FIRM has announced plans to hire 100 new staff from across Ireland, all of whom can work remotely full-time.
Since launching in Ireland in 2016, eBECS has slowly expanded in the Irish market. The firm, which resells tailored Microsoft business applications to its clients, only has a handful of staff in Ireland but a global workforce of 326 people.
As part of its first major expansion in the Irish market, eBECS has planned to hire 100 Ireland-based staff.
The jobs available include both engineering and customer support roles. According to eBECS, all staff will be allowed to work from home – anywhere in Ireland – if they want.
The jobs push is focused on the recruitment of graduates fresh out of college, but the firm has also targeted those who have been unemployed for at least 18 months and want to return to work.
James Finnegan, eBECS Ireland boss, said he thinks the ability for staff to work from home, or anywhere within Ireland, gives its workers a better chance to achieve a work-life balance.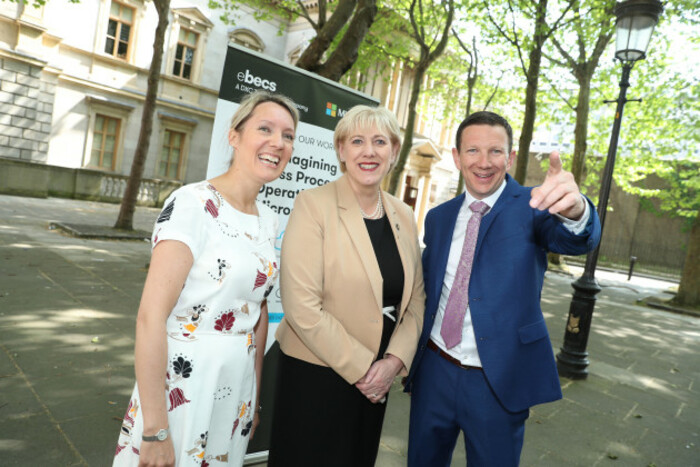 Source: Maxwells
As the competition for talented workers in Ireland intensifies, tech firms are pulling out all the stops to make roles more enticing.
In addition to facilitating remote working, some tech firms also offer benefits such as travel expenses, Deliveroo food vouchers and gym memberships.
Research from jobs site Indeed previously showed that factors like salary are still important to employees, but the modern workforce "optimises for happiness" – which includes flexible hours and remote working.
However, with Dublin office rents tipping Celtic Tiger levels again, remote working could be seen as a desirable option for employers as it gets harder to find space to house large workforces.
Limerick jobs
The jobs investment by eBECS has been supported IDA Ireland, which was also involved in another announcement in Limerick this morning, where 'sports tech' firm STATS has revealed plans to hire 150 new staff.
The Chicago-based company uses data analytics to provide sports intelligence services to football, basketball, rugby and other sports teams.
The jobs announcement coincided with STATS unveiling its brand new office in Riverstone House on Henry Street in Limerick city centre.
Sign up to our newsletter to receive a regular digest of Fora's top articles delivered to your inbox.