Retailers say Dunnes is 'undermining' town-centre trade by sitting on empty shops
The supermarket chain was accused of 'choking' development with its practices.
ONE OF IRELAND'S main retail groups says Dunnes Stores is "undermining" trade in town centres by sitting on vacant shops around the country.
Retail Excellence chief David Fitzsimons said that the supermarket and clothing chain has left several main-street retail units vacant after moving operations to buildings in the outskirts of towns.
The issue was recently raised in the Seanad, when Fine Gael senator Martin Conway complained about a large former Dunnes unit in Tralee town centre.
"The existence of this vacant unit in the centre of Tralee is choking development in the area," he told the Seanad.
"There has been no effort whatsoever made to rent it out, either as small units or to an alternative business. The particular example in Tralee is replicated in towns all over the country."
David Fitzsimons said that such empty units are "undermining the ability of towns to trade well". The Retail Excellence head also raised the issue at the group's recent annual retreat.
"The shops are big boxes and they go on for metres and metres and metres of vacant space," he told Fora. "It really does tie the hands of local planners and local authorities.
"If you have a huge box in the middle of a town that's vacant, it makes it incredibly difficult and challenging for local planners to deliver a compelling civic space."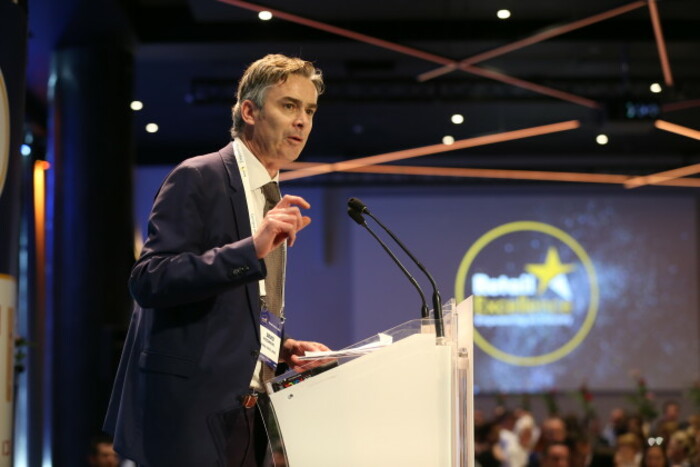 Source: Robbie Reynolds Photography/Retail Excellence
Fitzsimons said he has been aware of the issue for some years.
"It coincides with the arrival of the discounters (Lidl and Aldi) and also the increased opening of Tesco Express stores, which are town centre-focused," he said.
Fitzsimons suggested that empty shops could be used to "enhance the offer" in town centres.
"We need to think about town centres from a societal perspective," he said.
"We need to deliver urban centres where people can come, can congregate, can dwell. A shopping experience for an old person can be their only social experience that day.
"Without sounding like Mother Theresa, from a societal impact it's incredibly important."
Dunnes Stores was contacted several times for comment, but we didn't receive a response at the time of publishing.
However as highlighted yesterday on Fora, the publicity-shy company has a history of taking a bullish approach to business, leading to a string of run-ins with its own landlords and with developers.
In the case of Kilkenny's deserted Ferrybank centre, a judge declared that Dunnes had objected minor points to An Bord Pleanála specifically to delay its own fitout obligations.
Commercial rates
Meanwhile, Wexford County Council CEO Tom Enright has long voiced concerns over the presence of vacant units owned by Dunnes Stores. He previously raised the issue when was economic director at Limerick City Council.
Two former Dunnes Stores buildings in Limerick – on Sarsfield Street and O'Connell Street – have been vacant since 2008, and are still under the group's ownership.
Enright added hat the company has left two large premises vacant in County Wexford – one in Wexford Town and another in Enniscorthy.
The latter was recently put up for sale through Sherry Fitzgerald estate agents with an asking price of €450,000, a move the council boss welcomed.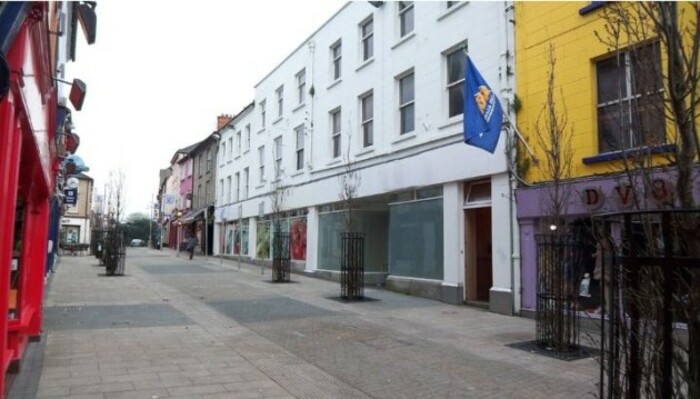 Enright added that Dunnes Stores has been charged the full commercial rate for its vacant units in Wexford in a bid to push the group to sell or lease the buildings.
He said the site in Enniscorthy is the town's largest main street property, and he hoped a new tenant would be found.
Without a tenant, "it makes it more difficult to revitalise the retail offering in the town centre," he said.
"It discourages other retailers from coming as well because they see this vacant store and it creates the impression that there is no demand for it."
Sign up to our newsletter to receive a regular digest of Fora's top articles delivered to your inbox.
read more on