After failing to strike a deal, Dublin Airport will re-open bids for a huge hotel joined to T2
The hub had previously announced plans for an 11-storey project.
DUBLIN AIRPORT WILL re-open a tender to set up a four-star hotel adjoining Terminal 2 after a previous competition ended without an agreement.
Airport operator DAA has issued notice of an upcoming tender process to build and operate a hotel that will be directly connected to the transport hub.
The site is located on the walkway between Terminal 2 and the facility's multi-storey, short-term car park.
One of the conditions of the tender will be that the winning bidder will have to obtain planning approval for the development. Planning permission already exists for a hotel on the site, but it will expire in March 2019.
The successful party will operate the hotel under a long-term concession, which will transfer back to Dublin Airport at the end of a 100-year term.
In late 2016, Dublin Airport announced plans for a 402-bedroom, 11-storey property, which was due to open in 2019.
However, it's understood the original bidding process ended without an agreement because of concerns over certain planning rules that could have impacted the time it took to complete the project.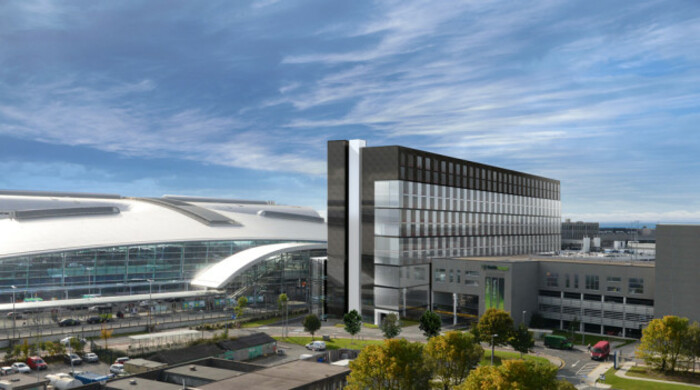 When the original development was announced, it also provided for a bar, restaurant, café, fitness suite and conference facilities. It promised to provide employment for 250 people with an extra 150 jobs during the construction phase.
Building was supposed to start in October 2017 and the development was expected to be completed by early 2019. The competition ended without an agreement between the airport and its preferred bidder.
"DAA went to the market in relation to this project in late 2016 and there was significant interest from a number of parties. However, it proved impossible to conclude an agreement due to the tight planning window," DAA spokesman Paul O'Kane told Fora.
The State-backed company has now re-opened the tender process. It will appoint an agent "to assist in the development of this opportunity" and to engage with interested parties. Talks are expected to take place towards the end of this month and early April.
O'Kane said DAA is expecting significant interest from both domestic and international hotel groups.
Sign up to our newsletter to receive a regular digest of Fora's top articles delivered to your inbox.