Dublin has the biggest cluster of startups in Europe - but not enough offices to house them
Ireland's capital struggles with high rent prices and a relatively small stock of offices.
DUBLIN HAS THE highest concentration of startups in Europe but falls short when it comes to the availability of affordable offices for young companies.
That's according to the latest market tracker from property investment firm Catella, which found that well over a third of startups in six European hubs are based in Ireland's capital.
Excluding London, Catella identified 3,515 startups in six locations –Dublin, Stockholm, Frankfurt, Berlin and Paris – and found that 1,220 of them are based here.
However, when it comes to finding suitable homes for new firms, the report said: "Dublin struggles with high rent prices and a relatively small office stock."

Click here to view a larger version.
According to Catella, Dublin has just 3.3 million square metres of office space, which pushes the average monthly prime rent up to €56 per sq m.
That makes Dublin the second most expensive city for office rentals, with Paris claiming the number-one spot.
The property firm said the density of startups in the Irish capital coupled with a small property market is noteworthy, "especially with the ongoing discussion of who will benefit from Brexit out of London because the innovation capacity to become the fintech centre in these cities matters in this beauty contest".
A lack of office supply, alongside poor infrastructure and a severe housing shortage, has long been identified as a serious constraint for attracting new firms to Dublin.
Commercial property agent CBRE Ireland has previously warned that companies considering moving operations to Dublin after Brexit will face an increasingly competitive and expensive property market.
Fintech
Frankfurt – which is often pitted against Dublin in the race to become the new home to London's finance firms – is home to just 289 startups, but enjoys the largest share of fintech startups of the six cities studied.
"In the coming years, this number could rise significantly," the report said.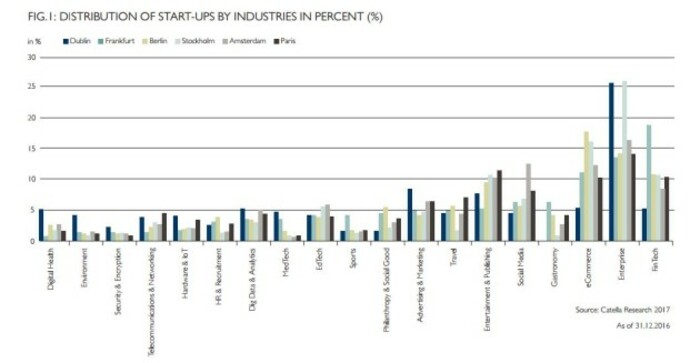 Click here to view a larger version.
Together with Stockholm, Dublin dominated the 'enterprise', or business-to-business technology, category. The Irish capital is also home to bulk of med-tech and marketing startups.
Elsewhere, the report said Dublin is "an example for the development of a startup infrastructure which has advantages for established companies as well as for the entire economy".
"In Dublin, many multinationals such as Google, Facebook, Twitter or LinkedIn influence the local tech scene, which has led to the development of different institutions and authorities, who help boost the local economy."