Firms are scoping out Dublin post-Brexit vote - but they'll be fighting for office space
Floorspace in the capital is being snapped up levels not seen since the Celtic Tiger.
FIRMS HAVE BEEN undertaking 'preliminary scoping exercises' for relocating staff to Dublin following the UK's unexpected Brexit vote, according to CBRE Ireland.
However any companies looking to shift operations to the capital will face an increasingly competitive – and expensive – market for office space.
The commercial property agents reported the third quarter of the year featured the highest take-up in Dublin office space since the same period in 2007.
The figures showed a near-trebling of activity on the same period in 2014, pushing prime rents in the city centre to around €645 per square metre – up close to one-fifth on the same period last year.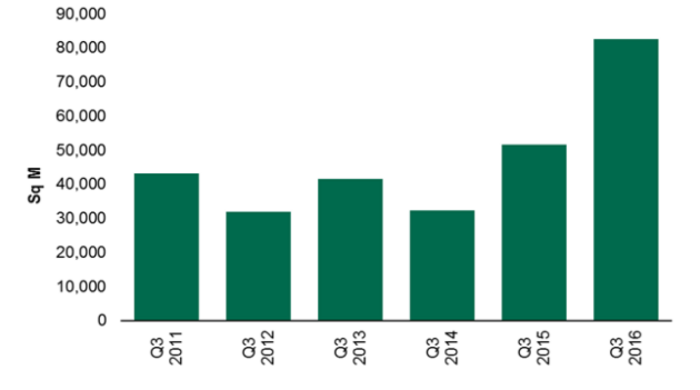 Source: CBRE
A lack of office supply, alongside poor infrastructure and a severe housing shortage, has been identified as a serious constraint for attracting new firms to Dublin – or convincing existing tenants to expand their operations.
CBRE Ireland said tenants in high-tech industries accounted for one-third of all deals signed in Dublin for the quarter, while 'business services' were responsible for another 25%.
Scoping stage
The company's head of research, Marie Hunt, said there had been more interest in office space in the capital since the Brexit vote – although it was too early for that to have any impact on availability or prices.
"Most of these enquiries are still quite preliminary scoping exercises with any increase in transactional activity emanating purely as a result of Brexit unlikely to materialise in the short-term," she said.
Hunt noted there were also a stream of new offices under construction, with 29 office schemes featuring 372,000 sq m of combined space in the pipeline.
A separate review from HWBC previously predicted rents on prime Dublin office space would top their Celtic Tiger peaks this year.
While CBRE Ireland's research showed the market for offices in Dublin's south city centre was looking very squeezed – with vacancy rates hovering just above 2% – there was still a relative glut of space elsewhere.
The overall vacancy rate across the city stood at 7.6%, while prime rents outside the city centre ranged from €296 per sq m in the southern suburbs to €161 per sq m in the west.