Dublin Port says it's ploughing on with a plan to build temporary cruise ship facilities
The company is looking to attract more 'turnaround business' from vessels.
DUBLIN PORT SAID it intends to proceed with plans to build temporary cruise ship facilities in the capital after withdrawing an application for an alternative site for the project.
The State-owned company had sought permission from the city council to use a facility at East Wall Road and Ocean Pier to allow more cruise ship operators to moor in the capital.
In November of last year, the port submitted an application to the city council to revamp the space.
The application pertained to a temporary five-year use of an area for cruise passengers coming on and off the vessels along with 300 car parking spaces and a drop-off area for cars and buses.
It notified the council on 28 February that it was withdrawing the application. Dublin council acknowledged receipt of the withdrawal yesterday.
However, Dublin Port Company CEO Eamonn O'Reilly has confirmed that the outfit intends to proceed with plans for the temporary cruise ship facilities at a nearby alternative site located at Tolka Quay Road and Ocean Pier.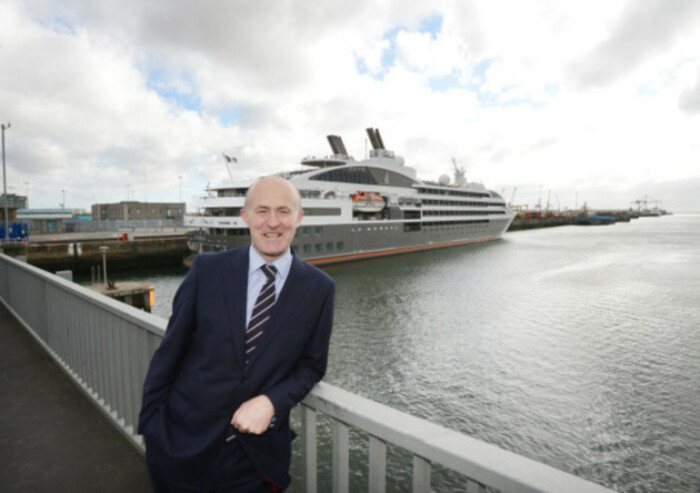 Source: Sasko Lazarov/Photocall Ireland
In a recent interview with the Sunday Independent newspaper, O'Reilly said that the cruise ship plans may be dropped as a result of Brexit.
The port's chief business is freight and not tourism, he said, so any available space and resources to ease higher freight volumes after Brexit would take priority.
Turnaround
According to a report conducted for Dublin Port by professional services firm RPS, the facility's cruise business has "grown significantly in recent years" with 127 cruise ships arriving in Dublin in 2017, carrying over 210,000 passengers.
With its initial application, the port was seeking to attract 'turnaround business' related to cruise ships to the city.
Turnaround business refers to where a cruise ship begins or ends a tour, which often leads to holidaymakers spending some time in the city before or after the cruise.
The aspirations were laid out in Dublin Port's 2040 master plan, a mission statement to increase the average annual growth of the port from 2.5% to 3.3% by 2040.
Dublin was taking several cues from major ports like Copenhagen and Vancouver, which have significant cruise operator facilities.
As previously reported by Fora, Dublin Port's O'Reilly said current infrastructure was "approaching a limit of what's going to be possible".
Correction: A previous version of this article stated that Dublin Port Company has paused plans to build temporary cruise ship facilities. This has been corrected to reflect the fact that it is proceeding with plans to build the project at the alternative site of Tolka Quay Road and Ocean Pier.
Get our NEW Daily Briefing with the morning's most important headlines for innovative Irish businesses.