This is what it will take to turn Dublin into a European cruise capital
The semi-state that runs the port is looking to Denmark and Canada for inspiration.
A FEW WEEKS ago, a cruise ship twice the length of Croke Park became the first major liner to call Dublin Port home.
Two years after its arrival was first mooted, the gargantuan Celebrity Cruises Eclipse docked in the capital, from where it will take passengers on tours of the 'Irish isles', Iceland and the Norwegian fjords between now and June.
Using temporary facilities, it will ferry thousands of holidaymakers on five separate tours that start and finish in Dublin, unlike the hundreds of stopovers that merely visit the capital en-route to another destination.
It's a major coup for Dublin Port, which stated in a recent draft of its 2040 master plan that the development of so-called 'turnaround business' – where cruise companies start and finish tours in a city – is "far more valuable to the economy" than port-of-call operations.
Turnaround passengers tend to take a short break in the home port city either before or after the embark on a cruise.
Cruise business in Ireland's capital has already grown significantly in recent years. Last year, the port handled 127 ships and 210,000 visitors, up from 109 cruise calls in 2016 and 93 the year before.
While Dublin Port Company expects further growth this year – projecting 150 cruise calls -  its chief executive, Eamonn O'Reilly, tells Fora that the facility is "approaching a limit of what's going to be possible" with its current infrastructure.
For that reason, the semi-state sought and obtained planning permission in 2015 for the 'Alexandra Basin Redevelopment Project' to deepen the port's navigation channel and facilitate bigger ships.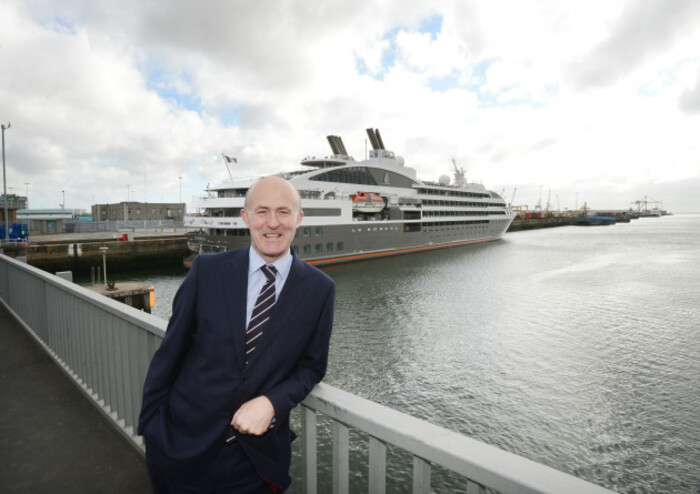 Source: Sasko Lazarov/Photocall Ireland
Two separate berth facilities – spaces to anchor a ship – will become available: one near Tom Clarke Bridge, still commonly known as the East-Link Bridge, and one in Alexandra Basin. These will be used by both cargo and cruise ships.
"Developing cruise turnaround business will be (dependent on) the completion of the new berths. At some stage after that there might well be a need for a cruise terminal," O'Reilly says.
Dublin Port's main focus is on its cargo business, which is delivering high growth and accounts for the lion's share of its revenue: of the €80 million the facility takes in, mainly in port dues and rent, only around €2 million comes from the cruise industry.
Temporary facilities similar to the ones used by Celebrity Cruises would suffice when it comes to facilitating passenger check-in and moving baggage onto the ship during the peak travel season.
"This is very much the way Copenhagen grew its cruise business," he says.
Although it's unlikely Dublin will ever reach the same heights as Denmark's capital – which expects to handle 875,000 cruise passengers this year – O'Reilly predicts that the Irish port could take as many as 500,000 passengers once the Alexandra Basin project is completed, with two in five coming from turnaround business.
'Financing conundrum'
However, Dublin Port Company – which has already started works on the project – has stated that it will need to secure additional investment to complete the Alexandra Basin redevelopment and associated works by 2022.
O'Reilly declined to disclose how much the revamp will ultimately cost – or how much Dublin Port Company will contribute – but it has been previously reported that the bill will run to €230 million.
The port is looking at a number of options to sort out its "financing conundrum", including the possibility of asking state agency Fáilte Ireland to make a "significant contribution" to works.
"We're entering a period now with the Project Ireland 2040 and the 10-year national development plan. We're looking at options within that," O'Reilly adds.
As well as looking at Copenhagen's cruise business, Dublin Port Company is also taking inspiration from Vancouver's Canada Place.
O'Reilly – who was speaking to Fora from the city – said it's a "role model" for the Irish capital because "it's a seasonal business". Like Vancouver, the majority of Dublin's cruise calls occur during the peak travel season in the summer months.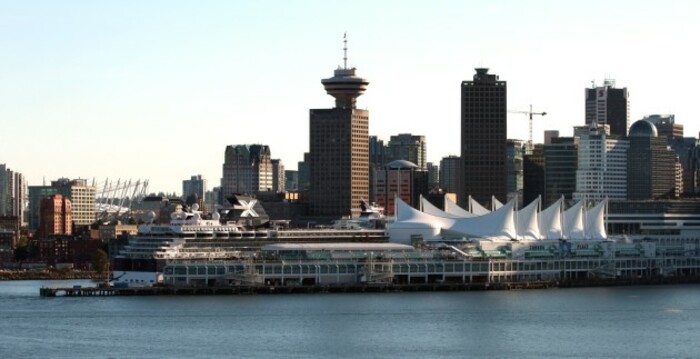 Source: Prayitno/Flickr
It's noteworthy Canada Place is also well-integrated with the city. As well as growing trade, Dublin Port Company has been tasked with "reintegrating" the port into the capital's "conscience".
"People have forgotten they have a port … Cruise ships, by their sheer presence, would contribute to (changing) that."
In addition to building facilities for the ships themselves, there's a need for several large hotel projects to cater for turnaround passengers who would stay in the city either before or after they take a cruise out of Dublin.
When asked whether there's sufficient land for such developments, O'Reilly identified two pockets of land that would be suitable for hotels with up to 600 bedrooms.
"I would see an opportunity for something to be built on port lands, just on the other side of East Wall Road," he says.
[embed id="embed_2"]
He notes that Dublin City Council is seeking planning approval for the Poolbeg Strategic Development Zone housing scheme.
"Within that, there's a strip of port land which is zoned for some sort of commercial development … There's possibility for a second hotel development in that area," O'Reilly says, adding that the port company would be willing to partner with developers on such a project.
In terms of what Dublin can offer travellers that other cruise destinations can't, O'Reilly says the main attraction is that fact that it's "an area that's very stable politically".
"The cruise business in North Africa wiped out a couple of years ago … and yet there are more and more cruise ships coming out of yards. The cruise industry is a bit like Ryanair: by deploying the asset, they create the market.
"If you put that with the facilities we're developing, with air connectivity that Dublin has, with the ease of movement through Dublin Port Tunnel, and the attractiveness of the city – I can't see any big thing that's going to prevent us growing the business."
Outbound travel
Industry experts say turnaround cruises would also benefit the outbound travel market.
Clare Dunne – who owns the Travel Broker agency and sits on the Irish Travel Agents Association board – says cruises that start and finish in Dublin are particularly attractive for over-50s travellers and families.
"Cruising is the fastest, strongest growth area we have at the moment. We have more and more new-to-cruise people every day," she says, adding that cruise holidays account for about 70% of the leisure side of her business.
"A lot of over-50s are reluctant to fly or don't like flying and they're always asking us if they can cruise out of Dublin. Now they can.
"For our customers who are based in Ireland, they would be very interested in cruising from here. They can get in their car or grab a cab and walk onto the ship."
As well as the ease of access, Irish travellers would be attracted to the more generous baggage allowances that cruises offer, Dunne says.
"People going on cruises generally don't travel all that lightly. They want their gear. Whether there are formal nights or not, people like to dress up a little bit on their cruise. They don't generally travel with hand baggage."
Sign up to our newsletter to receive a regular digest of Fora's top articles delivered to your inbox.