Dublin's housing sprawl outside the M50 will be 'a huge issue' in the future
The largest numbers of sales in the capital so far this year have been in new projects on the outskirts.
THE HEAD OF one of Ireland's biggest property websites says she's "alarmed" at the sprawl of Dublin as people continue to snap up homes on the city's outskirts.
New research from MyHome.ie found that there were about 7,500 house sales in Dublin in the first six months of 2017, up from 6,700 during the same period last year.
The study, based on an analysis of the Property Price Register, found that Dublin 15 was the postal district with the largest number of sales, with 751 – almost twice as high as the postcode with the next highest number of sales, Dublin 18 with 387.
MyHome.ie managing director Angela Keegan said the fact that so many homes were being sold in Dublin 15, which covers areas like Blanchardstown and Mulhuddart, is a concern.
She said it illustrated the sprawl of the city "up to and beyond the M50″.
"There are 14 new developments in Dublin 15 and clearly these are proving attractive to first-time buyers," Keegan said.
"Builders are now building in staggered phases so the supply is coming through more slowly. The pent-up demand, caused by the lack of supply and shortening sale agreed times ensure any new properties coming on the market are absorbed very quickly."
She added: "One of the key issues for people buying properties on the outskirts of the city is the commute to work.
"While first-time buyers are increasingly desperate to buy their own homes, commuting times are increasing at an alarming rate as the city spreads beyond the M50 and this will be a huge issue for Dubliners in the years ahead."
The issue of Dublin's sprawl has been highlighted by several prominent figures, including the likes of Hugh Wallace, a judge on RTÉ's 'Home of the Year', who says more high-rise buildings are needed.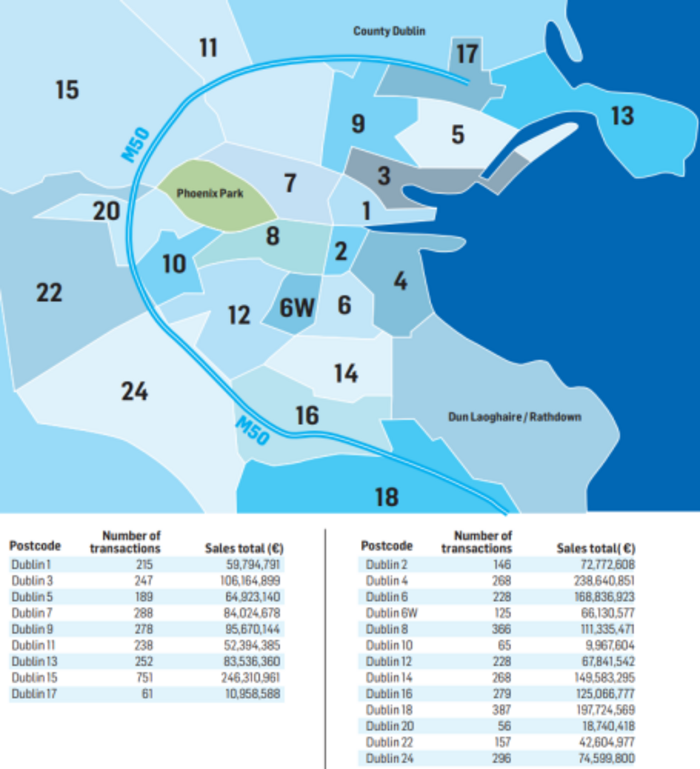 Source: MyHome.ie
Prices
The average property in Dublin 15 sold for about €328,000 during the period.
The most expensive postal code was Dublin 4 with an average price of €890,000. It was followed by Dublin 6 on €740,000, and Dublin 14 on €558,000.
The lowest average prices were found in Dublin 10, with €153,000, Dublin 17, €180,000, and Dublin 11, €220,000.
The highest price paid for a house in Dublin in the first six months of the year was the €8.45 million spent on 11 Shrewsbury Road in Dublin 4. Almost 300 houses in the capital sold for €1 million or more in the first six months of 2017.
Sign up to our newsletter to receive a regular digest of Fora's top articles delivered to your inbox.