'Dublin must get serious about competing with other big cities in Europe'
A German think-tank put the Irish capital low on the list of cities ready to soak up post-Brexit investment.
DUBLIN WILL DO the wider Irish economy a disservice if it fails to build a compelling offering for City of London businesses looking to relocate after Brexit, according to the Dublin Chamber of Commerce.
The lobby group's comments follow the release of a report by the Cologne Institute for Economic Research, which said that Dublin is not fit to become a major financial centre when the UK leaves the EU.
The chamber's public affairs manager, Graeme McQueen, said the report served as a reminder that Ireland shouldn't be complacent when it comes to enticing foreign businesses.
"It is a reminder of the fact that Dublin is competing with other big cities in Europe. It is not a case of competing with Cork and Galway," he told Fora.
"We have to get serious. Dublin is a trump card on the global stage."
McQueen added that the capital's biggest obstacles to inviting more investment lay in the housing crisis and public transport.
"What we've heard from some companies that are looking to come to Dublin from London is that they're concerned about where they would house their staff. That's a big issue, even for firms that are currently in Dublin. We've got to make that a priority.
"At the same time, we're building the Luas Cross City works at the moment, but there is nothing else coming on stream. There's a real danger that we're going to sleepwalk from a housing crisis to a transport crisis."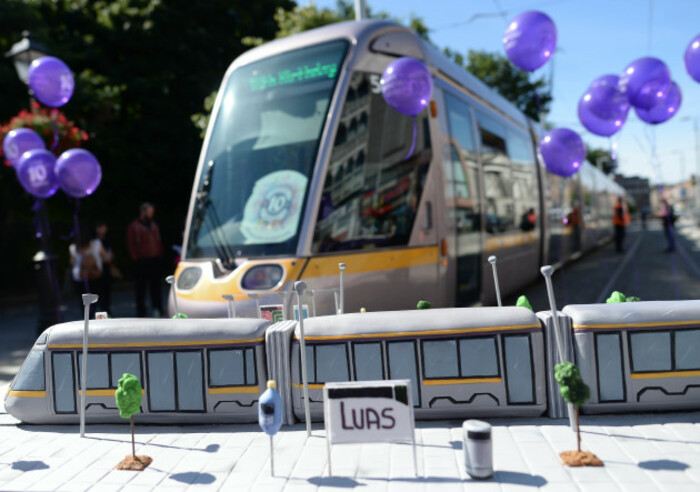 Source: Artur Widak/PA Wire
Major weaknesses
The German think-tank claimed that Dublin wasn't an attractive alternative for City of London financial firms looking to relocate, citing a lack of office space and "deficits in international accessibility" as two major weaknesses.
Frankfurt was named the most compelling offering in comparison to other European cities. The report said vacancy rates of 11% in the German financial hub indicated "even larger spaces are available in the short-term", which compared favourably to expensive and tight markets like that in Paris.
However, the Cologne report contradicts a recent study by PwC that rated Dublin as the second-most attractive city for financial services firms in Europe behind only London.
Fintech & Payments Association of Ireland CEO said the problems highlighted in the report for Dublin "are not unique to Ireland".
"We have a very strong financial services sector here," he said. "We have most of the top players present here in Ireland. The large consultancy firms and international banks that are looking to set up their fintech hubs are setting them up in Ireland."
read more on