GoCar and Fleet have been enlisted to provide shared transport to Dublin council staff
The city authority wants to encourage staff to carpool to work by using 'gamified' services.
DUBLIN CITY COUNCIL has enlisted mobility outfits like GoCar and Fleet to provide shared transport services to its staff.
Last year, the council put out a tender to streamline the use of existing shared methods of transportation, including e-cars, e-bikes, vans and push bikes that it said were often "cumbersome to book and underutilised".
It stated that over a third of its 1,500 civic office-based staff drive to work each day, while just 3.5% ride-share or carpool. The rest walk, cycle or take public transportation.
Dublin council said that it recognised a need to "encourage staff to choose more sustainable modes of transport".
According to a recent filing on the government's public procurement website, it has enlisted engineering company AECOM Ireland, car rental firm Enterprise, Good Travel Software and car-sharing companies GoCar and Fleet to provide shared mobility options to council workers.
The scheme will be rolled out in two phases and is expected to feature a "smartphone-based solution" that integrates booking of various shared services.
To encourage staff to use the shared network, the council wants the contract winners to use "gamification" and a reward-based model approach.
In October, Dublin council ran a feasibility study as part of this initiative with Fleet, which provided council workers with a pool of shared cars in the city. Unlike GoCar, Fleet – which last year secured over €275,000 through an equity crowdfunding – doesn't operate its own vehicles and instead lets users share and rent out their cars to one another.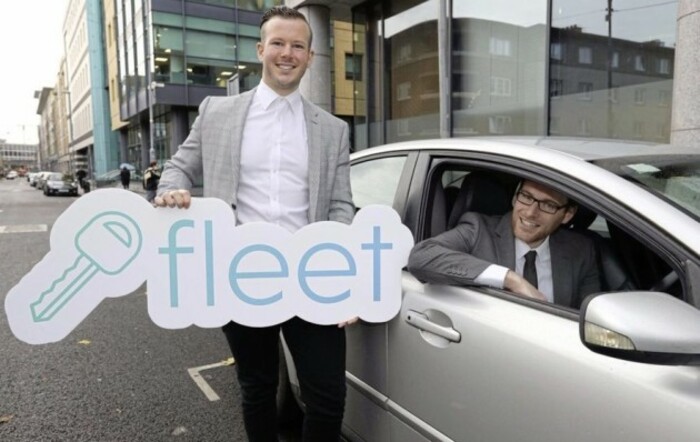 Source: Fleet
Funding for phase one of the council's project – which kicked off in November – came to about €12,500 for successful applicants. The first stages are intended to "show the technical feasibility of the proposed concept".
Phase-two funding for the project is likely to be up to €140,000 and split across the successful applicants. This portion of the scheme entails a more "detailed monitoring" of how council workers interact with the shared services.
"For the last three months we've been working on phase one, so probably phase two won't kick off for another three months – it's just taking a bit longer to get all of the different companies set up," the council's Smart Cities manager, Jamie Cudden, told Fora.
According to the previously advertised tender, the council hopes to eventually replicate the model in other parts of the local authority.
It also hopes to "partner with other public and private sector organisations to share experience, support a scaled solution and possibility to build a network of partner smart staff mobility hubs within the city centre".
The scheme is intended to provide a model for other Dublin-based employers to entice staff to use shared mobility options and to reduce congestion-related air pollution in the capital. 
Get our NEW Daily Briefing with the morning's most important headlines for innovative Irish businesses.