These are the airlines that will dominate Dublin Airport's skies this winter
The schedule kicks off this week and will see over 86,000 take-offs and landings at the hub.
THERE WILL BE more than 86,850 take-offs and landings recorded at Dublin Airport this winter, a 6% increase on 2017′s tally.
Figures compiled by UK-based airport slot coordinator ACL International shows that most of the so-called 'air transport movements' for the season – which starts 28 October and ends 30 March 2019 – will be registered by Aer Lingus planes.
The IAG-owned airline will account for roughly 32,500 – or 37.4% – of all movements at the airport.
It will be closely followed by low-cost carrier Ryanair, which will account for 36% of all take-offs and landings.
However, in terms of the number of seats up for grabs, the tables flip with the Michael O'Leary-fronted airline claiming the number-one spot and gobbling up 40% of all 14.6 million seats available to and from Dublin.
Under this metric, Aer Lingus moves to second position, accounting for 34% of all seats.
The third-largest operator in terms of seats per air transport movement is British Airways, which is also part of the IAG group and will account for 2.6% of all seats to and from Dublin Airport. It will provide 85,000 fewer seats at the Irish capital this winter than the same period last year.
Lufthansa (claiming 2.1% of seats) and Flybe (1.7%) complete the top-five.
Capacity constraints
The data produced by ACL International also suggests that Dublin Airport will be near-full capacity at several times during the day throughout winter 2018/2019, most notably at the hours of 7am, 10am, 12pm and 4pm.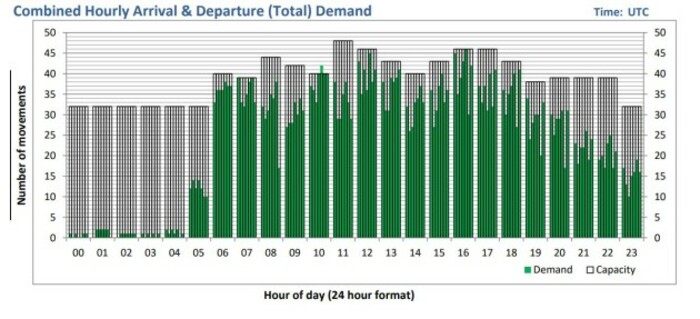 Click here to view a larger version
Aer Lingus and other carriers have long campaigned for improved infrastructure at the country's busiest airport, complaining that the existing facilities are close to maximum capacity.
Gulf carrier Emirates earlier this year revealed that it shelved plans for a third daily flight from Dublin to Dubai because of infrastructural issues at the airport.
Dublin Airport owner DAA has committed to a €900 million investment in improving airport stands and piers.
Last month, EY published a report on the economic impact the airport could have if it was developed into a major transport hub.
The so-called hub-and-spoke air travel model, favoured primarily by US carriers, is based on filtering traffic through a central destination and feeding passengers to onward connections.
The report estimated that the development of Dublin Airport as a hub would be worth an estimated €18.6 billion to the economy and generate €6 billion additional revenue for the Exchequer between now and 2033.
Sign up to our newsletter to receive a regular digest of Fora's top articles delivered to your inbox.