Dublin Airport will get a 'flagship' new liquor store with a major overhaul of Terminal 2
It comes shortly after ex-Brown Thomas boss Dalton Philips took up the top job at DAA.
THE LOOP RETAIL outlet at Dublin Airport's Terminal 2 will be given a major revamp over the coming years.
State-backed airport operator DAA is looking for a team of builders to oversee a "significant redevelopment" of more than 2,000 sq m of the existing shopping space, primarily in the area after security.
DAA is putting together a panel of six builders which will then bid for work as it arises.
According to tender documents, the project will be carried out on behalf of travel retail group Aer Rianta International (ARI), which is owned by DAA.
ARI is looking for outside help to develop "the optimum customer retail experience" at Terminal 2, which is used by Aer Lingus and long-haul carriers such as Emirates, American Airlines, Delta and United.
The construction will be carried out on a "multi-phased" basis to ensure that the retail space can continue to trade as normal, the tender said.
This will be the first major investment in the retail offering at Terminal 2 since it opened in 2010.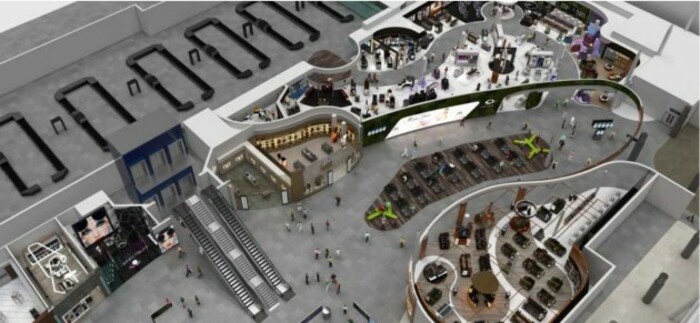 Source: DAA
The project is broken up into two phases. The first series of works – slated for July 2018 – include a new liquor store featuring "liquor brands from around the world".
The 410 sq m drinks shop is set to become "a new flagship store" for ARI, which has operations in 13 airports around the world.
'Phase one' works also include fitting out five new retail units – a sunglasses shop, luggage store, watches and jewellery shop and two clothes shops – spanning a combined 340 sq m.
Construction is due to begin in March 2018 and will be finished by July of that year.
'Phase two'
The second series of works will kick off in July 2018 and will take 12 months to complete.
'Phase two' of the refurbishment project includes the fit-out of a huge new duty-free store that will sell perfume, cosmetics and confectionery over 1,350 sq m of floorspace.
Two new 'premium' fashion stores will also be built and contractors will fit-out a corridor leading to the new duty-free store.
DAA is also looking to install new flight information screens and "other enabling works" to facilitate the construction.
A Dublin Airport spokesman told Fora that a separate contract for a third-party retailer to operate in Terminal 2 will go out to tender in about nine months.
That means the airport's retail revamp will take three years in total to complete.
DAA's boss
News of Dublin Airport's shop space renovations comes shortly after ex-Brown Thomas boss Dalton Philips took up the role of DAA chief executive.
Philips spent two years running the famous, luxury retail outfit during its peak Celtic Tiger period before joining Wal-Mart in Germany.
Source: Rollingnews.ie
The Dubliner also headed up UK supermarket chain Morrisons for nearly five years up until early 2015.
At the time of his appointment, it was mooted that Philips would look to push further growth in DAA's burgeoning retail operations, including ARI.
DAA – which runs Dublin and Cork airports – reported group sales of more than €790 million last year. About 45% of DAA's sales last year came from its Irish and international retail and catering activities.
Sign up to our newsletter to receive a regular digest of Fora's top articles delivered to your inbox.
Note: An earlier version of this article said a contract for renovations on behalf of a third-party retailer will be put out to tender. The contract is in fact for a third-party retailer to operate in Terminal 2.
read more on