Tourism officials have quietly overhauled Dublin's multimillion-euro marketing brand
Three years after its initial launch, the industry says the 'breath of fresh air' tag hasn't been embraced.
FÁILTE IRELAND HAS quietly overhauled its marketing brand for Dublin three years after its multimillion-euro launch.
The 'Dublin – a breath of fresh air' brand was unveiled in October 2015 by then-Minister for Tourism Paschal Donohoe as part of a campaign to help the capital compete with other European cities like Copenhagen and Amsterdam.
However, as previously reported by Fora, Fáilte Ireland conducted a review of the campaign logo less than two years later.
This was following a survey of various stakeholders who found the 'visuals' accompanying the brand to be "overly biased towards the coast offering".
The brand was also criticised at launch for not giving potential visitors a good enough reason to visit the city.
Following a review, 'a breath of fresh air' was quietly dropped and replaced with a new tagline, 'Surprising by nature', in July of this year.
Through a statement, Fáilte Ireland head of marketing Daragh Anglim said the State agency undertook the research "to review the accompanying tagline to determine if it was still fit for purpose, or if improved ways to communicate Dublin's tourism offering were required".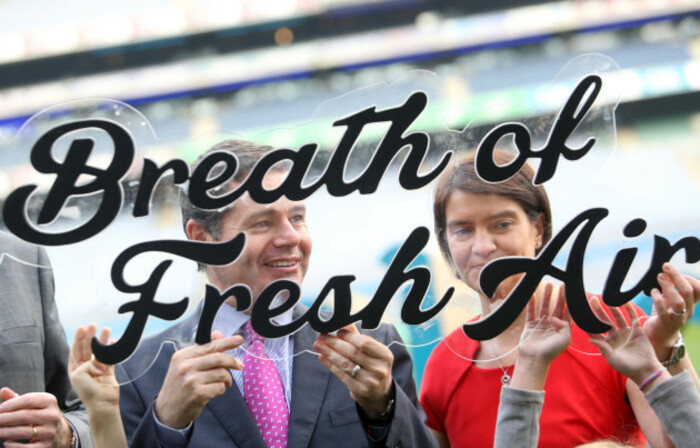 Source: Sam Boal/Rollingnews.ie
"This is a natural part of any brand evolution as taglines can date and impacts lessen over time. Following research and validation process, the brand colour palette is now stronger and more vibrant with a new updated tagline, 'Dublin – surprising by nature', to accompany the brand," he said.
Anglim described the Dublin brand as a "success" that is "internationally and nationally recognised".
However, the tourism industry's main representative body is less enthusiastic about the campaign's performance to date.
Eoghan O'Mara Walsh, CEO of the Irish Tourism Industry Confederation (Itic), told Fora that "there's not widespread industry acceptance of the brand" three years after its launch.
"The initial version of it, the 'Dublin – a breath of fresh air' identity, was met with mixed views. Some liked it, some really didn't embrace it," he said.
"We always compare it to the Wild Atlantic Way. Everyone across the western seaboard is using the Wild Atlantic Way on menus, on websites. We haven't seen that yet in Dublin."
O'Mara Walsh said he is hopeful the new iteration will be more widely accepted.
"'Surprising by nature' is better and fits better within the Dublin landscape," he said.
"I think it just constantly needs review, making sure that the consumer – overseas and domestic – actually gets it and understands it and it works as a marketing message."
Review
As part of the Dublin brand review, Fáilte Ireland road tested a number of alternative taglines through a survey of more than 1,200 consumers.
It asked for their opinion on several names: 'Dublin – city of surprises', 'surprising by nature', 'Europe's natural capital', and the existing 'a breath of fresh air' name.
Winning candidate 'surprising by nature' scored highly, although some locals questioned the city's links to nature.
"Too much focus on nature – for a city – really?" one Dubliner responded.
Overall, 'a breath of fresh air' didn't fair well and was particularly weak with domestic travellers.
"'A breath of fresh air' is inappropriate as a typical city with exhaust fumes and fast cars," one punter said.
Sign up to our newsletter to receive a regular digest of Fora's top articles delivered to your inbox.