An open-door policy for dogs leaves a lot of businesses in a legal grey area
They may be cute and cuddly, but dogs are a problem for health inspectors.
SETTING UP A dog-friendly cafe in Ireland is no walk in the park. Four-legged customers must be tame, tethered and compliant with food safety regulations – and that's where things start to get a little furry.
Dog-friendly cafes and pubs are operating in a legal grey area, with food officials insisting that such businesses are in breach of legislation. However, the businesses themselves insist they are adhering to the spirit of the law as it stands.
The issue came to a head earlier this year when MVP, a popular pub on Dublin's Clanbrassil Street, was issued a notice from the HSE saying it could no longer allow dogs inside the premises. A few weeks later, the owners let the four-legged canines in again.
In a statement issued through Facebook at the time, MVP maintained that it "received no formal written information on why this was not allowed in the first place" and was happy to cater for man's best friend again.
It wrote at the time: "We are going to continue trading as we have done, and as countless bars (and) cafes across the country have done, for years.
"At the end of the day, we have a business, and jobs to protect, and lots of customers who are loyal and faithful to what we have built here."
The law
Not long after the MVP controversy, Paul Froggatt and his partner Ella Wallace went from Google to poodles to set up Pupp cafe – also on Clanbrassil Street. While Froggatt still works for the search engine giant, Wallace is now running the cafe full-time.
Pupp sells food and drink to both humans and dogs, and mutts are free to join their owners inside the premises as long as they follow strict house rules: They must be kept on a lead, house-trained, save their barking for outdoors – and stay away from the kitchen.
As far as Froggatt is concerned "there is no restriction on having a dog-friendly cafe or pub" in Ireland.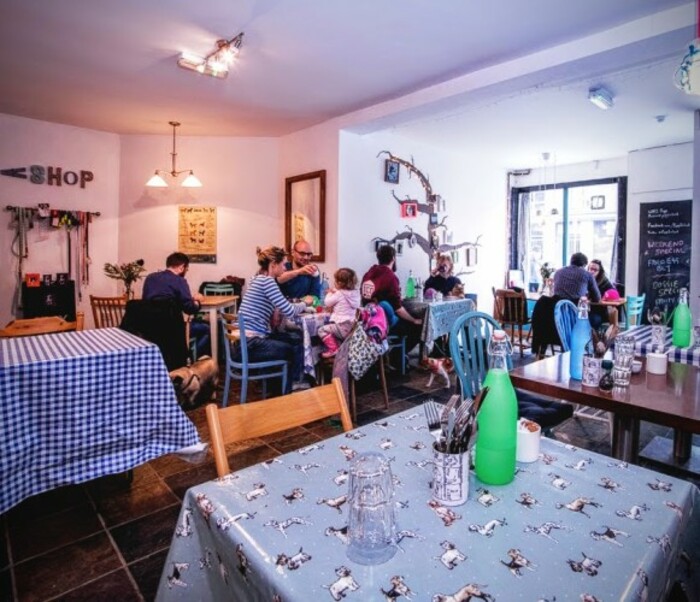 However on this he and the authorities differ. There are two pieces of legislation that make reference to domestic animals in food establishments: A 2004 act from the European Council and Ireland's food hygiene regulations that date back to 1950.
These laws are enforced by the HSE and the Food Safety Authority of Ireland (FSAI), which has drafted guidelines on allowing animals into food premises.
On the FSAI's FAQ page, it clearly states: "Under national food hygiene legislation, dogs and cats are generally not allowed into food premises, with the exception of guide/assistance/companion dogs, so (a dog-friendly cafe) would not be allowed."
Interpretation
But Frogatt says the FSAI's guidelines are only based on the authority's interpretation of the law – a reading which, in effect, returned "a blanket 'no'".
His legal advisers boiled down the two pieces of legislation down to three primary conditions for dog-friendly businesses, which included that dogs couldn't access where food was handled or stored and that reasonable precautions were taken to exclude unleashed pets.
"That's not our interpretation, it's the interpretation of one of Ireland's top food lawyers," he says. "We're not winging it."
Six months on, Pupp has yet to receive any complaints from health inspectors.
"We've met the law and had discussions with the health service. We were in touch with the FSAI and HSE from the outset. We had numerous discussions with them and told them what we were going to do."
He stresses that Pupp takes adequate procedures to prevent domestic animals from gaining access to the kitchen and food-storage areas.
Despite Pupp's approach, the FSAI tells Fora that any business that allows dogs indoors remains in breach of legislation. The only exceptions are for guide dogs or companion dogs for people with certain special needs.
"The Irish legislation is very old," the authority's communications manager, Jane Ryder, says, "but that is what the inspectors are using.
"We are in discussions with the HSE and the Department of Health about this. Until then, our guidelines stand. We are very aware that there are places (allowing dogs indoors)."
Support
Froggatt, who is originally from the UK, says he was surprised at the level of attention Pupp attracted when it first opened.
"I think the concept itself might be relatively new in Ireland," he says. "It's such a common thing around the continent and in the UK.
"The amount of support we've had for this kind of facilities has been very surprising. Dublin is such a multicultural city now. People of other nationalities have expressed surprise at the slightly different attitude (towards allowing dogs indoors) in Ireland.
"People have been hugely supportive. They have been crying out this kind of facility."
Ardgillan
Ardgillan Castle, which is connected to Fingal County Council, recently opened a dog-friendly cafe called Paws at Ardgillan. It is effectively a semi-enclosed patio, similar to an outdoor smoking area in a pub.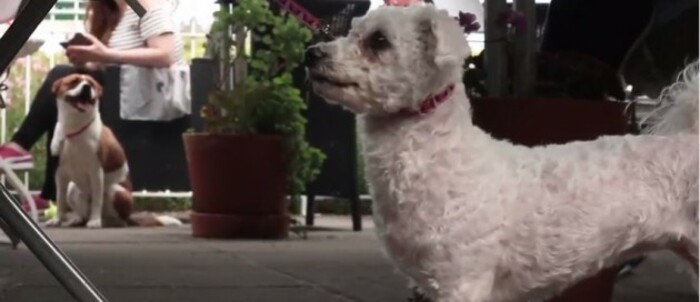 Manager Tom O'Reilly says he was too nervous to allow dogs fully indoors and instead opted for an outdoor venue. This is definitely in line with the current FSAI guidelines, he says, which explicitly state that pets are permitted in an outdoor seating area.
"I think the HSE has made a positive step forward by allowing us to have dogs on our patio," he says. "There is a movement – it's not so much underground now.
"I am hoping there will be a groundswell of positive opinion towards allowing dogs into catering establishments, obviously with certain restrictions. There's a huge demographic out there that need that – people treat their dogs like children."
He claims that since the venue opened eight weeks ago, it has attracted dog walkers from all over north county Dublin.
The dog-friendly push
Meanwhile, the animal welfare charity Dogs Trust Ireland says it is campaigning for more "dog-friendly environments" in general, especially in places of work.
Campaigns manager Sarah Lynch says there has been an uptake in support for food services that want to cater for dog owners, which she believes was prompted by the MVP story.
"It really generated and highlighted this existing level of support for dog friendly businesses," she says. "A lot of people commented on social media.
"Dogs are such a daily occurrence in everyday life on the continent, and when we look at our neighbouring countries like Northern Ireland or England, we see loads of opportunities."
She says that Dogs Trust is campaigning to relax dog bans on public transport, in hotels and other sectors, and not just for food business.
The charity claims it could re-home more abandoned dogs if domestic pets were allowed into more public places. Lynch believes this would be "better for society as a whole".
However Paul Froggatt says that he doesn't think it is a good idea for every business to become dog-friendly. Rather those considering the move should be "fully considerate from a legal, hygiene and social perspective".
Correction: This article wrongly said that Paul Froggatt of Pupp cafe no longer works at Google. He is still employed by the company.