Galway's BIA Innovator Campus for food startups will open its doors in 2020
The State-supported project was first mooted two years ago.
TWO YEARS AFTER it was first mooted, construction of a Galway innovation hub for food startups is set to begin this summer.
The BIA Innovator Campus – a 27,000 sq ft centre for budding food businesses and entrepreneurs – has started the process of shortlisting contractors to build the facility, slated to open in August 2020.
The campus will provide a range of services, such as a two-storey learning centre, hot-desking facilities, a culinary training centre, four co-working food labs, a unit for high-potential startups and an incubation programme.
According to tender documents, the BIA Innovator Campus – co-funded by Galway County Council, Enterprise Ireland and national food development agency Teagasc – will be developed to "provide key infrastructure and knowledge resources" to young food companies in the west of Ireland.
The not-for-profit overseeing the project has forecast that the centre will contribute to 360 new jobs in 40 companies in its first three years. It has previously set the ambition of facilitating the development of 500 new products during that period.
"In addition, there will be over 2,400 entrepreneurs and learners benefiting from the business development, mentoring, education and training supports available on site," the company behind the project stated in tender documents.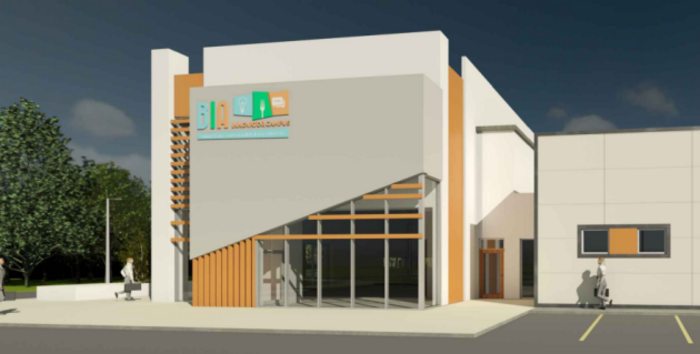 Source: BIA tender documents
The innovation hub was first announced in 2017 and planning permission was granted in July of last year.
When it was first announced, the hub was estimated to cost €3.9 million to deliver. The tender advertised this week valued the construction contract at €5.5 million.
Some €2.5 million in State funding has been allocated to the centre as part of the Regional Enterprise Development Fund.
'Stimulating regional regeneration'
The BIA Innovator Campus will be located on a site leased from Teagasc just off the M4-M6 and M17-M18 motorways.
It will consist of four branded divisions: BIA Obair, a food grade production unit; business development unit BIA Accelerate; BIA Eolas training centre; and BIA Blas, a showcase and events facility for trade buyers, suppliers and investors.
A suite of services will be provided across each division, such as accredited career training programmes for industry professionals and classes for home cooks. It will also provide a "taste panel lab" for the peer reviewing of new products.
The not-for-profit company behind the project has drafted a mission to "stimulate regional regeneration" by enhancing the standards of the agri-food sector in Galway and the western region.
It intends to "showcase produce for local, national and international markets".
Get our NEW Daily Briefing with the morning's most important headlines for innovative Irish businesses.