Debenhams kept posting million-euro losses after emerging from examinership
The UK-based department store chain operates 11 stores in Ireland.
THE IRISH BRANCH of department store Debenhams continued to lose money the year after it was placed into examinership to stave off collapse.
During 2016, the company went into examinership after running at a loss for several years.
Later that year, the firm was cleared to exit the restructuring process by the High Court after debts of €16.6 million owed to its UK parent were written off. A further €12.6 million relating to foreign currency contracts was also written down to zero.
Following the process, the company said it planned to keep its 11 Irish stores open and retain the vast bulk of its staff.
However accounts just published for the Irish arm of the retailer showed that it continued to lose money in the year ending in early September 2017.
While the firm posted a slender operating profit, it posted a net loss of €2.7 million for the 52-week period after finance costs and tax charges were factored in.
As a result of the debt write-off in 2016, the firm's accounts show it recorded a profit of €19.2 million for the previous financial period.
However before the exceptional items were accounted for, it recorded a loss of more than €5.1 million. Turnover was down €10 million last year to €170.6 million.
A note in the directors' report stated that the external economic and commercial environment is "uncertain and volatile".
The company employed an average number of 1,454 staff, down from 1,508 the previous year. It paid an average wage of €18,700.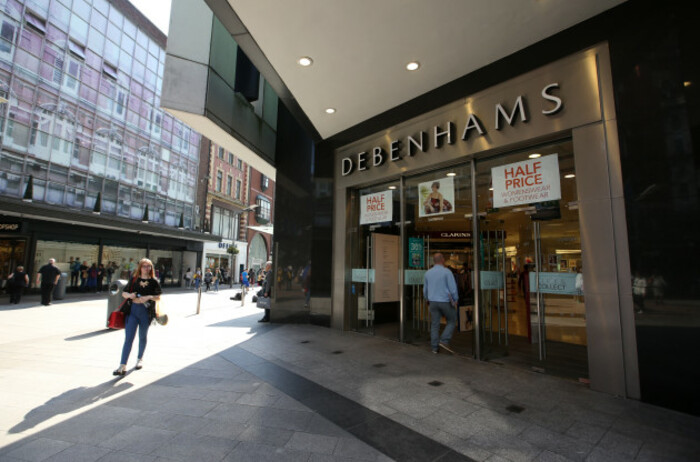 Source: Sam Boal/RollingNews.ie
A further breakdown of the company's financial results show that the majority of its sales came from in-store purchases, with only 14% of sales taking place online.
The majority of products in the store are bought in and sold directly by Debenhams, with just under a third of its business coming from in-store concessions.
The company operates department stores in Dublin, Cork, Limerick, Tralee and Waterford. Most of its outlets were acquired from Roches Stores in 2006.
This week, the company's British parent lowered its earnings outlook for 2018 for the second time in four months after it reported a slump in profits.
The international group is 12 months into a turnaround programme being spearheaded by chief executive Sergio Bucher.
He has stated that this revival process will involve the closure of some stores, cutting promotions and revamping the brand's online offering.
Sign up to our newsletter to receive a regular digest of Fora's top articles delivered to your inbox.