Debenhams posted its biggest loss in 240 years - but its Irish digital sales are ticking along
The firm has revealed plans to cull 50 stores within the next five years.
AS DEBENHAMS LINES up a raft of store closures following major losses, the Irish wing of the business has shown "strong digital growth".
The publicly-listed retailer, which operates nearly 200 department stores in the UK, Ireland and Denmark, has issued three profit warnings this year.
In an announcement today, the firm revealed it has posted the biggest loss in its 240-year history.
The chain recorded a loss of £491.5 million during the year that ended September 2018 while group sales decreased by 2.5% to £2.2 billion.
As a result of the losses, Debenhams has announced plans to close 50 "underperforming" stores.
A spokeswoman for Debenhams would not confirm to Fora if Irish-based stores will be affected by the closures.
"This is an ongoing five-year programme and we are not disclosing a list of these stores," she said.
"We have identified up to 50 stores, accounting for under 15% of total sales, which are currently profitable but where we do not see a long-term future and which we intend to exit over the next three to five years."
The preliminary results released by Debenhams showed revenues at its UK wing decreased by more than £60 million to £1.8 billion during the year.
However, its international operations alone recorded sales of more than £444 million, an increase of 0.5%.
Debenhams said that this increase has been driven by "strong digital growth" in its Irish operation, which saw revenue increase by £1.7 million to £149.2 million during the past year.
Its Danish division also saw a bump in sales as revenues rise by nearly £5 million to £210.1 million.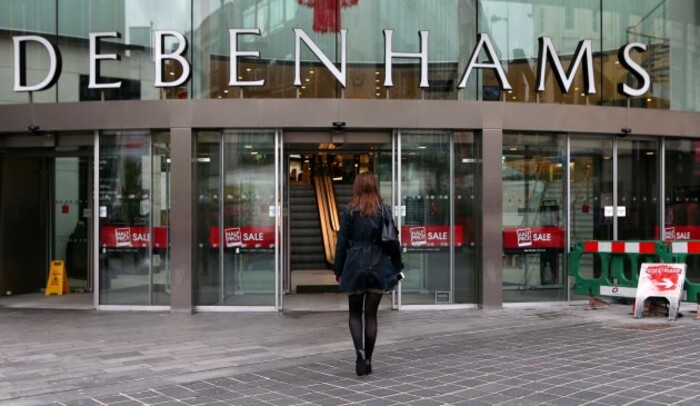 Source: PA Wire/PA Images
Jobs risk
The majority of Debenhams department stores are based in the UK, with 10 located in the Republic. Roughly 4,000 jobs are at risk as a result of the announced store closures. 
Debenhams chief executive Sergio Bucher said it has been "a tough year for retail", adding that the firm plans to take "decisive steps to strengthen" its position in the market.
Plans previously revealed by Bucher said the firm would close 10 stores, downsize other outlets and cut new deals on leases.
He said Debenhams wants to have "fewer but better stores" and also put more focus on its online operations.
In recent months, it has been speculated that Debenhams could be subject to a takeover by Mike Ashley's Sports Direct.
Ashley already owns a 30% stake in Debenhams and it has been suggested he would merge it with his newly-acquired House of Fraser, which he bought earlier this year for a cash consideration of £90 million.
Sign up to our newsletter to receive a regular digest of Fora's top articles delivered to your inbox.