House of Fraser has cancelled all of its outstanding online orders
The troubled retailer has had a falling out with its warehouse operator.
DEPARTMENT STORE CHAIN House of Fraser has cancelled all of its outstanding online orders following a dispute with its warehouse operator about payment.
The UK retailer, which was acquired by British group Sports Direct last week, said that it will cancel and refund all online orders that haven't already been sent to customers.
"All customers affected will receive an email in the next couple of days. Please accept our apologies for any inconvenience caused," the company said through a message on Twitter.
The retailer's website is currently unavailable. A message on the site says the online store "will be back up and running as soon as possible".
The decision comes after customers complained about unfulfilled deliveries. A source with knowledge of Sports Direct told Fora the issue was caused by warehouse operator XPO Logistics pausing orders because of a dispute over payment.
The firm is among 1,000 suppliers that House of Fraser has told it will not cover money owed before it was acquired last week.
Sports Direct – which is majority owned by billionaire and Newcastle United proprietor Mike Ashley – spared House of Fraser from administration when it snapped up the troubled retailer for a cash consideration of £90 million.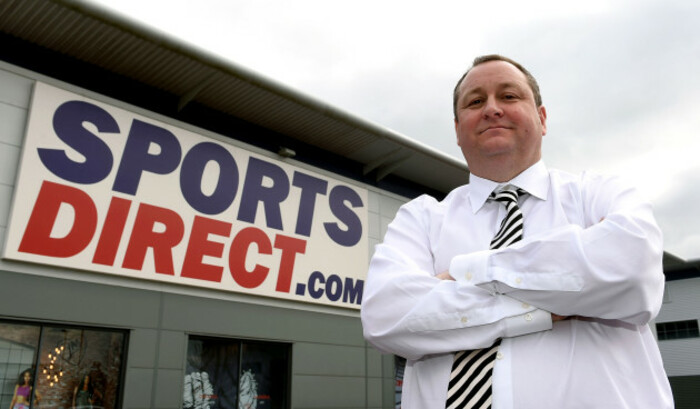 Source: Joe Giddens/PA Wire/PA Images
Dundrum store
Initially, there were concerns for the future of House of Fraser's Dublin store as Sports Direct told the London Stock Exchange that it had only acquired the chain's UK stores.
However, the chain's appointed administrator, EY, later clarified that the £90 million deal does in fact include the Dundrum Town Centre outlet. Earlier this week, House of Fraser announced that it would no longer accept gift cards at any of its stores.
A notice in the Dundrum shop stated that "unfortunately" the retailer will no longer be taking gift cards or vouchers as a form of payment, including Dundrum Town Centre gift cards and €10 Bounce Back vouchers.
Consumers have been told to send unused gift cards to House of Fraser's London head office. However, it's unclear if or when they are likely be reimbursed. Punters would also have to foot the bill to post the cards to the UK.
The 169-year-old firm, which has department stores dotted mostly across Britain and Ireland, currently employs about 17,500 staff. Some 6,000 jobs were previously on the chopping block in an overhaul that had been unveiled in June.
At the time, it said it was shutting 31 of its 59 stores. Its Dublin and Belfast units weren't marked for closure at that stage.
It's not yet known how many – if any – House of Fraser branches Sports Direct will be shuttered. This week CEO Mike Ashley said the group will "do our best to keep as many stores open as possible".
"We look forward to turning House of Fraser into the Harrods of the High Street," he said.
Sign up to our newsletter to receive a regular digest of Fora's top articles delivered to your inbox.