'The gun was to our head': Revive Active's boss on being proactive to Brexit-proof his business
Meet Daithi O'Connor, the man behind Paula Radcliffe and Roz Purcell's favourite vitamin supplement.
DAITHI O'CONNOR IS no stranger to hard work: While many business people cut their teeth in an office cubicle, the Sligo native headed out to some choppier waters. 
O'Connor, who is behind vitamin supplement brand Revive Active, learned a lot from overnight fishing trips on an open half-decker boat heading out to catch salmon and lobster. 
"You'd go out at nine o'clock at night and come in at six in the morning. There's no hiding places when you are four miles out to sea," he laughs.
It was a lesson well learned, as there was no hiding place when it came to getting the Galway-based vitamin company off the ground in the depths of a recession either.
It was 2011 when O'Connor set out to build Revive Active and he has since grown the business to provide a range that includes supplements to support energy levels, muscle recovery and healthy joints. O'Connor's products are now in more than 1,000 pharmacies across Ireland and his company is also expanding internationally.  
The company has grown sharply in recent years, partly due to courting a younger, fitter audience by getting the likes of Irish rugby international James Ryan, food and lifestyle blogger Roz Purcell and British long-distance runner Paula Radcliffe on board as brand ambassadors. 
It is a long way from the early days when O'Connor recalls taking orders from his car.
"We didn't take any salaries for the first 18 months… people talk about 24-seven and it was that," he says over a cup of coffee with Fora in the foyer of The Radisson Blu Royal Hotel in Dublin.
A little perseverance went a long way, as a steadfast belief in the product helped entice investors such as Supermacs' Pat McDonagh.
Eight years later, the company has added a new product each year and reached a turnover of almost €7 million.
In April, it opened a €1 million production facility in Mullingar to Brexit-proof the business that previously depended on a Welsh factory to manufacture its products. 
"We always wanted to bring home our manufacturing, it probably came a little bit too soon, but the gun was to our head and we had to accelerate it," he explains.
"Could we afford to do it? I decided that we couldn't afford not to do it."
O'Connor describes it as "the best thing we have ever done" as it allows more control over the product and its quality. 
It also means the company will bump its staff to 40 by the start of the new year. Last year that number stood at 22. 
For now, some products are still being made in the Welsh facility and if there is a hard Brexit, O'Connor says the company is fully protected against the impact of cross-border tariffs.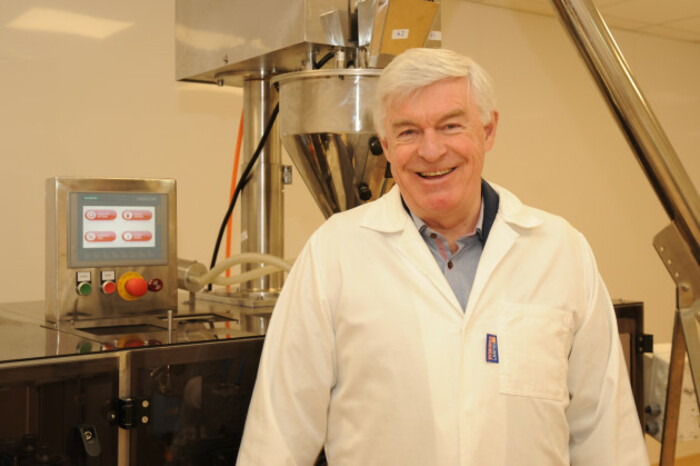 In the blood
Growing up with a dad, brother and niece all working as doctors, O'Connor's choice to start a company in health and well-being looks natural, but he initially went into finance.
Coming from a medical family, however, has helped move things along and means O'Connor is comfortable talking to GPs and practitioners.
"I took a different path (to them) it's not like (your dad being) a carpenter and you know about wood, but it means you are far more comfortable in that space," he says.
After finishing secondary school, O'Connor went on to pursue a career in banking before setting up his own financial services company, called DC Atlantic, in 2005.
Somewhere within that time frame, he married a Galway girl and relocated down the coast to become a "Galwegian" – as he puts it.
In 2010, while people were emigrating and "for sale" signs were appearing throughout the country, O'Connor was looking for something different and was researching the vitamin market in Ireland, after being approached by a contact about a potential opportunity.
O'Connor spotted a gap and the parent company of Revive Active  – Galway Natural Health Sales Company – was born the following year. 
The product, a powder-based dissolvable vitamin supplement, was developed with nutritionists and first manufactured in ABC Nutrition's Clare factory. 
O'Connor excitedly runs through a plethora of the different ingredients, reeling off the ingredients such as the q-10 enzyme and the arginine amino acid that make up some of the 27 ingredients of the original supplement.  
If the recession hadn't hit, would he be sitting where he is today? O'Connor nods his head.
"We are all victims of circumstances… but I definitely would have changed (from finance), this (company) was something that worked for me," he explains.
Starting local
In the depths of the downturn, raising money and trying to convince local pharmacies in Galway to take on a new product was far from easy, but O'Connor points to a belief in the product that saw him through. 
"We're making a difference to people's lives and that is very gratifying today, but that was our ethos from the beginning and we've kept that in all our products and everything we've done on our journey," he says.
In those early days, O'Connor leaned on some of his contacts and began to build relationships with local pharmacies in Galway city.
You can't beat word of mouth and reputation when it comes to making sales and O'Connor says his customers were the company's "greatest advocates". 
In ways, the company hasn't strayed too far from that original marketing technique, albeit with some higher profile advocates.
The Galway camogie team, rugby player James Ryan and food and lifestyle blogger Roz Purcell, are all brand ambassadors – paid to endorse the product. Paula Radcliffe, once the fastest female marathoner of all time, is an ambassador in UK.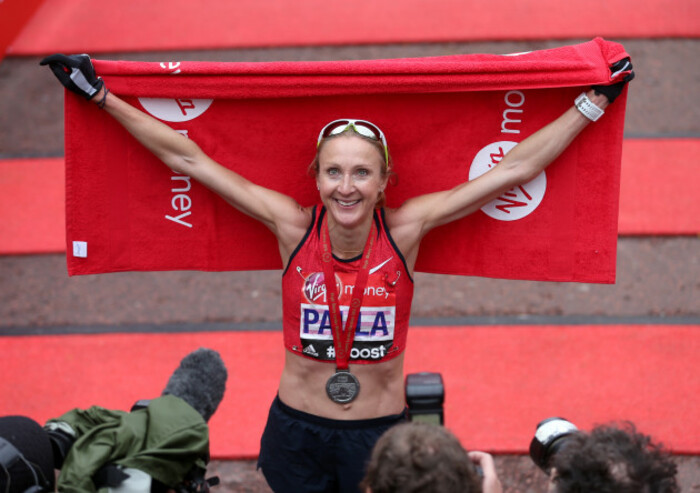 Source: PA Archive/PA Images
Challenges facing the industry 
Brexit has been a major challenge, but things also haven't always been plain sailing closer to home.
O'Connor is one of several business people dealing with the government's decision to place 13.5% VAT on food supplement products in the latest budget. 
Traditionally the category was exempt from VAT, and while the 23% rate applied to food supplements, certain products such as vitamins, minerals and fish oils were exempt.
Early last year, the Finance Minister Paschal Donohoe postponed the introduction of a 23% VAT rate on food supplements that was set to come into force on 1 March 2019, after health food organisations and companies lobbied against it.
When it emerged that Donohoe had included the measure in the Finance Bill, the industry thought the move was unfair, calling it a "tax on health".
O'Connor says he was disappointed with the outcome.
"I had a private meeting with Paschal Donohoe and I put our case as an Irish company," he says. 
When asked by Fora who the increase would most impact, O'Connor explains the price will be added on to products that are imported to Ireland, hitting the consumer.
When it comes to Revive Active's products "the retailer will take some of the pain but we will have to take a lot of the pain ourselves". 
O'Connor is optimistic that savings will be made with the new facility in Mullingar to offset the impact. 
Different markets
With the product in over 1000 pharmacies in Ireland, and the company's flagship product Revive Active costing the consumer €2 a day, O'Connor says it is for everyone.
The company targets each age group, along with a separate beauty, joint and cognitive line.
Britain, however, is a different ballgame. O'Connor says the product there is initially being aimed those shopping in upmarket stores as it is sold in Selfridges, Wholefoods and John Bell and Croydon pharmacy off Harley Street – which O'Connor informs is the Queen's pharmacy.
Apart from the UK, O'Connor says the company also exports to Nigeria and through an Irish connection has started to sell into two pharmacies there.
The US is on the cards too, but he makes it clear that he wants to do it right the first time around and not launch twice there.
"The US is a monster, it's worth $46 billion and 77% of the adults in the US take supplements. But you get only one opportunity in the States," he says.
At the moment, the company is revising its strategy of just launching with one product and through a digital marketing campaign. 
"We will probably continue to research for the next six months and our launch will probably be digital, Amazon and with a retail partner," he says.
It sounds like it will be hard work, but it's nothing compared to pulling an all-nighter in rough seas. 
Get our Daily Briefing with the morning's most important headlines for innovative Irish businesses.