Here's why developers need to sell Dublin city apartments for €470,000
A new report looks at why apartments in the capital are so expensive.
APARTMENTS IN DUBLIN need to sell for almost half a million euro in order for them to be worthwhile to develop, a new report has found.
According to a study carried out by the Society of Chartered Surveyors Ireland (SCSI), a developer needs to sell medium-rise apartments in the city centre for €470,000 for a project to be viable.
Construction costs make up less than half of these figures, which include the likes of VAT costs and developers' profit margins.
As part of the study, the SCSI analysed 28 housing schemes consisting of a total of 2,146 two-bedroom apartments, all of which were based in Dublin.
The apartments were split into three different types: low-rise suburban of three-storey blocks, medium-rise suburban of between three- and six-storey blocks and medium-rise urban of five- to eight-storey blocks.
It was found that the cost of developing a low-rise block was a minimum of €293,000; medium-rise in the suburbs was a minimum of €400,000, while medium-rise in urban areas was a minimum of €470,000.
In all cases, the actual cost of building was usually about half of the development costs.
The SCSI gave an example of how the sums broke down for an apartment that costs just under €443,000.
Different costs
In this case, the actual cost of building the housing unit is €263,000 when the cost of acquiring a site is included.
Development contributions, professional fees and selling costs bring the price to €305,000, while the cost of finance adds another €30,000.
According to the SCSI, most building projects need a 15% profit margin to win financial backing. This is because the development needs to both make a profit and have some cash set aside for unforeseen issues.
This brings the amount an apartment needs to sell for to €400,000. When VAT is added in, this rises to €442,938.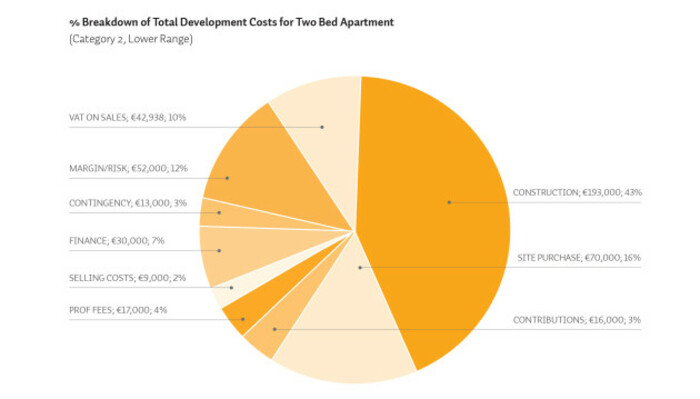 Source: SCSI
According to the report, the sales price of two-bed apartments in Dublin across all three categories currently range from €338,000 to €383,000. It said that this means that there is a 'viability gap', with many developers unwilling to build apartments.
In a similar study published last year, the SCSI found that an average three-bed, semi-detached house in Dublin needed to sell for €330,000 to make it worthwhile to develop.
Paul Mitchell, the chair of the SCSI working group that authored the report, said that the study showed that apartments are often expensive to build.
"Popular perception is that the supply situation can be alleviated by building upwards. However, the most expensive apartments are the medium-rise ones in the city," he said.
"This is due to the fact that these buildings have a more complex structure and require a wider range of mechanical and electrical services, sophisticated facades, basement parking and much more."
The SCSI acknowledged that apartments are too expensive for most people to buy. It said that only one category of apartment, low-rise in the suburbs, is both commercially viable to build and affordable to a couple on the "average wage" of €45,000 each.
Speaking to Fora, Mitchell said that several areas could be looked at to bring the cost of delivering an apartment down.
"A reduction in the required car parking spaces would be one, and a contributions rebate in affordable locations could be another, but there is no silver bullet," he said.
Other suggestions was for a VAT rebate to be introduced or for the minimum apartment size to be lowered.
Sign up to our newsletter to receive a regular digest of Fora's top articles delivered to your inbox.