'Unprecedented measures': Irish business reacts as the state navigates uncharted territory
This evening's main Covid-19 points for business.
IN THIS TURBULENT time, Fora is going to bring you updates every morning and evening on the most relevant issues for Irish business dealing with the outbreak of Covid-19. Here's what happened today, March 12, as of 6 pm. If you want to let us know how your business is dealing with the outbreak, drop us a line at news@fora.ie 
We probably don't need to remind anyone that it has been quite a day. 
The government is implementing a range of measures that come into action from this evening. Our colleagues over at TheJournal.ie have a breakdown of what the Taoiseach said and what this all might mean for the working public. 
In an address delivered from the United States this morning, Taoiseach Leo Varadkar stated that Ireland's economy will "suffer", but will bounce back as businesses are putting protocols in place as people are advised to continue working, but remotely if possible.  
Irish businesses are reacting to measures aimed at preventing the spread of Covid-19 as, aside from figuring out the logistics of working from home, many people are also going to deal with childcare issues as schools close. 
Navigating uncharted waters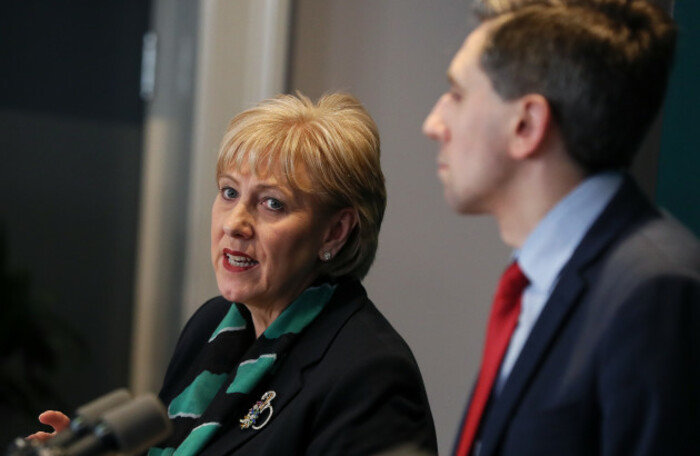 Source: PA
For businesses worried about cashflow, Heather Humphreys, the minister for business, enterprise and innovation, said this evening that she has met with top management at AIB, Bank of Ireland and Ulster Bank yesterday.
"All three banks have assured me that they will support their business customers through this period. The impact of this crisis will be severe – but it will end – and Government and the banks will work together to do what is needed to support the cash needs of businesses as they work their way through it. I would urge all businesses to engage with your bank, agree financing needs over the coming period and restructure as appropriate," she said. 
Humphreys welcome that the pillar banks have publicly announced that they will offer relief, including emergency working capital, payment flexibility on borrowings and trade finance for those sourcing products from new suppliers internationally as the virus plays havoc on supply chains.  
Everyone playing their part 
From tomorrow, many employees will be working from home, and Danny McCoy, the chief executive of Ibec, said that employers must "do their part".
"Practically for companies, this means the implementation of remote working and flexible working, insofar as possible, and to support employees to operate in the best interests of public health advice in order to limit and slow down the spread of the virus," the boss of Ireland's largest business group said. 
The state already announced a package of support measures on Tuesday, at an estimated cost of some €3 billion, including initiatives in the areas of sick pay and illness benefits to help support incomes for affected employees and the self-employed and a €200 million liquidity support fund for impacted firms. 
"This stepped-up response is certainly to be welcomed, and it does represent a significant set of policy interventions in key areas," Simon Barry, the chief economist in the Republic of Ireland at Ulster Bank, said in a note this afternoon.
"But, given the pace at which the situation is evolving, it seems probable that further measures will be needed, including in relation to additional supports for some particularly vulnerable sectors such as tourism & hospitality which had been showing signs of weakness even prior to adverse impacts from the virus." 
Skip the queues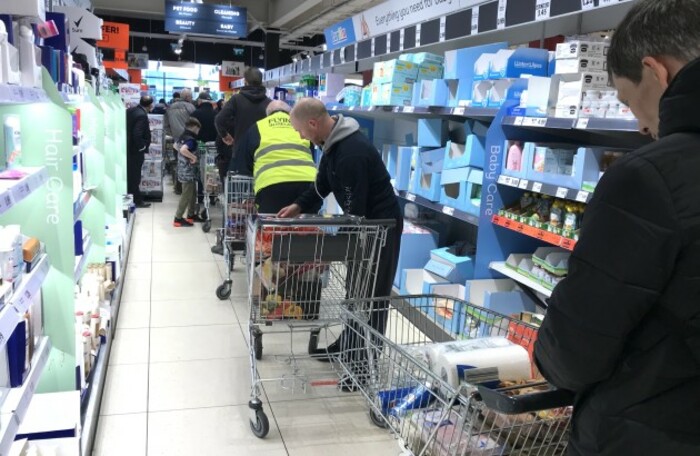 Source: RollingNews.ie
Shops will remain open and earlier today Humphreys and Minister for Health Simon Harris tried to send out a strong message that people should not stockpile or panic-buy due to the coronavirus situation.
Arnold Dillon, the Retail Ireland Director, said that while there has been "significant elevated demand for certain non-perishable grocery products",  he added that supply chains are functioning as normal and were well-placed to respond.
"However, retail distribution networks are not designed to deal with bulk buying on a widespread basis. It is important that consumers behave responsibility and don't buy more than they need. Retailers are working with their suppliers and monitoring consumer behaviour to avoid any shortages," he said. 
For pubs, which alongside restaurants and cafes can remain open, a little clarity might be needed. The Licensed Vintners Association (LVA), the representative body for Dublin publicans, believes it would be beneficial for the public health if pub specific advice was provided.
It questioned what is the official guidance for pubs who have a capacity exceeding 100 people, and, given the social dimension of pubs, what is the official guidance for how social distancing should be implemented?
"By their very nature pubs are social hubs where people deliberately congregate close to one another. Implementing a one-metre gap between tables, for example, might be one step that we could take, but that won't stop people from grouping together or congregating in other parts of the pub, for example at the bar," Donall O'Keeffe, the LVA chief executive, said. 
Market woes
Source: Xinhua News Agency/PA Images
Waking up to the news of Donald Trump's drastic restrictive measures on travel to the United States, as he suspended all travel from 26 European nations but excluded Ireland and the UK, the markets were already facing a tough morning.
The news over the day didn't help matters.
The Iseq index dropped, closing down by 10%
London stocks fell by almost 10%
European markets posted a double-digit plunge, their worst one-day drop in history
On Wall Street, the Dow tumbled more than 8% in early trading, at one point triggering a 15-minute suspension in trading
It seems that ECB measures to counter the coronavirus impact fell short of some investor hopes
As the latest major central bank to jump into the fray, the European Central Bank (ECB) launched a flurry of measures to cushion the impact of the virus, including increased bond purchases and cheap loans to banks, but underwhelmed market expectations by leaving key interest rates unchanged. 
"Ultimately, the measures announced today disappointed market participants. In the aftermath of the meeting, the Euro and peripheral European debt remains under pressure, as the market truly expected the ECB to throw everything they had in attempt to soften the blow Covid-19 would have on economic activity in Europe," Cian Pierce, a UK Money Market Trader at Bank of Ireland, said.  
"In her press conference, ECB President Christine Lagarde continues to call for an ambitious, co-ordinated fiscal response from European governments, with markets now eagerly awaiting concrete news German plans to ditch the balanced budget policy in order to combat the coronavirus," he added. 
Something you might have missed…
With a good chunk of the workforce about to get their first experience of remote working, they are joining a growing cohort who have long opted to keep the office at home for plenty of other reasons. A few months back, we took a look at why some see it as a smarter path. 
With reporting from AFP
Get our Daily Briefing with the morning's most important headlines for innovative Irish businesses.