A new development could revive Cork's historical business centre
A new office block in the South Mall will be able to hold as many as 450 workers.
A NEW OFFICE block which will accommodate 450 workers is planned for Cork city's historical business district, the South Mall.
Subject to receiving viable planning permission, construction will begin immediately and work towards a completion date of late Summer 2018.
JCD Group, the Cork based property development company, are lodging a planning application for a €25 million new office development today.
The five storey office building which includes 85 and 86 South Mall also extends to include two additional sites to the North which will border Crane Lane, Phoenix Street and Smith Street with the main entrance lobby onto the South Mall.
Minister Simon Coveney said, "This is a very positive new development in the city centre providing new office accommodation to enable Cork to compete on both a national and international level for Foreign Direct Investment.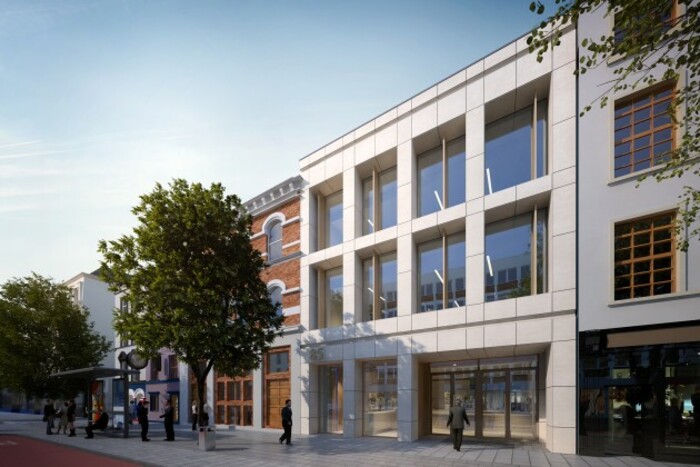 Source: jakuzaa
The JCD Group are also behind major recent Cork developments such as One Albert Quay, The Capitol and City Gate in Mahon.
A JCD spokesperson said, "If Cork is going to continue to compete internationally for FDI, it is critical that there is a steady pipeline of Grade A office space available."
The spokesman added that in addition to the 450 city centre jobs that will be accommodated once the project is completed, the project would also sustain 125 construction jobs throughout the build.
It's understood that the tenant line-up should be announced shortly.
South Mall
It is hoped that the development will help revive the South Mall area, Cork's historical business district which suffered during the recession. There have been efforts to improve the area recently.
At the start of the year two Cork-based entrepreneurs, startup group Built in Cork founder DC Cahalane and Irish Mainport Holdings boss Dave Ronayne opened a new co-working space in the South Mall.
Speaking to Fora, Cahalane said the large-scale Republic of Work hub will help reinvigorate the South Mall area as a business district.
Shortly afterwards, it was revealed that a new 'landmark' office building that will be able to hold up to 500 workers is planned to attract major companies to Cork and rejuvenate the city's northern quays.
Developers Stone Work Properties announced plans to build a 65,000 sq ft, five storey building on the Camden Place site on Cork's riverfront.
Reporting by Cliodhna Russell and Paul O'Donoghue.