Take a guided tour of... this coffee shop inside two freight containers
The café with a twist opened in the heart of the Liberties last month.
DUBLINER GORDON HICKEY has an interesting pastime. He's making a map of all the vacant land in Dublin to prove just how underutilised parts of the city really are.
It's a project close to his heart and – while cycling through the Liberties last year – he had his own idea to make a small dent in the problem of empty lots lying wasted in the capital.
The solution, in his case, wasn't entirely conventional – welding two, 20-foot shipping containers together and opening a coffee shop in their belly.
This week, Fora paid a visit to the end product, Container Coffee, to get a tour from Hickey of the improvised café on Thomas Street:
The idea for Container Coffee came from a television programme Hickey once produced for RTÉ called You Should Really See A Doctor.
He says the concept involved bringing a container, which had a mobile clinic inside, to different locations so that people could get health checks.
His thinking was that if you can fit a clinic in a container, surely the same could be repeated with a café. While the project may strike the passer-by of a pop-up shop, Hickey says it's anything but.
"It was probably nine months from the idea to opening up. There was a lot of people saying to me, 'It just popped up really quick', and I was like, 'No it didn't.'"
"As with everything, I was very naive in thinking it's going to be very easy because we were able to lift the container up on the television programme and pop it down where ever we wanted."
He says he went through a rigorous planning process to get the containers installed – and the time and work involved meant making sacrifices to ensure everything was completed.
"There was a lot of begging and a lot of hard work. I gave up work for four months beforehand, just to get it right and keep pushing it on a daily basis."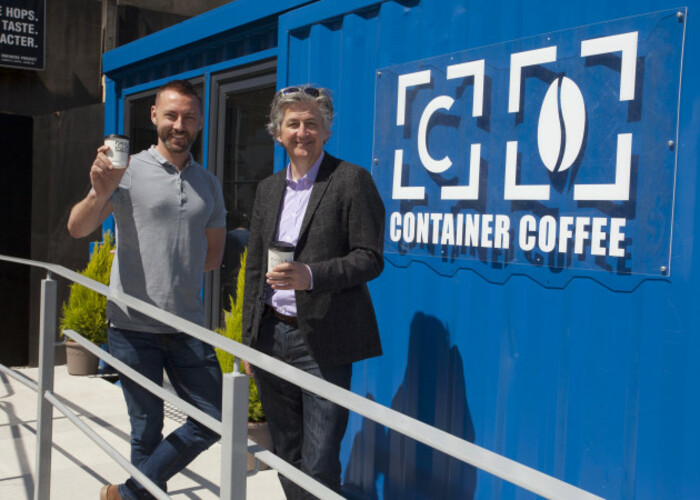 Source: Container Coffee
Plans
It has only been four weeks since Hickey pulled back doors on his container, but he says business is going well.
For now, clouds are his main enemy. When there was a burst of heavy rain recently, he kept an ear out for leaks – but so far no water has seeped in.
"I think business here is going to be very weather dependent. We only have a small space inside, but we have a massive outdoor area which can be utilised on a sunny day.
"I've noticed already that when it rains there is no one around us. That kind of has me a little nervous. In time I'm hoping business will build and I can become a little bit of brand and people will come out of their way to come here for the coffee here."
Even with the novelty factor to fall back on, setting up a coffee shop in Dublin is an increasingly competitive business.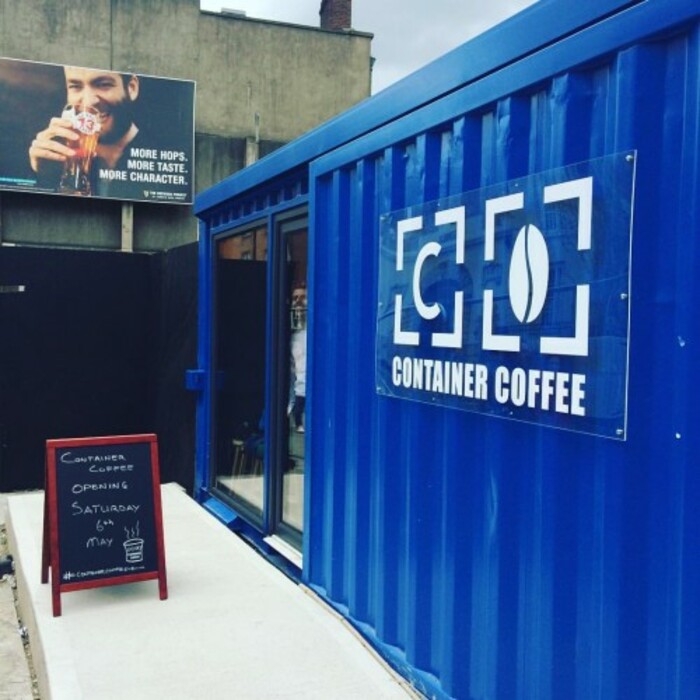 Source: Container coffee
For now, Hickey is mainly focused on bedding into his spot of the Liberties. But he's not ruling out opening similarly themed cafés down the line.
"I would love to open up a few more Container Coffees. Dublin is an amazing city and I just think there is too much underutilised space.
"A lot of people have come to say it has brought a bit of life to this end of the street and if I can do this in other areas of the city, I'd love to."
Sign up to our newsletter to receive a regular digest of Fora's top articles delivered to your inbox.