The aviation watchdog fielded twice as many complaints from passengers last year
The main event that drove the increase was Storm Emma.
IRELAND'S AVIATION WATCHDOG has received more than twice as many investigation-worthy complaints from air passengers last year than 12 months prior.
According to the 2018 annual report from the Commission for Aviation Regulation (CAR), the body received 2,218 complaints deemed valid for investigation throughout last year, more than double the number received in 2017.
A CAR spokesperson told Fora the main event that drove the increase was Storm Emma, which closed Dublin Airport and affected flights from all Irish airports in February and March 2018. 
The CAR is responsible for ensuring all travellers are protected when an airline or travel firm lets them down. The regulator also licenses airlines, airport ground handling operators, travel agents and tour operators, and performs other duties such as allocating slots at airports and setting Dublin Airport charges.
In total, the CAR fielded 4,420 different complaints and queries from the public, up 66% on 2017′s tally. However, many of these were requests for information on passenger rights generally or were connected to matters outside the CAR's remit, such as baggage and pricing queries.
Of the 2,218 valid complaints received, more than 560 are still under investigation or awaiting a decision.
More than half of the complaints cleared by the CAR related to long flight delays, while over two-fifths were connected to cancellations.
Dozens of complaints were submitted by passengers who had been denied boarding. Just four were in relation to passengers who had been downgraded on their flight.
The CAR reported that the volume of complaints and queries received by the office has significantly increased in recent years. As a result, the body put in place a team of workers on a short-term basis to help clear a backlog of work.
It said that this year it plans to "strengthen our air passenger rights team to manage the increased volume of claims". A spokesperson confirmed it has hired two full-time staff members for the next three years.
The aviation body obtained €458,817 for passengers affected by flights disruptions in 2018, with airlines paying compensation of €390,650 and €68,167 for refunds and reimbursements. 
Complaints by carrier
The figures show that of the 2,218 valid complaints investigated by the body, Aer Lingus accounted for almost half related to cancellations, with Ryanair making up 34%.  
Of the investigated complaints, Aer Lingus accounted for 36% connected to long delays, while Ryanair accounted for 23%.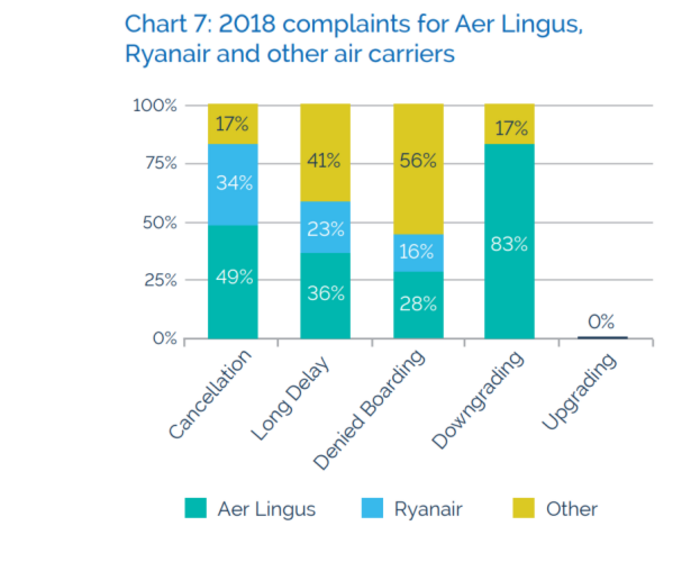 Click here to view a larger version.
[embed id="embed_2"]
The CAR noted that it will continue to monitor complaints to ensure further backlogs don't materialise in the future and it will also monitor the impact Brexit may have on its operations.
According to the annual report, when the UK leaves the EU, all complaints relating to flights entering Ireland from the UK on EU-registered carriers may have to be investigated by the CAR's office.
The large spike in complaints submitted to the CAR last year coincided with a particularly disruptive 12 months for European airlines, which blamed a large number of flight delays on strikes by air traffic controllers.  
Lobby group Airlines for Europe, which counts Ryanair and Aer Lingus owner IAG among its members, has been particularly vocal on the issue.
Last year was the busiest year ever for flights in Europe, but more than a quarter were delayed. According to Eurocontrol, the EU's air traffic control agency, 334 million passengers had their flights delayed by more than 15 minutes while 23 million had their flights cancelled.
Get our Daily Briefing with the morning's most important headlines for innovative Irish businesses.