'A lot of my book was painful to write - I was admitting the things I've f**ked up'
3FE founder Colin Harmon self-published a title for his master's degree.
WORLD-CLASS BARISTA Colin Harmon says that writing his first book "struck up a lot of painful memories".
The founder of coffee firm 3FE, Harmon's self-published title – What I Know About Running Coffee Shops – promises a blend of "(business) lessons, anecdotes and stories".
"There are lots of books about coffee and lots of books about business," he told Fora. "I kind of filled the gap a little bit."
3FE – which stands for Third Floor Espresso – has earned a reputation as one of Ireland's most respected coffee brands.
The company was founded in 2009 after Harmon left a career in finance to compete in the World Barista Championships. He built a replica of the competition stage in his third-floor apartment – hence the name – and finished fourth the first year he competed.
Today, 3FE operates two shops, a sister café, a subscription service, an online store, a wholesale business, and it also hosts a series of workshops on making the perfect brew.
Harmon always had ambitions of becoming a writer and toyed with the idea of penning a book for about six years.
He decided to pursue the project a year and a half ago after he enrolled in a master's course in innovation, entrepreneurship and design at UCD's Smurfit business school.
"As part of that course you have to launch a business," he said. "It kind of presented me with the ideal opportunity to kill two birds with one stone."
Source: 3FE
Harmon decided to self-finance the book as part of his degree, although he had considered going down the traditional publishing route.
"I was more of the mindset that this could be the only book that I ever do, so I just wanted to do it on my own terms," he said.
Although he hasn't calculated the exact figures, Harmon is "quite confident" that it was more cost-effective for him to put out the book.
He recruited Workgroup designers Conor Nolan and David Wall – who came up with the 3FE logo – to do the layout. Ian Lamont, the former editor of lifestyle free sheet Totally Dublin, edited it.
Harmon also sent drafts of the book to friends he knew would "relish the opportunity to criticise it".
When the book won approval from his wife – who is "bored to tears by coffee" – Harmon said it was his "first victory".
Painful memories
The writing process itself was relatively easy because many of the chapters were inspired by questions regularly asked by Harmon's wholesale clients.
"A lot the writing came quite quick, to the point where I thought I was doing it wrong," he said. "I was just so used to rattling off the answers."
Between running his business, finishing a master's degree and dedicating time to his two young sons, finding the hours to sit down and write was the most difficult part.
To speed up the process, Harmon used the time he spent sitting in traffic on the way home from work to dictate parts of the book on his phone.
"I'd just talk to myself all the way home. Then when I got home, I'd give the boys their dinner, put them to bed and type out what I'd written. It was a unique way of pulling it together, but it worked for me."
Although the writing came naturally, Harmon said a lot of the book was "very painful".
"I was kind of admitting the things I've fucked up in the last five or six years," he said. "I'm almost writing this back to myself. If I could go back in time, this is what I'd say."
International sales
What I Know About Running Coffee Shops will be launched on 20 April, but Harmon said the title is going "nowhere near a traditional bookshop".
Instead it will be available in 3FE's Dublin cafés and online. It will also be stocked by many of the 80 businesses the firm supplies coffee to.
It will be distributed internationally through coffee-shop owners who Harmon met at the World Barista Championships and from travelling to promote Mythos, a coffee grinder he helped develop.
"I know businesses like ours in Singapore and Sydney and Seattle. I've just got in contact with them and asked how many boxes they'll take and shipped them out."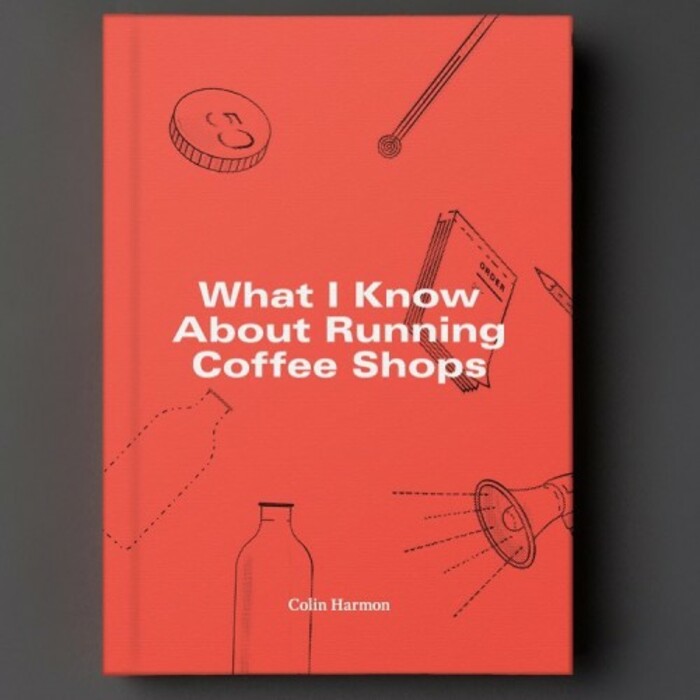 Source: 3FE
Harmon expects international sales will be helped by Tamper Tantrum, a podcast he co-created that attracts up to 50,000 downloads a month.
The first print run is about 10,000 books. However, based on the number of pre-orders, it's likely there will be a second run.
"Just over 4,000 of them are going to Hong Kong and the rest of them have pretty much been spoken for," he said.
Asked what's next for 3FE, Harmon said he will soon open a new coffee business that will "have its own identity and remit".
This comes shortly after he opened Five Points Coffee in Harold's Cross with former employee Adam Sheridan. Harmon also plans in the coming months to re-launch 3FE's online store.
"Our web sales are growing," he said. "There are a lot of people, especially outside of Dublin, who want a good coffee and they can't (get one) because there's no decent café nearby."
Sign up to our newsletter to receive a regular digest of Fora's top articles delivered to your inbox.