Coinbase brushes off bitcoin's battering after declaring Dublin its Brexit lifeline
The company's UK boss said the Irish capital will provide a hedge for its EU business.
IN A WEEK when the shine has well and truly come off bitcoin, cryptocurrency exchange Coinbase hopes its Brexit-proofed Irish office will prove a buffer for its European business.
Last month, the US company, which is valued at around $8 billion, confirmed that it was opening a support centre in Dublin, a move first flagged by Fora in August, as the reality of Brexit edges closer.
It comes as bitcoin, the world's biggest cryptocurrency, has dramatically fallen out of favour with buyers. On Tuesday, the digital currency's value dropped to just over $4,000, a stark contrast to the dizzying highs of a year ago when it was worth close to $20,000.
Despite the declining hype, Zeeshan Feroz, who heads Coinbase's UK operations, told Fora that Europe is still one of the exchange's "biggest and fastest growing markets." 
He added that Coinbase was not "directly impacted" by the fluctuating prices, which he said allowed for businesses dealing in cryptocurrencies to lower their expectations to fall more in line with reality.
"Activity in this space is significantly lower (now) than it was at the start of the year, but that's not necessarily a bad thing."
Coinbase has traditionally made money through transaction fees for trades performed on its exchange, however it has recently expanded into services targeted at larger institutional investors. 
The company, which has more than 500 staff, already operates several offices globally, including in London. That operation has served as its link to Europe – a link that may be severed after Brexit.
Coinbase holds authorisation in the UK, and it uses this to passport throughout the EU bloc, booking turnover of more than €127 million across Europe through the British operation in 2017.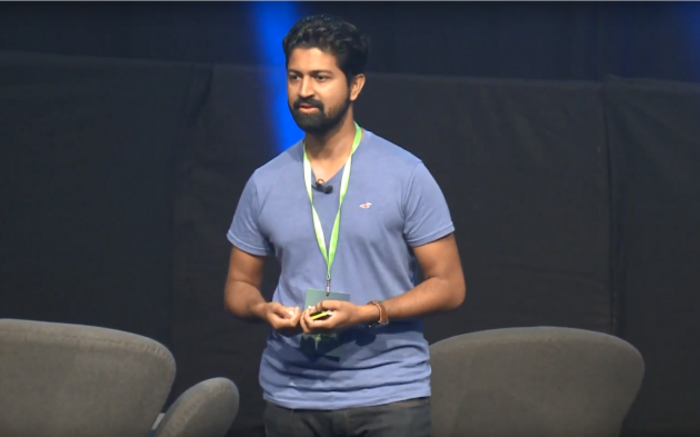 Source: YouTube/MJAC Blockchain Summit
However the future of passporting rights for UK-based financial services firms remains a major issue that's yet to be resolved in Brexit discussions.
Ireland, alongside several other EU member states, have been jockeying to become the go-to location should there be a mass exodus of firms from a Britain stripped of its cross-border rights.
Payments firm Circle, which is also active in the cryptocurrency and blockchain areas, is already looking for an e-money licence in Ireland to capitalise on its Dublin office as a post-Brexit hedge.
Coinbase has declined to comment on any plans to formally apply for regulatory approval here, while it is also tight-lipped on how many people will staff the Dublin outpost.
"The operations team services our clients. You're looking at customer support, you're potentially looking at compliance functions," Feroz said.
"We are, in the future, looking to potentially consider engineering roles based out of Dublin as well. The actual make-up of what the team is going to do in Dublin is quite fluid at this stage."
Weathering the storm
Increasingly, it looks like regulation will form part of the near-future for crypocurrencies and businesses that deal in them. This week's plunge in values has reignited the prospect of rules around the notoriously unchecked industry.
In Ireland, the prospect of what, if any, regulation should be introduced is still being thrashed out by a working group at the Department of Finance.
For its part, Feroz said Coinbase has been "pushing for" regulation by getting involved with industry self-regulatory bodies.
Source: Coinbase
Regulations, he said, should include tightening money laundering rules and clamping down on dishonest advertising with unfounded promises of windfall returns.
"As a general sentiment, I'm very supportive of regulation in this space as long as it's balanced and it doesn't stifle innovation."
Get our NEW Daily Briefing with the morning's most important headlines for innovative Irish businesses.