'My twins came nine weeks early - I was checking emails on my phone by an incubator'
As part of our How My Business Works series, we profile Wedding Dates.
LEAVING SCHOOL AT the turn of the century, Ciara Crossan says that "everyone was trying to get jobs in tech".
But after studying business information systems in University College Cork and getting a steady job in IT, she decided it wasn't the career for her.
"I just thought I didn't want to be stuck in a job that I didn't love, and I always had a dream to work for myself," she tells Fora.
Crossan took some time out from work, went travelling and starting making a plan for her own business with the idea of combining her experience in IT with her family's background in the hospitality industry.
Eventually, she was inspired by something she noticed her friends and colleagues struggling with.
"I was in my mid 20s, working in an office with a load of girls and lots of them were planning their weddings in work because most didn't have broadband at home at that time," she says.
"I started seeing how difficult it was for people to find out information about venues, availability and actually plan their wedding. So that gave me an idea."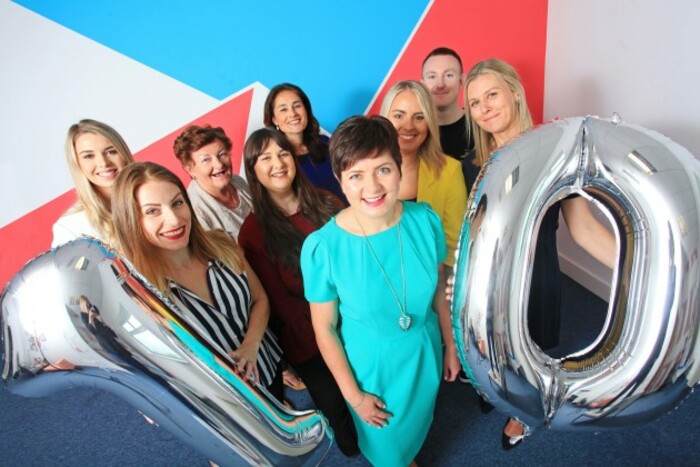 Source: Diane Cusack
Crossan decided to develop a website where people could look for information on wedding venues in a single place and, with some support from her family, Wedding Dates was born.
"My dad actually came up with the name and registered the domain for me. He said, 'If anyone can make this work, you can,' and that gave me the confidence to go for it," Crossan says.
"I started Wedding Dates in 2008. The good thing about it was that I had no fear. I was 25, it was pre-recession, and I thought I'd try it for a year and if it didn't work out then I'd get another job, no big deal.
"I moved back home with my parents, took out a small business loan, borrowed a laptop and got started. I didn't see it as a big risk, but ignorance is bliss."
'I drove the whole of the UK'
Crossan says that the business started small as she trawled the yellow pages to contact local hotels and see if they wanted to be featured on her website.
The platform was launched in October 2008 with 30 venues in Cork and Kerry, and began to expand organically from there.
A decade later, it now features more than 700 venues from across Ireland and the UK, and more than 2,000 wedding suppliers, including photographers, florists, caterers and bands.
The website allows customers to check availability for venues and suppliers, and make enquiries directly with these businesses.
For clients such as hotels, Wedding Dates offers a "combination of digital marketing and management software", according to Crossan.
"There's a marketing element, but the back-end of our system also has a dashboard that allows venues and suppliers to manage their wedding business, track enquiries, see stats, bookings, revenues they've earned."
To be listed on the platform, clients pay an annual subscription fee of between €850 and €3,500. Although the fees vary, Crossan says that the average venue pays around €1,000.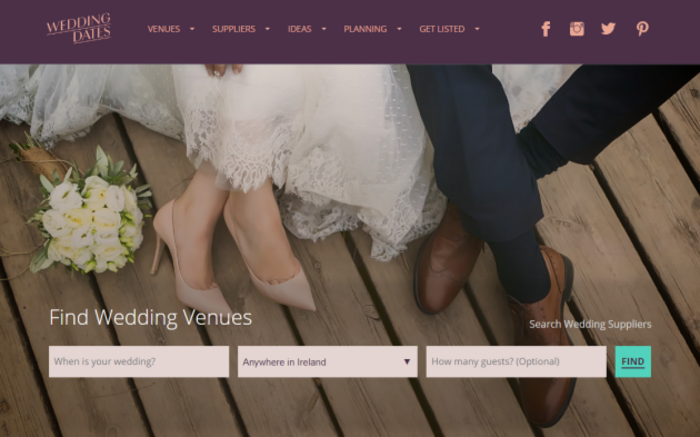 Source: Wedding Dates
Wedding Dates started as a one-woman operation at Crossan's kitchen table, but now employs 12 staff, most of whom are based in Cork.
Crossan says that growth was slow to begin with. An appearance on RTE's Dragon's Den in 2010 was "a big uplift", even though the company didn't secure funding, but Crossan says that business really started to take off when she expanded into the UK.
"Obviously the Irish market is limited when it comes to hotels and there are about 22,000 weddings here a year. In the UK there's about 300,000 weddings, so it's a huge market.
"It was an obvious next step, so I had to get my feet on the street. Around 2012 I started flying to the UK every Tuesday and flying back again on a Thursday, going to London, Manchester, Edinburgh to meet hoteliers.
"I did that for about nine months and then moved to London for a year to really have that base and be on the ground. I drove the whole of the UK in my little Honda Civic, from the highlands of Scotland all the way down to Torquay."
Now, the UK represents around two-thirds of the business, and Wedding Dates has hired three sales managers working on the road across the region since Crossan's return to Ireland.
'I hadn't fully prepared'
Crossan says there have been plenty of ups and downs developing her own business, but the biggest challenge was when her twin sons were born.
"Five years ago my twins made a very sudden entry into the world – they came nine weeks early. I had literally just moved home from the UK and was looking for somewhere to rent.
"I was in work on the Friday, moved into the new house on the Saturday and had the babies on the Sunday. From a business point of view, I hadn't fully prepared and I was pulled out of the office very suddenly.
"It was quite traumatic having a premature delivery and two babies, and then I was checking emails on my phone next to an incubator – it was a crazy time."
Crossan says that at the time Wedding Dates only had around four or five staff, meaning it was a challenge to keep the business ticking over while she was dealing with some major changes in her personal life.
"It's a very specific challenge when you're a female founder – if that happened to a man it wouldn't have the same impact on their business.
"But it was a great learning experience because it forced me to be a lot more systematic and have processes in place for when I'm not around. It was definitely a hairy time but we came through it."
Crossan says the business is now on track. She jokes that in the early days the only traffic on the website was her mum clicking on it every day, but in the past decade more than 232,000 enquiries have been generated through the site.
According to its most recent public accounts, Wedding Dates posted profits of around €60,000 in 2017.
"We're growing our revenue on average between 20 to 30% each year. We're getting up to those seven figures – that's the target and we're nearly there," Crossan adds.
'Everybody has an opinion'
Crossan has plenty of plans to keep developing Wedding Dates in the future. She is currently working on redesigning the website and hopes to add more features in 2019.
She's also "very aware" of the potential impact of Brexit, so is hoping to expand her concept to more international markets as a way to protect the business.
This had originally been a long-term plan, but the company is now seriously looking at France, Belgium, Italy, and even further afield to South Africa and New Zealand.
"We know that it works in Ireland and the UK so there's no reason why it wouldn't work in other markets," Crossan says.
"There's also a lot of cross-pollination opportunities – so we could feature Irish and UK venues on our French and Italian sites, and vice versa."
Wedding Dates has just celebrated its 10th year in business, and Crossan says that she's come a long way since trying to start a small business from her kitchen table.
"A lot of people said to me over the years that I was really brave because I was so young starting the business.
"But I really think it was the opposite, I think it'd be way braver if I started it now, at my age when I've got a mortgage and kids. It's a totally different ball game."
Crossan says she was a bit arrogant at the beginning – "like a typical 20-something-year old" – but was also open to advice to make sure the business would work.
"Everybody has an opinion on how you should run your business – even when you're in a taxi the driver will be telling you what you should do.
"So something I've learned over the last 10 years is that you should take some of the advice on board, but at the end of the day you have to trust your own gut and instincts."
Get our NEW daily digest of the morning's most important headlines for innovative Irish businesses.