Festive spending took a hit and retailers have pointed the finger at... Black Friday again
New figures from Visa show overall spending by consumers fell last month.
CONSUMER SPENDING OVER the festive period significantly dipped last month, with Retail Ireland claiming that "deep discounting" pre-Christmas has taken a toll on sales.
According to the latest Irish consumer spending index from Visa, overall spending decreased 0.3% year-on-year in December, the height of the busy Christmas sales period.
This was only the second such decline registered by the financial services giant since it launched the index in September 2014.
Analysis accompanying Visa's report suggested the figures indicate "further signs of weakness on the high street" as face-to-face spending was down 3.9% last month compared to December 2017.
This is the second successive drop in in-store spending after a 4.3% decline recorded in November of last year.
Speaking to Fora, Retail Ireland director Thomas Burke said a number of factors contributed to the dip in sales, with the Black Friday phenomenon making Irish retailers rethink their sales cycles. 
"Deep discounting seems to be the order of the day for Christmas 2018. We saw that right from Black Friday onwards. That ranged from discounts of 30% all the way up to 50% in some cases on the high street in pre-Christmas weeks," Burke told Fora.
"Previously a lot of that activity would have happened in the post-Christmas sales period. Increasingly now it's happening between Black Friday and Christmas Day itself. That's a challenge in terms of the value of sales." 
He added that even if the volume of items sold over Christmas held up, the heavy discounts on offer would have impacted the "real value of sales".
Retail groups have for several years blamed Black Friday for displacing traditional Christmas sales.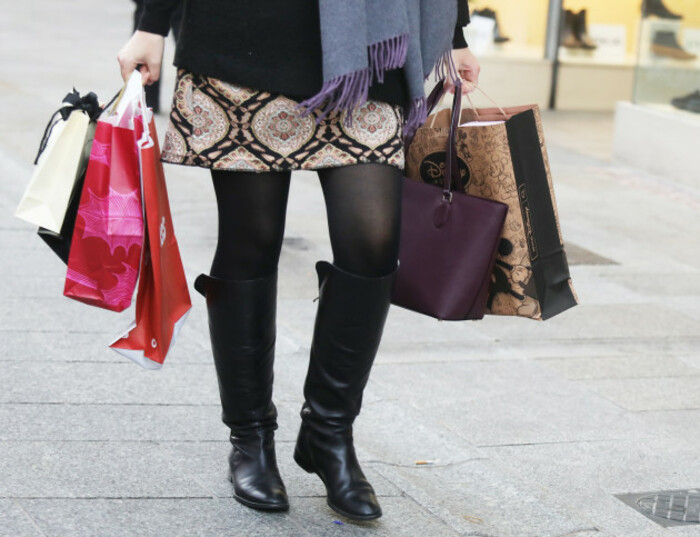 Source: Leah Farrell
Burke said a number of economic metrics indicate the tide could turn for bricks-and-mortar retailers this year, but political turbulence in the UK make it hard to forecast how the next 12 months will pan out.
"I think the good news is that the macro economy is holding up well. We're looking at growth in the overall Irish economy of about 7% for 2018 and the initial indicators say while it won't be quite at that level for 2019, it will be upwards of 4%. That's positive.  
"The number of people at work is growing as well, so generally the economy is in a good place. That should feed into retail. The question is if a lot of what's happening around Brexit is having a disproportionate impact upon consumer sentiment. Hopefully that's a temporary phenomenon." 
Online sales booming
According to Visa's report, online sales were up nearly a tenth in December compared to the same month in 2017.
[embed id="embed_2"]
Despite data from recent years pointing towards a slowdown in in-store spending, some quarters in the retail industry feel the death of bricks-and-mortar is overstated.
Last year, Harvey Norman boss Blaine Callard denounced the popular theory that online retail is killing physical stores.
He claimed at the time that the common narrative that e-commerce is destroying high street trade is "fake news" that doesn't accurately portray modern retailing.
Elsewhere in the spending figures released by Visa it was noted that the main category driving the 0.3% decrease in consumer spending last month was clothing and footwear.
Spending on these goods alone dropped 6.2% year-on-year. Decreased expenditure was also registered for the health and education (-1.8%) and transport and communication (-0.3%) categories.
At the other end of the table, spending on hotels, restaurants and bars increased 10% year-on-year.
Get our NEW Daily Briefing with the morning's most important headlines for innovative Irish businesses.