'Trump erosion' and Brexit sees Christmas spending drop in Irish shops
A leading retail group also says Black Friday is shifting when people spent their money.
WEAKER STERLING AND a 'Trump erosion' in consumer confidence have both contributed to a slowdown in retail sales, according to a prominent industry group.
In a Christmas 2016 trading statement released today, Retail Excellence Ireland said that sales were "currently trending down against this time last year".
The body, which represents over 1,600 companies, also cited several other factors, including 'Black Friday', as to why spending had dropped.
"Contributory factors (to the slowdown) include a post-Brexit and Trump erosion in consumer sentiment, a significant increase in online shopping into the United Kingdom and the forward movement of spending into the Black Friday weekend," the group said in a statement.
"It is clear that Trump and Brexit have created great uncertainty which in turn has delivered significant erosion in consumer sentiment."
Disappointed
Retail Excellence Ireland communications director Lynn Drumgoole said that the group was "disappointed" to report that most sectors within the Irish retail industry are trading down against this time last year.
"We have witnessed a significant increase in shopping with .co.uk websites in November due to weakened sterling. We have also seen a measured increase in Black Friday shopping at discounted prices," she said.
"These reasons, added to a general deterioration in customer sentiment, have resulted in a challenged retail situation so far in December.
"While some sectors will trade slightly up or on par against last year, consumer electronics, beauty and pharmacy, telecommunications, ladies wear, footwear and jewellery are all trending downwards."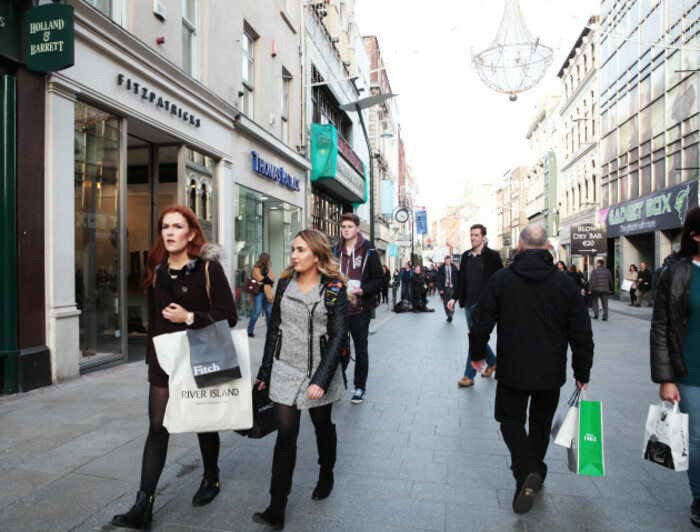 Source: Leah Farrell/RollingNews.ie
Drumgoole said that logistics companies are also reporting a "30% to 80% increase" in packages arriving into Ireland from the UK.
"This has had a very obvious and significantly damaging impact on the local economy," she said.
"We still have a lot to fight for with a full week to go with two very important Saturdays, however at this juncture the situation is concerning."
The largest like for like increases in parcel deliveries for Christmas 2016 were recorded in Counties Wexford, Tipperary and Laois.
[embed id="embed_2"]
Black Friday
The group said that Irish shoppers have become accustomed to shopping for a discount, and added: "It would seem that Black Friday has eaten into full margin demand in the weeks before and after it."
This trend is consistent with reports from last year, when Retail Excellence Ireland said that Black Friday led to a quieter October as people put off spending, and a weaker post-Christmas sales period.
Retail Excellence Ireland also reported that while footfall was largely steady or slightly up on last year due to mild weather, "any increase in footfall has not translated into increased spending".
However, it did note that online sales were rising, saying: "Overall this sector is trading up on last year".
This is consistent with predictions earlier this month that online spending was likely to prove increasingly important over the Christmas period.
read more on