The growing fast-food empire eyeing up nationwide dominance and a UK invasion
Chopped expects to open one store a month until the end of the year.
YOU MIGHT NOT be able to win friends with salad, but it appears you can build a healthy fast-food empire with it.
Home-grown food chain Chopped is eyeing a move to the UK within a year as it continues its rapid-fire spread in Dublin.
Set up in 2012, the salad bar company now has seven stores in the capital after opening its latest franchise in Rathmines during the week. New outlets are also set to open in Tallaght and Sandyford over the next month.
Speaking to Fora, Chopped co-founder and managing director Brian Lee said several more stores are in the pipeline and will be opened before the end of the year, with staff across the network to grow to over 300.
"We'll be looking to have another eight to 10 sites opened across the country by the end of the year, mainly in the Dublin and outer Dublin region. It all depends on leases being secured before the end of the year," he said.
"Some are going to be franchises and some will be company owned. We're trying to keep a fifty-fifty ratio of stores we own to franchises."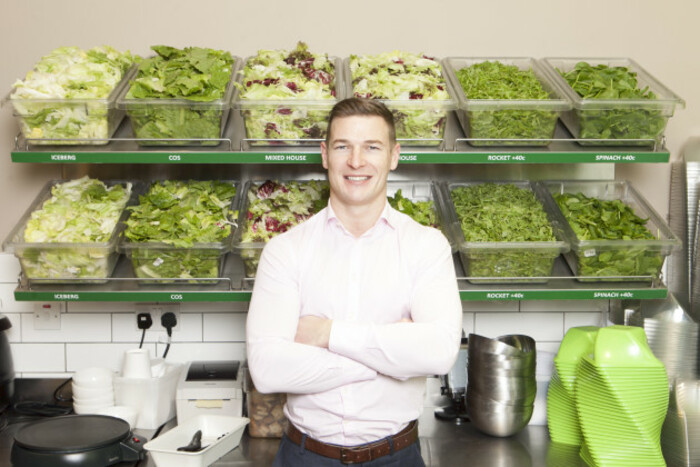 Source: Chopped
Lee said going down the franchising route has helped the company avoid the need to raise funds to grow the business. He and his co-founder, Andy Chen, own all of the main firm behind Chopped, which according to its latest accounts, for 2014, was already delivering a profit.
"I want to be the market leader for healthy fast food restaurants and this was the quickest way to grow the brand's name," Lee said.
"I didn't want to take on any investment so this was the quickest way instead of doing one store at a time and building up cash flow."
He added that 12 months of planning went into developing the franchise model before the company began to listen to offers.
Opening a Chopped franchise, including architect and fit out fees, costs between €150,000 to €180,000, according to Lee. Of that total, €20,000 goes to the founders as a franchise fee.
Future plans
Looking ahead to next year, Lee said he has his sights set on opening stores in colleges nationwide and also bringing the Chopped brand overseas with the same model used in Ireland.
"We're opening nearly one a month and three this July. I'm growing a business model here in Ireland that I can pick up and place in other countries.
"We're already considering an expansion into the UK for next year and have plans in place to roll out the same model over there."