This entrepreneur left the global drinks industry - to build a global whiskey brand in Clare
Louise McGuane wants to turn Chapel Gate Whiskey into a major player on the world stage.
BEFORE SETTING UP the Chapel Gate Whiskey Company, Louise McGuane spent "a decade in the air".
"I was circumnavigating the world every three, four weeks," she tells Fora. "I'd be doing crazy flights from Singapore to Rio pretty regularly."
McGuane's distinct transatlantic accent offers a clue to her past life as a jet-setting marketing and communications guru for some of the world's biggest drinks companies.
For the guts of 20 years, the County Clare native travelled the world working for groups like champagne colossus Moët Hennessy and Jameson-maker Pernod Ricard.
Eventually, a job at Diageo brought McGuane from the UK to Singapore where she stayed until she married in 2012.
"I was in Singapore and my husband was living in London," she says. "We had to make the decision, was my husband going to move to south-east Asia or was I going to move back?"
McGuane says she knew if she moved back to the West, her career was over.
"With a multinational, your career has a finite shelf life because they want you to move around every two or three years. That's the deal," she says. "I knew that if I was static I was pretty much 'glass-ceilinged'."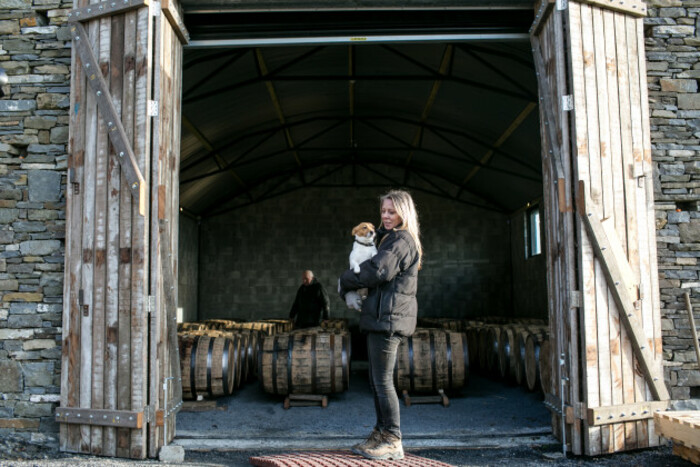 Source: Mrsredhead photography
JJ Corry
McGuane decided that if she was going to return to Europe, she wanted to start an Irish whiskey company as a life in the premium drinks game had given her a ringside seat to the Republic's great whiskey revival.
She hatched a plan to set up what would become Chapel Gate, basing the company from her family's farm in Cooraclare, County Clare.
"Once I left Diageo and came back (to Ireland) I took time off, which I'd never done before.
"When you take time off, you actually have some time to think and research. I thought if I was going to set up an Irish whiskey company in County Clare on my family farm, I wanted to understand the heritage of distilling around here."
After a deep dive in the local library and English parliamentary records, McGuane discovered that a century ago, the county enjoyed a bustling whiskey scene.
One local legend she came across was JJ Corry, a whiskey bonder from Kilrush. He would serve as the inspiration for Chapel Gate's first blend, the Gael.
A lost tradition, whiskey bonding is basically when a producer sources whiskey from other distilleries, puts it in their own casks, blends it and releases it under their own name.
While other brands do something similar to get off the ground, Chapel Gate is different because it will never distill its own spirits – it will only blend whiskey from multiple distilleries around the country.
Source: John Kelly
According to McGuane, the last licenced whiskey bonder before Chapel Gate was Dublin outfit Mitchell and Sons, which kept up the practice in Ireland until it died out in the 1960s.
"At the moment I'm sourcing two kinds of whiskey," McGuane says. "One is new fill whiskey, which is sitting and maturing on my farm for the next five years or more.
"To build my route to market, I'm sourcing mature whiskey and blending it to create my own JJ Corry house style with the view of creating those kinds of whiskies in the future with my own stock."
'Global brand'
Like many startup founders, McGuane oozes self-confidence and makes no secret about her ambition.
"I left working in global brands to build a global brand, very squarely," she says. "I'm not twiddling around here. I'm a small business at the moment, but that is not my intention."
Although McGuane has a number of industry experts advising her from the sidelines, Chapel Gate only employs one person, Blaise Kelly, who has been recruited to serve as a brand ambassador in the States.
With Kelly on board, Chapel Gate is technically the only all-female whiskey company in Ireland – although this is a bit of a bold claim since the outfit only has two employees.
"It's kind of accidental," McGuane says. "The drinks industry in general is very heavily male dominated, Irish whiskey even more so because it's evolving.
"All this does is give us something extra to talk about. Other than that, we're not going to behave any differently to any other whiskey company."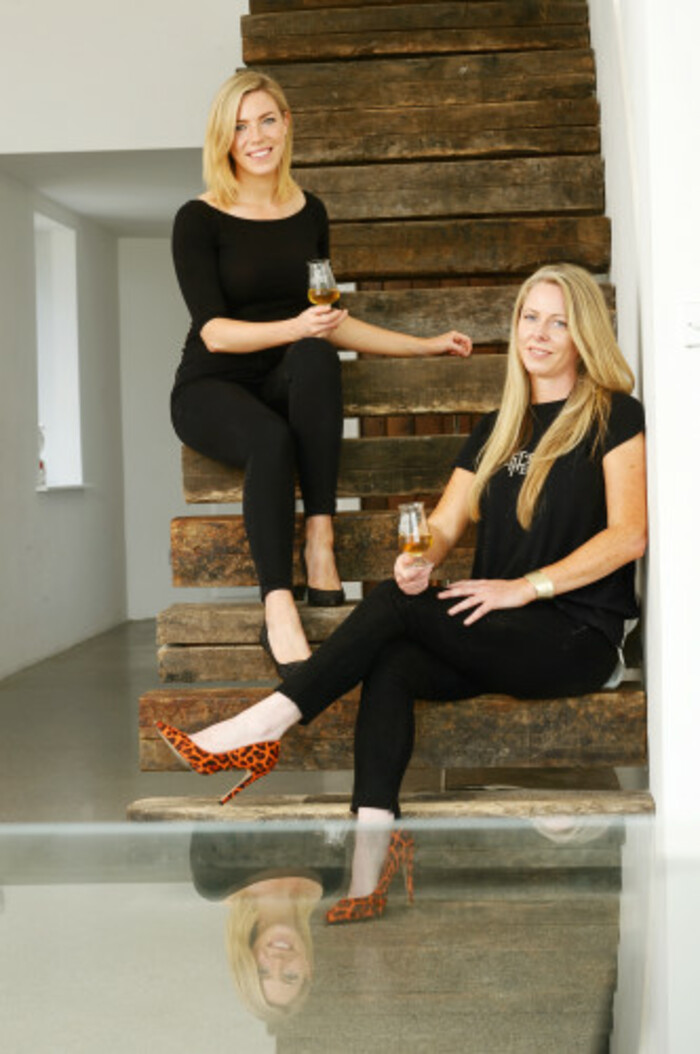 Source: John Kelly
McGuane has set a target of selling 50,000 cases of whiskey each year by 2025 at the earliest.
"I can't get there any faster because there isn't enough stock," she says. "What I can do in the next three, four and five years is build my distribution and my route to market globally with stock that I do have."
Chapel Gate's first run of the Gael is very small – 7,500 bottles – which will mostly be shipped over to the US later this month.
"For me, I'm all about the US," McGuane says. "You have to land the US, particularly if you have volume targets like I do – you live and die there."
[embed id="embed_2"]
Another small batch has been allocated to Ireland and Germany, where Irish whiskey sales have spiked in recent years. McGuane says the company will look to other established markets next year.
"I will look at certain cities in Asia," she says. "I know Hong Kong, I know Singapore – I can do that."
Funding
To keep the company ticking over till 2019, McGuane will launch a fundraising campaign by the end of this year.
Chapel Gate has so far been financed by two angel investors who converted to equity investors. McGuane has also put her entire savings into the company and raised €50,000 through a Kickstarter crowdfunding campaign a few years ago.
She won't disclose exact figures, but says "less than a million" euro has been put into the company to date.
Besides having to build a rackhouse to mature the whiskey, McGuane says all the investment has been put into stock.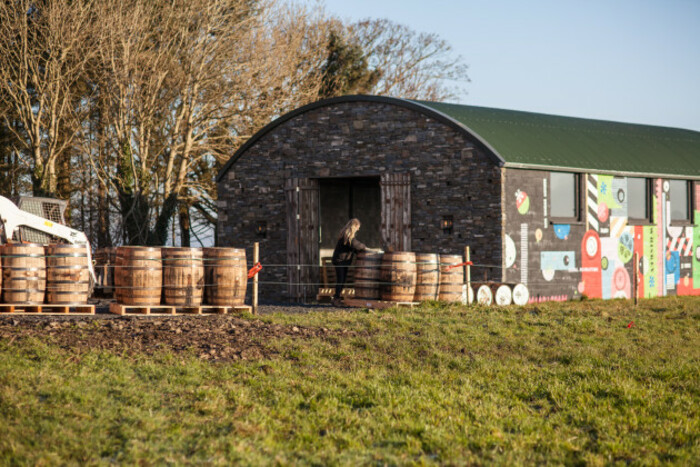 Source: Mrsredhead photography
"I didn't build a distillery. I don't have millions of (capital expenditure) wound up in that. I've bought stock, I've bought a few casks and now I'm starting to sell within two years of incorporation."
For this reason, McGuane says investors like the bonding model because it is less risky.
"The worst case scenario with my model is that the business goes under and we sell all our stock and everybody gets their money back. There's nothing wrapped up in 400,000-litre copper pot stills. It's a really straight model, which people quite like."
When asked how Chapel Gate will distinguish itself from the many other whiskey companies vying for a piece of the fast-growing market, McGuane says the County Clare climate plays a big part in shaping her product.
"When I start to release whiskey, I'm taking a very big guess that the environment that the stuff is being matured in is going to have a significant effect on it," she says.
"We have a coastal microclimate out here. In Scotland, they have coastal and regional whiskies. We don't have that here, the industry is too young. In the future, I'll have a regional whiskey – I'm aiming to have excellent quality."
Sign up to our newsletter to receive a regular digest of Fora's top articles delivered to your inbox.