'Nobody's going away to the Bahamas': Celtic Media's sale to INM worth 'less than €4m'
The company's boss today said the business model for newspapers was 'broken'.
THE BUSINESS MODEL for newspapers is "broken" and the only hope for regional papers may be in consolidating with bigger industry players, Celtic Media's boss has said.
The publisher's chief executive, Frank Mulrennan, today added that his company – which publishes seven regional titles and employs around 100 staff – "cannot row against the digital tide" and replace lost revenues from evaporating print sales and advertising.
He was appearing in front of an Oireachtas committee investigating the proposed sale of Celtic Media to Independent News and Media (INM). The deal has cleared competition hurdles but still needs to be approved by the government under media-merger rules.
Mulrennan, a former business and agriculture editor at INM's Irish Independent, said there would be "well less" than €4 million left for him and other owners of the publisher by the time the sale went through. The full price for the deal hasn't been disclosed.
"Since 2008, the business model in local newspapers I would have to say is broken. We almost went out of business in 2012 due to the weight of bank debts and continually falling revenues," he said.
"Five years, later the reality is that we are facing a broken business model in terms of publishing local newspapers and, dare I say it, newspapers."
Mulrennan and other Celtic Media executives led a €5.5 million management buyout of the publisher in 2012, however he noted that regional publishers in Ireland had suffered a 65% fall in print advertising and 35% fall in circulation revenue since 2008.
Concentrated ownership
Mulrennan joined INM chief executive Robert Pitt before the committee in defending the deal amid suggestions it would further concentrate media ownership in Ireland and could lead to a loss of editorial independence at the Celtic Media titles.
INM already owns the country's highest-circulation daily and Sunday newspapers, the Independent and Sunday Independent, as well as national titles the Herald and Sunday World.
Its largest shareholder, Denis O'Brien, also owns Communicorp, whose stable of radio stations includes Newstalk and Today FM.
INM reportedly ran the rule over buying Newstalk last year, but balked at the deal – leading to a public boardroom spat between Pitt and company chairman Leslie Buckley.
Pitt today said his company, which is estimated to have a cash pile of more than €85 million, was "no longer" looking at buying radio stations on the island of Ireland.
Both he and Mulrennan claimed Celtic Media titles would be guaranteed their independence after the merger – although consolidation of some functions was likely.
[embed id="embed_2"]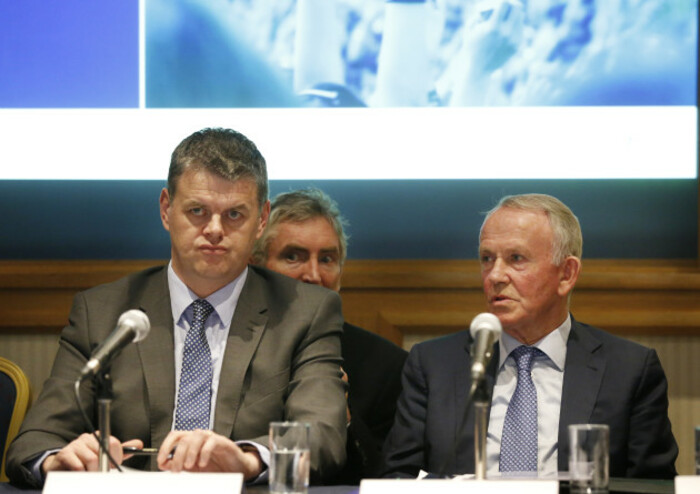 Source: RollingNews.ie
Making it in digital
Mulrennan told the committee his company was "finding it awfully hard to make any news in digital" and it needed a larger partner like INM because of the competition online from the heavily subsidised RTÉ and global giants like Facebook and Google.
"The only future is through having a digital future and a marketing future, and that takes resources," he said, adding that Celtic Media had put some properties on the market to pay a bridging loan "because that sale has been so delayed".
"We have put our Cavan and Navan newspaper offices on the market. We are going to put our Athlone office on the market."
The company also had "serious misgivings" about the future of one of its titles, the free, Meath-based Forum, Mulrennan said.
"We are talking about a sale here that is less than €4 million. When you take off professional fees and (loan repayments) … well less. There's nobody going away to the Bahamas, we're turning up to work on Monday when the sale happens."
The publishing group, which also includes the Meath Chronicle, the Westmeath Independent and Westmeath Chronicle, was put together for nearly €65 million in the early 2000s by a Scottish firm. Celtic Media bought the Connaught Telegraph out of liquidation in 2014.
Mulrennan remains the company's largest shareholder, while one-quarter of its shares are owned by editors and other staff. Its latest accounts, to the end of 2014, show the parent company lost just over €100,000 for the 12-month period.
read more on