The Irish startup that's taking on Tesco and Super Valu at online shopping
A new app that allows you to skip supermarket queues.
A NEW GROCERY delivery service in Dublin could make standing in long supermarket queues a thing of the past.
Buymie is an Irish startup that both picks up groceries from the shelves of any supermarket in the city and drives them to their customers' door with the ambitious promise of a one-hour delivery time.
In recent years, global trends in consumers' habits have shown fewer people shopping in the traditional way, with online shopping undergoing a rise in popularity in Ireland.

Third-party grocery shopping apps in the US have taken advantage of this trend and grown large customer bases. Postmates alone make 50,000 deliveries per week across 78 cities.
Big chain supermarkets in Ireland such as Tesco and Super Valu currently monopolise online grocery services and Buymie co-founder Devan Hughes said there is a gap in the market to take on these big players.
Hughes said their company is placing an emphasis on partnering with many small retailers at present, which will make it easier for customers to shop locally.
"At the moment we are partnered with a lot of local retailers… We have placed a big emphasis on reaching out to these smaller businesses as Buymie prepares for its launch.
"Everyone is well aware the SME retailers are feeling the push of bigger retailers and supermarket chains. We believe people want to shop local and that's the option we want to give them."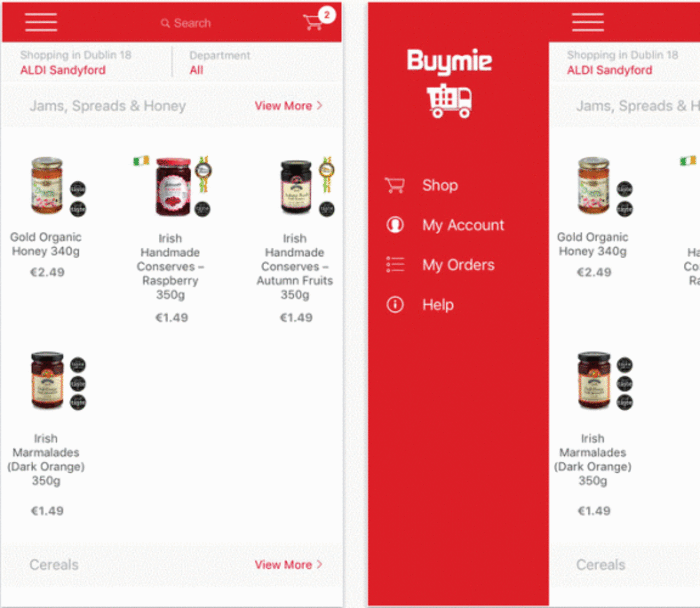 Markup on items
Hughes said Buymie currently generates revenue by applying a markup to each item, with plans to soon make the majority of their revenue from providing retailers with a fixed monthly subscription option that allows them to feature in the app.
"By partnering directly with retailers and providing a monthly subscription service, we can work with that retailer to extend their customer reach and drive additional revenue while allowing their customers to benefit from in-store pricing," he said.
Even though all stores are not partnered with Buymie, customers can still get goods from any retailer, however, a markup will apply if purchasing from a shop that they are not partnered with.
"People who value their time will see the markup as a necessary addition to add more convenience to their life," he said.
"We will have markup from stores we are not partnered with, but in the long run we envision creating a vast network of partnerships that will negate the need for a markup and make the service even cheaper for customers."
Gaining a competitive edge
Despite the possibility of some customers paying extra because of markups, Hughes said the one-hour delivery option and a better system for picking groceries will give them an edge over Tesco and Super Valu.
"We feel our model will stand out from the rest because of our trained (shoppers). Unlike a normal service from a big chain supermarket, our pickers will have a greater scope to interact with the user," he said.
"Delivery services available at the moment make an educated guess if items are out of stock. Our pickers always get in touch with the customer if there is any uncertainty about their order."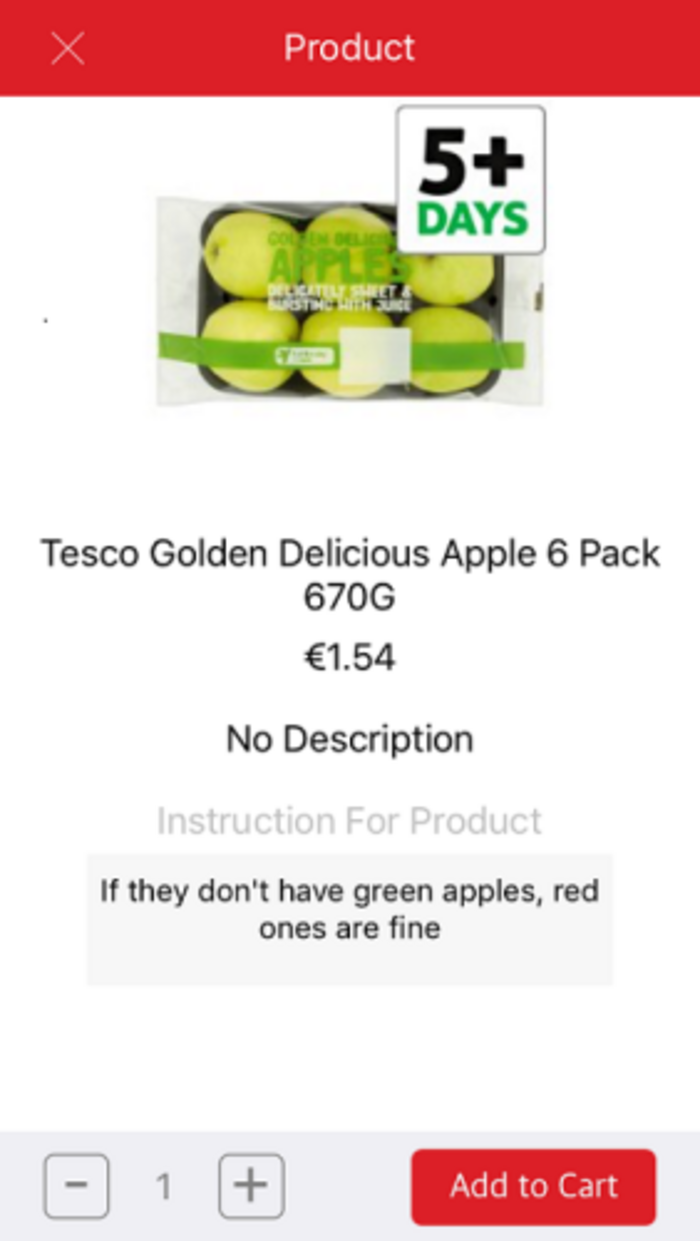 Difficulties of one-hour delivery
Hughes said one-hour delivery is a challenge, but their rigorous "fulfillment engine" will help make it achievable.
"Our technology is the backbone of the business and by leveraging big data and machine learning, we can make sure our service is reliable and effective," he said.
"The fulfillment engine takes into account everything, from number of items in a basket to weather conditions to customer location. And it is very flexible, so it can react to any issues that crop up.
"Let's say a picker gets a flat tyre or traffic is very heavy, we have built-in mechanisms to send out an SOS call to us so we are aware of any issues and can ensure they are solved as quickly as possible."