Butlers Chocolates made a very tasty profit last year
The company sold more than €35m worth of sweets in 2016.
IRISH CHOCOLATIER BUTLERS Chocolates delivered sweet profits last year for its owners, according to newly filed accounts.
Company documents show that the group – which produces handmade confectionery – made a profit of just over €2.2 million during the financial year ended 31 December.
Butlers sold just over €35.5 million worth of sweets throughout the period, an increase of about €247,000 on 2015′s figure.
According to the company directors' report, the outfit enjoyed "a favourable trading environment during the period", both at home and overseas.
The bulk of its sales – about 70% – were generated in Ireland. The UK was its export biggest market, where it reported revenues of just under €5 million.
Butlers' British business is conducted primarily in sterling. "This results in low levels of currency transaction risk," the company directors said in their report.
Last year, the group spent just over €96,800 on a research and development programme to sniff out new products, manufacturing practices and distribution channels for the group.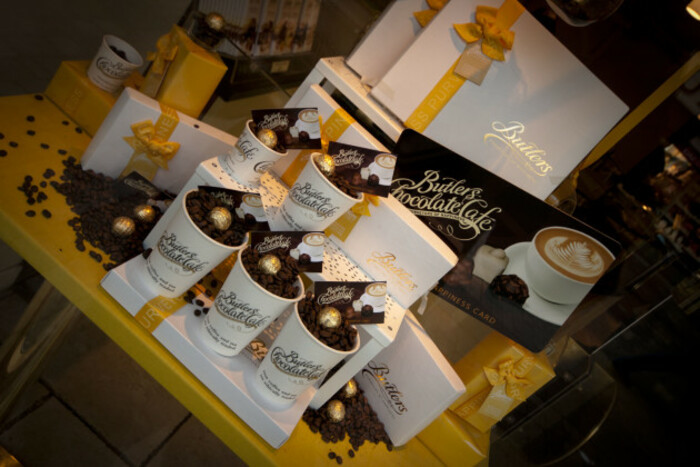 'Fashionable Georgian Dublin'
Originally trading under the name Chez Nous Chocolates, the company was set up in 1932 by Marion Butler on Dublin's Lad Lane – "the heart of fashionable Georgian Dublin", according to the company's website.
The firm was bought by Corkman Seamus Sorensen in 1959 and renamed Butlers Chocolates in 1984. The Sorensen family still owns the company.
As well as exporting to the UK, Butlers today sells into 40 countries, including the US, Australia, Singapore and Russia.
Its Irish stockists include retailers Avoca, Kilkenny Shop and Donnybrook Fair. The chocolates are also sold in Dublin, Cork, Shannon, Belfast, Knock and Kerry airports.
An average of 420 people were on Butlers Chocolates' payroll last year, with wages and salaries worth about €26,700 per head.
The company also runs a number of cafés around the country.
That side of the business filed a separate set of accounts for 2016 under the name Butlers Chocolate Cafes Unlimited. It made a profit of more than €1.5 million in 2016 and reported sales of just under €18 million.
There are 18 Butlers Chocolate cafés in Dublin, Cork, Galway and Limerick. The shop concept has also been franchised around the world. The first franchise opened in New Zealand in 2007, and the company has since opened five cafés in that country.
Pakistan is home to five cafés, and there are cafés in both Bangladesh and Dubai airports.
Sign up to our newsletter to receive a regular digest of Fora's top articles delivered to your inbox.