Taking 'the fecky stuff' out of food: How Camile's Brody Sweeney plans to conquer London
The Thai chain's boss takes Fora under his wing for a day in the UK capital.
CAMILE THAI FOUNDER Brody Sweeney is picking his way through a chicken and basil dish in one of the chain's London branches when he announces that he's about to launch the "restaurant of the future".
Due to a scheduling mess up, the Dublin-born entrepreneur missed our midday appointment at Pied à Terre, the swanky Michelin-star restaurant run by chef David Moore, who's advising Sweeney on Camile's UK expansion.
While earlier I lunched on quail and sea bass, Sweeney is making up for the missed meal with a dish that's normally served to the 'addicts' that make up the 'healthy' fast-food firm's core market.
In the world of Brody Sweeney, money-rich, time-poor professionals under the age of 30 are all afflicted with the same disease: "People are addicted to screens. We're feeding into that addiction."
Here's the theory: busy urbanites are less likely to cook for themselves on weekday evenings, but they don't want to eat out because they'd rather be at home gorging on Netflix series.
They're also health-conscious, so traditional takeaways are a no-no. So, according to Sweeney, the solution is Camile Thai, an indulgence that is "perceived to be healthy".
The company constantly reinforces the idea that it's a guilt-free fast-food option. For example, Camile outlets sell hardly any salads, relative to their core dishes, but list them on the menu anyway because they're good for marketing.
The brand is built around the fictional character, 'Camile', an Asian-European who's into calorie counting and yoga and, bizarrely, lives in glamorous 1930s Bangkok.
The persona informs each of the company's marketing decisions, right down to the packaging that's intended to be more aesthetically pleasing than your average silver takeaway tray.
"It's visually attractive packaging designed to look like a treat, designed to look a bit more sexy. It's got low branding: the customer has already ordered from us, so we know we don't have to beat the bollocks off them."
'Camile' the person is an illusion – and so is Sweeney's latest project.
In a few weeks, the businessman and one-time general election candidate will soft launch a "virtual restaurant" called Slammin' Ramen. This is what he predicts will be the restaurant of the future.
When Londoners open the Deliveroo food delivery app, the ramen joint will appear as a standalone restaurant.
But it won't actually have a physical location – meals will be prepared and dispatched from one of Camile's existing kitchens and customers will be none the wiser.
"The fact that the restaurant doesn't actually exist is not important. If there's a 20% increase in turnover for next to no investment, then it'll be worthwhile," Sweeney says.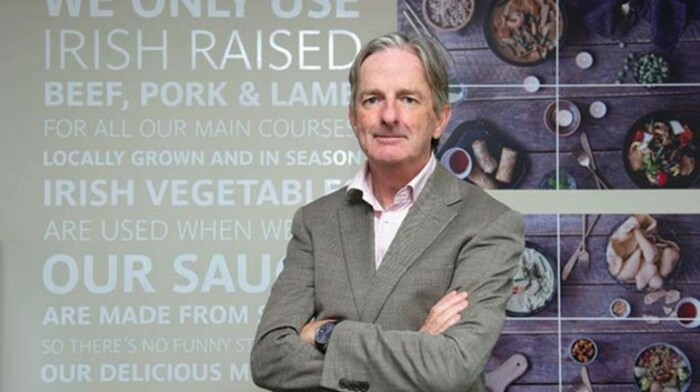 Source: Maura Hickey
Failure
Since Camile launched in 2011, the chain has opened 17 outlets across the island of Ireland, six of which are franchised.
Over the past year, the brand quietly built up a presence in London, where it operates two units, one in Tooting Bec, in the city's south, and a cashless branch in Clapham. Just over a week ago, the chain set up shop in a Deliveroo 'dark kitchen' in Bermondsey.
Much like the Slammin' Ramen concept, there's no physical sit-down restaurant for the new operation. Two chefs work in a shared kitchen space located in the middle of an industrial estate, from where Deliveroo drivers fulfil orders.
It's still early days, but business has been slow in the dark kitchen for Camile. The evening before Fora visited the Deliveroo facility, the 'restaurant' received just nine orders.
But Sweeney isn't too concerned. He doesn't seem to shy away from failure and says he thrives on the buzz that comes from testing a new location.
"Sometimes you think, 'I am a rockstar.' Other times you say, 'Why did I do that?'"
About a decade ago, as the recession hit, Sweeney, now 57, famously lost control of the O'Brien's sandwich bar chain he'd founded in the late 1980s.
When asked whether he's fed up being associated with the failure of the business, he likens the situation to talking about an ex-wife when you've been divorced for nine years.
"It's part of my story, but it's in the past. It happened. I take full responsibility. I fucked it up. It was painful for all involved.
"I tend to have a positive outlook. I had 20 brilliant years there. It all went pear-shaped and was horrible in the end. But I don't look back on the final two years; I think of the first 20."
Obessession
Like his customers, Sweeney could be described as a screen addict.
As we whizz around south London with Rakesh Gopalakrishnan, Camile's UK multi-unit manager and our chauffeur for the day, he constantly checks Deliveroo to see where Camile ranks in the line-up of available restaurants in a given area.
"I'm proud to be number one in Tooting (in south London). We're able to compete with established restaurants. For a little Irish upstart, that's not bad."
Source: Camile
Social media is a sore point. When I ask how he reacts to online reviews, Sweeney says he's been banned from using the company's accounts: he once ended up making a £1,000 donation to charity following a row with a punter who claimed Camile's food was "not fit for human consumption".
As well as regularly checking Deliveroo listings, Sweeney's other obsession is marketing. Throughout the day, he concocts mini exercises for his team and constantly looks for inspiration.
On a trek to the tube station, Sweeney suddenly swings into a Pret a Manger outlet when he admires a display of sandwiches, sealed in minimalist packaging. This is his Tate Modern.
"Nowhere else would you get a wrap like that," he says, before marvelling at a poster that looks remarkably similar to a Camile ad.
Attention to detail is what Sweeney attributes to the success of the Thai chain, which reported a profit of over €400,000 last year, pushing accumulated profits to more than €1.6 million.
Once a month, Sweeney and a team of marketers visit a customer's home, where, in exchange for providing a free meal, they sit in and observe how the ordering process works – or doesn't – and take note of any other issues that crop up.
For example, he once noticed that customers were having trouble peeling off the sticky tape that seal the delivery boxes, so he started buying in a less-adhesive version. His mission is to "take the fecky stuff out" of food.
"We're a tech and logistics company that just happens to do food," he proclaims.
Ambitions
It's clear that Camile's future lies in London, although Sweeney says he's still on the lookout for franchisees in Ireland. He names Naas, Maynooth, Wexford, Waterford, Drogheda and Kilkenny as potential locations.
[embed id="embed_3"]
But he estimates that Dublin can cater for a maximum of 20 Camile restaurants. There are currently 14 in the capital.
"It's finite how much further we can grow in Ireland. London, like Dublin, is a rich city. But it's eight times bigger."
According to an economic study commissioned by the company, there's room for as many as 68 Camiles within the radius of the M25 motorway that circles the city.
Like Camile in Dublin, the intention is to open branches in clusters, which "reinforces the brand" in certain neighbourhoods.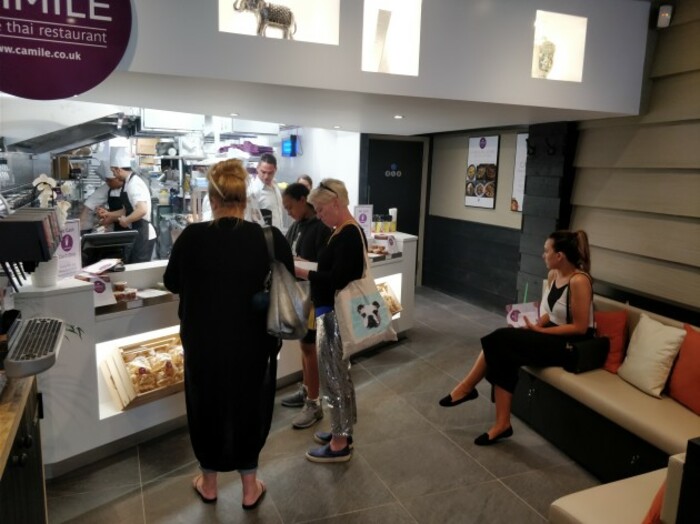 Source: Camile
Surely there's already an abundance of Thai restaurants in the UK capital? There are, but none are focused on the home delivery market, Sweeney says.
He also says Camile is intentionally designed to be milder than authentic Thai food, which is famous for its hot and sour flavours.
"The hardcore Thai food, I can't eat it. We're appealing to a wide audience – there's not much demand for chicken's feet."
When asked whether he really expects to open 68 London outlets, Sweeney says that's the goal, but adds: "I could be retired before we get to that."
Next year, Sweeney hopes to have between six and seven shops up and running in London, at which point he'll start planning a UK headquarters, training centre and central distribution hub similar to the one in Finglas.
For now, he's focused on opening the doors of a new Battersea branch, two miles from Buckingham Palace.
"We're opening them one at a time. I can't conquer London in a day."
Sign up to our newsletter to receive a regular digest of Fora's top articles delivered to your inbox.